"Recreate a modern rustic traditional kitchen, with these helpful tips"
When you hear the word "rustic" it automatically takes you to a natural outside feeling. A smell of rich pine trees enters your nose, and a cosy fireplace enters your mind, that you would love to just sit in front of on a winter's night. As we are nearing the summer months, natural beauty is perfect for this season. It really brings the outdoors in. Many people are opting for an outdoors feel in their homes with the natural elements that are available on today's market. The warm glow from the wooden cabinets and features, and the beautiful smelling Gerbera's in that stunning flower arrangement, brings a charming country interior with a rustic finish. It is all about the hand tied bouquet of flowers in the traditional kitchen, or the greenest plant!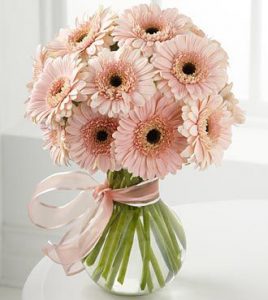 If you are a lover for a wood-based design, wide wooden floor planks, wood ceiling beams, and wooden cabinetry are great elements to create the ultimate rustic goal you want to achieve in the centre of your home. They will bring the beautiful nature inside. Wood will certainly team perfectly with one of our Quartz worktops. We have many colours and styles that will show off the beautiful natural elements in the wood.
A classic rustic kitchen usually has a range cooker, white ceramic sink, with either brass taps or stainless steel, wooden kitchen units that have been painted to your liking, dressers and larders for the ultimate country feel, and a big beast of a farmhouse table that has been created with carefully crafted wood and good sturdy chairs to match. How about adding a pop of colour with traditional seat pads, a true English country kitchen. It is all about how traditional you want your kitchen to look. Full on rustic style with vintage ideas, or a modern country shaker style with bright and bold fabrics and tiles. The choice is yours!
A more modern approach of a rustic design is taking the raw materials such at stone, brickwork and metal to create an industrial style feel. 2017 is all about the industrial style kitchen. It brings a fresh new feel to a rustic kitchen. Add a fabulous pendant light that dangles above the large country diner, or the island situated in the middle, add bar stools, and a hint of copper and leather. You really will create the kitchen of your dreams.
"A rustic kitchen can give an ultimate cosy feel, and can make the space feel friendly and welcoming, as well as show off your personality."
Don't be afraid to make the most of your wooden beams if you have them. In fact you are very lucky if you have exposed wooden beams. These are simply stunning, and will create a rustic barn conversion look. I certainly would be jealous if I was to enter a kitchen with wooden beams. I really do feel that this a style trend that you should steal!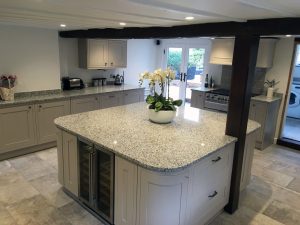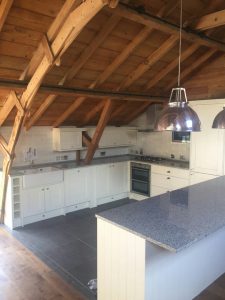 Nature has more to offer than just wood, and maybe you don't want to go the full hog with a full on wood kitchen. Our Quartz or Granite worktops will certainly look amazing as a feature in a rustic kitchen and will show off the other features in the kitchen that have been made of wood.
Maybe you want to create a modern kitchen with mixes of small rustic elements. You may want a contemporary style kitchen that features clean white cabinetry, and stainless steel appliances. I think this style looks great! To make this modern contemporary kitchen rustic, add a natural wooden floor, and wooden bar stools for the ultimate wow factor. This will give you not an entirely wood-covered kitchen but a few rustic elements to make the kitchen of a rustic aesthetic. Just like the images above of our customers kitchens. They have both used full use of their exposing beams (very lucky people) and incorporated them in the style of their kitchen. They haven't gone for completely rustic wood looking kitchens, but they have certainly used their imagination when creating their kitchens. Both customers opted for our Champagne Aurora from our Granite range. The image to the left is an actual barn conversion kitchen, that is an open space showing off where the kitchen is situated, to this modern open plan living. The modern lighting above the breakfast bar shows off the difference in modern and traditional, and certainly works wonders with this colour and style granite. The customer has opted for a beautiful white ceramic sink that is a great focal point for the country style, with the clean white cabinetry that includes grooves and sharp lines. The kitchen to the right has the perfect space to create a modern yet traditional style kitchen. Our customer here has had a great imagination when incorporating their exposed wooden beams with the center focal point in the room. The dark wood teams great with the colour and style granite, and the curvy edges and clean lines of the cabinetry make it a great example of a modern traditional style kitchen with it's rustic elements. Also our customer loves a green plant, as you can see on the spacious kitchen island.
Kitchen's that lack natural light, dark wood can seem to be too imposing. Add a painted or bleached white or grey wood to brighten up the room. It will open up the kitchen, especially if it is small, and still have the rustic countrified feel about it. A perfect solution!
The best paint for a rustic style kitchen is a time-worn, aged and chipping paint. Pick these up at your local flea market to create a relaxed-style kitchen, it really will work wonders in the design of the rustic kitchen you are opting for, and will wow your guests. If this isn't your style, then maybe re-paint a feature that is in your kitchen, keeping the grooves, dents and dings in order to keep the rustic vibe. This won't be too overpowering for your rustic kitchen style.
To create a cheaters cottage feel for your kitchen, start off with a traditional white Belfast ceramic sink and build from there. Hang pots above the kitchen island or worktops, stack shelves with jars and and lots of green plants. Add an element of surprise with a modern clock, and some brick looking tiles. Rustic is all about mixing modern with traditional.
Accessories can make or break the design. There are so many accessories on the market today that will go great with your rustic appearance. Add shabby chic textiles and twig-style furnishing for a sophisticated, quirky decor.
"Go and have fun designing the perfect rustic kitchen!"