"The way we use a kitchen today has changed dramatically, from just a room to cooking, to a kitchen, diner and living space all rolled up in one!"
Today's kitchen is all bout having a space where's inviting to cook, eat, entertain and gather family and friends to relax.  An open plan space gives a space that is flexible, relaxed and open to a modern house. The kitchen is the hub of the home, and the big appeal is for the kitchen cook to be part of the action when entertaining, so many opt for an open plan kitchen where they don't feel left out, and are in all of the action. It creates a more friendly enviornoment too. Perfect for when the children need help with their homework, or to keep an eye on them when completing other tasks.
Open plan kitchens are created around the things that you love. It will be a place that will be embraced by you and your friends for many years to come. It means you can do so much more than you have ever dreamed before, and be at the heart of all your gatherings.
As part of the open living trend, kitchen islands have become increasingly popular, as it creates a low-level divide between the living and kitchen areas. They provide a a generous worktop space, as well as becoming an extra seating area (breakfast bar) and of course a place for useful extra storage. It can be the main social centre of the kitchen when designed right, where children can do their homework and ask if they need help, or where guests or the other half can relax with a glass of wine or two while the cook gets cooking. (Let the food sizzle away and enjoy your glass of wine too!)
Size and Layout
When creating an open plan kitchen is that you need to know how to create this so that the perfect shape fits. Large square or rectangular rooms are the perfect layout for an open plan space, plus are the norm these days. It works amazingly if it is zoned carefully. You can however create an L-shape layout that allows a great seperation between the kitchen and dining spaces. This is great for not seeing the kitchen mess when sitting at the table enjoying your meal.
Lighting
Kitchens are the most multi-functional room in the home and they do have to have the right lighting to work properly. There are three tpes of lighting to create a well designed lighting scheme.
Ambient (general lighting)
Task lighting (undercupboard lighting, and food preperation)
Accent lighting (highlighting key features)
Pendant lights are stunning over a dining table or island. If it doubles for a places for the kid's to do their homework then an additional source of light is handy. (For example natural source of light)
Natural light
Natural light is a great idea to reduce reliance on artifical lighting, which helps in keeping them electricity bills down. Windows and glazed doors introduce light in to the kitchen as well as a perfect sky light.
Zoning
Zoning helps you move from one activity to another, and not feeling like you are in the kitchen the whole time.
Furniture such as a kitchen island or breakfast bar can divide the space between the kitchen area and dining table or living area. They add extra surface area as well as more storage, and what better way to incoporate our granite or quartz in to your kitchen.
Lighting can zone the different areas in your open plan space. Use dimmable lighting to create different moods.
Variation in celing and floor heights can impressively create the different zones, as well as different flooring ideas.
As kitchens are functional rooms they can become messy. To keep the kitchen as clutter free as possible, ample drawers and cupboards tailored to accomodate all cooking utensils, small appliances and groceries will keep the surfaces clean and tidy, and let you relax when you are enjoying that tasty dish you have just cooked up. When entertaining you really don't want your guests to see the dirty dishes, so setting the kitchen at a different height to the dining space is a great idea, or introducing a raised worktop or breakfast bar.
Everyone wants to be outside in the summer months, so positioning a kitchen diner at the rear of the house is a perfect idea. Make the most of the views and weather by adding french doors to suit a period home, or sliding and bi-fold doors for a modern home.
Sound Control
Open plan spaces can be prone to noises and echos. To minimise this, soft flooring or rugs in the living areas will absorb the noise, as well as soft furnishings and textiles. Soft furnishings and textiles can also zone the different areas.
Keep cooking smells contained
A good extraction fan is essential for an open plan space. Open plan spaces can present a problem of cooking smells and steam filling the whole area. If possible place the cooker near a window and as far from the living spaces as possible. The cooker hood needs to be powerful to eliminate the odours, but quiet enough so you can still relax in the living areas.
Our Customer's Open Plan Spaces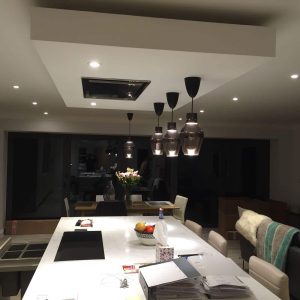 The Silestone Lagoon used here in this kitchen looks great seperating the different areas of the open plan space. The dining table has been situated to the rear of the house alongside the bi-fold doors, great for the summer months. Our customer will be able to slide open the doors when the weather gets warmer and enjoy their delicious cooked recipies. The living area is opposite the kitchen with lots of soft furnishings to create a relaxing feel. After cooking that scumptious meal, they can therefore put their feet up and enjoy a glass of wine or two, while watching the perfect film.
Our customer here has opted for our Calacutta Quartz in their kitchen. The kitchen is situated at the rear of the house where there is lots of natural light entering. The dining room table is placed opposite the kitchen island with the same chairs as the bar stools. There is lots of natural light that enters this kitchen which is perfect for them summer months. Our customer can sit at their dining table with all the doors open, enjoying the warmer weather.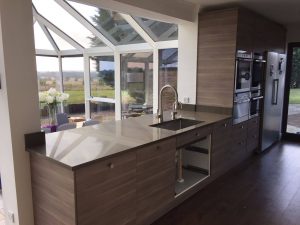 The Mocha Quartz in this kitchen looks simply stunning combined with the dark wood cabinets. The kitchen has been divided by a post, but is opened up where you can see right through to the dining area as well as the beautiful views this customer has. A perfect open plan space. The cook can therefore be in all of the action in this modern style open plan space.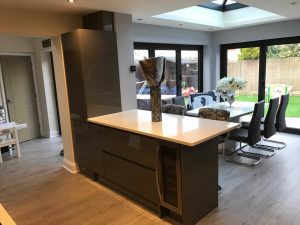 Our Bianco Minerale has been used in this kitchen. The dining area has been seperated by a breakfast bar creating a zoning effect. A mahoosive sky light has been added to the area as well as all round bi-fold doors. This will bring the outside in when the summer months come.
Call or email us now to create your perfect kitchen, using our wonderful Granite and Quartz worktops.