Prioritize your needs and think creatively, and you and your family can be brought together with the perfect multi-functional kitchen.
In most households, kitchens have become the center attraction in homes, whether it be for cooking, dining, serving, working or entertaining. They play a big part in socialization when you are entertaining as well as everyday life when preparing and cooking.
Creating the most perfect multi-functional kitchen there are a few factors to consider to achieve this. As we know and have previously stated that the kitchen is the most important room in the house, we have to think of how to make it the best working room. We have put together the perfect ideas you can create in making a multi-functional kitchen that's the best of the best and suits all of your needs.
Wining and Dining
To get the best out of a perfect multi-functional kitchen is thinking about where the food is prepared and served. Maximizing the kitchen space is essential, so finding kitchen counters that can double as task areas are perfect. You may have a larger kitchen where there is enough space to add an island, these are perfect as an adjacent counter as they add added work top space, and double as a dining space with added chairs. Having the perfect wine holder or fridge is the most perfect kitchen accessory to date, grab your fave bottle of wine and enjoy your evening. We sell the most amazing worktops here at Rock & Co to fit in with your style so you will have that glamorous kitchen you have always desired and can show off to guests.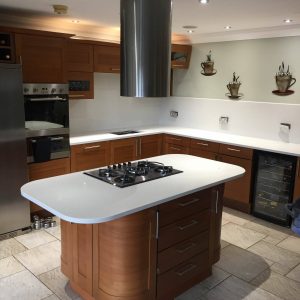 The style our customer has gone for here is very contemporary by adding our very own Bianco Carrina Urban Quartz that looks stunning next to the oak wood of the cabinetry. They have used the space well by adding cupboards to the island, and integrating the hob as well as creating an overhang for additional seating, guest can pull up a chair and watch the chef (feels like being in a restaurant). The wine fridge to the right is an extra bonus making it quick to serve with the tasty meal or adding to that mouth-watering recipe.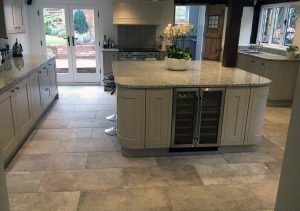 This has to be one of our favorites due to the exposed beams and how the kitchen has been laid out providing one of the best multi-functional kitchens. The Champagne Aurora worktop is a real time piece against the wooden beams and the stone flooring. The kitchen island has been used for extra space as well as additional seating for wining and dining plus the all important wine fridge that is one of the must haves to have in a kitchen these days. Simply beautiful!
Who says the kitchen has to only be for cooking
With kitchen island's being very popular these days, entertaining in the kitchen has become increasingly common. If you have a smaller kitchen you can therefore create a breakfast bar that fits on to your work surfaces or a kitchen island from a great work desk or dining table. Having additional seating in the kitchen is brilliant for the children, they can do their homework while watching you cook or ask for your help when needed if you are busy in the kitchen as well as when you are having guests over. Purchase magnificent bar stools to create the perfect socialising table.
Why not add some shelves to the kitchen to place them favorite cook books on or add the perfect ornaments for your decor. Combine the intellectual enjoyment that a book gives you as well as entertaining guests and family members with the additional accessories all in the comfort of your own kitchen.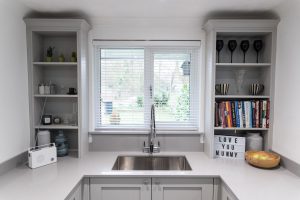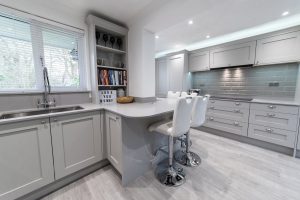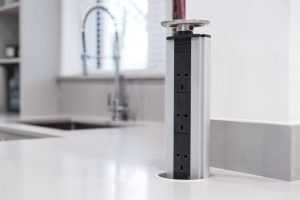 Our customer here has created the perfect breakfast bar with those glistening white leather stools and an electrical point to power up all them appliances. The shelves added accommodate those tasty recipe books and decorative wine glasses as well as the perfect accessories to match in with their decor. They have opted for the Grigio Chiaro Pura which is just pure stunning in this white and grey kitchen, it really does show it off. A very good choice!
Finishing touches can also be multi-functional too
Make your interior stand out by adding a personalised style with exposed wooden beams if they are integrated in to your kitchen, a wooden floor and the perfect granite work top from us, especially a solid white one. This will certainly balance the colours and make that rustic wood stand out as well as give it the style you desire.
You could opt for a sleek modern twist with glossy lacquered cabinetry with a black granite worktop and stainless steel appliances. This will certainly make you the envy of others and give your kitchen a new meaning.
By adding all these features to your kitchen, cooking may no longer become a chore but a treasured experience. Why not create the perfect experience that you will enjoy for many years to come.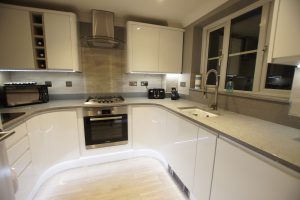 Our customer here has opted for the Grigio Medio Stella which is from our very own Quartz range. It balances out the white glossy cabinetry to the black appliances the customer has gone for. A real contrast that works well and a perfect finishing touch to the most centred room in the home. A classy appeal!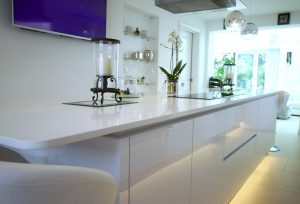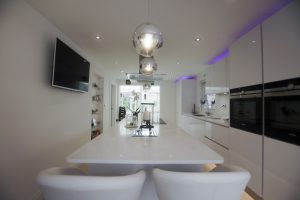 Our customer here has a certain eye for detail as well as choosing the right accessories to compliment their kitchen. They have chosen the Bianco Marmo Suprema which is one of our Urban Quartz and it simply looks amazing next to the crisp white glossy cabinetry and bar stools. The purple lighting gives this style attraction a pop of colour and sets the mood when the sun is set. A real work of art!
Mix up your worktop
You can divide the cooking and eating zones up by having different work top materials or even colours. Maybe opt for a black granite for a sleek dining area with those beautiful white leather bar stools and a pure white granite for the cooking/prepping area. This will distinguish between the two as well as offer a more relaxed feel and less of a workaday kitchen.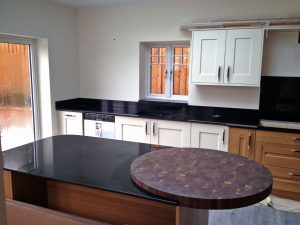 The Diamante Black chosen by our customer in this kitchen shows a new meaning of a kitchen. They have opted for an additional overhang on the end of the island and made it out of a different material giving a more relaxed feel as well as a great area for additional seating. A different idea and works so well!
Furniture on wheels
Maybe you only have a small kitchen with a little space, why not opt for a little kitchen cart. These are perfect for prep and storage as well as can be moved around for convenience and used as a serving table or bar in another room.
Tricks to reclaim space
Shelves
Place the most attractive dishes you have on here by opting for open shelves. Make the beautiful crockery the center piece in your fabulous kitchen, they certainly will turn heads.
Hanging pot rack
Perfect for storage and does look great when hung neatly with them best looking pots and pans. No more clutter to say the least.
Stackables

Stackables are great for this, so why not take a look at stacking plates, glasses, storage containers. In a kitchen these items are essential and having them stack will create more space as well as providing a neat and tidy cupboard.
Hang Glasses
Glass racks are perfect for hanging mugs, wine glasses or tumblers. Why not create this on a back wall that's plain to create an effect. This will also mean more space in those cupboards.
Silverware
Free up the cutlery drawer by choosing to put drawers in the island if you are having one or even in a dining room table. This idea will be perfect to stash away the cutlery neat and tidy.
A two-cook kitchen
How about defining two work areas such as centralized storage and tool placement. Opting for a tool rack and a lazy susan between two chopping blocks makes it easy to share tools and spices. Adding another sink could also be a good idea as this will minimize congestion at the tap as well as added space that may be needed.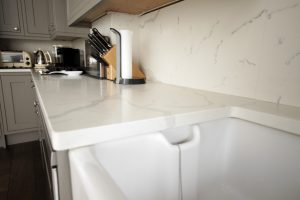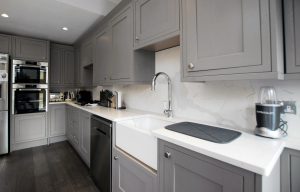 The greys on the kitchen cabinetry in this kitchen simply shows off the irristable Calacutta from our Urban Quartz range and has the tools handy for preping and cooking.
Love the garden
If your a lover of the garden then building a space in the kitchen for that garden activity could be the perfect idea. Hang some shelves below the kitchen window or add an extending windowsill and you can watch some kitchen herbs grow. These will be at your hands in desperate times when you need that all important herb for the mix. On the other hand on a plain wall you could hang a sturdy piece of twine or wire to create the perfect herb-drying space.
Lover for baking
The perfect ergonomic height counter top for kneading bread dough or rolling out that delicious pastry is 30-33 inch high. Two ovens are the perfect idea if you have the space as well as love to cook. Positioning the ovens near the baking zone is the ideal solution. Consider a dedicated space for the mixer so you don't have to keep moving it, it also adds an additional feature to the kitchen and really shows you are a true baker at heart.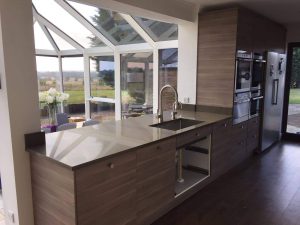 The Mocha Urban Quartz chosen by our customer in this kitchen works very well with the style, it catches the light beautifully as well as adds warmth to the room. There has been two ovens slotted in to the cabinetry on the right which is in the ideal location when preparing to bake. It also gives the customer the right amount of cooking space as well as an additional feature. Perfection!