A kitchen island is the perfect way to add extra functionality and storage as well as extending space to your work top. It has become an essential feature in the move towards open-plan kitchen extensions. They can be long and slim, run parallel to the work area, be big and bold, neat and round in a compact room or house sinks and appliances.
A separate multifunction design
Use a kitchen island creatively and it's possible to separate the prep zone and intimate dining room. Use it to serve a multitude of purposes such as a place to wash and prep food and a neat breakfast bar with tucked under stools. Wire in some power points for some kitchen appliances and away you go. A place to also sit and eat and perfect for the younger members of the family where they can sit and do their homework and get involved in what you are doing or enjoy a snack and eat their breakfast before the school day. If your kitchen is lacking storage areas, then a kitchen island may solve your problem. Thought you didn't have enough room? Well now you have.
Look how this kitchen island above creates the main attraction by providing multifunctional cupboards, a wine fridge and an instant seating area. The colour of the granite adds simplicity to the room and blends everything together as well as the beautiful beams in the ceiling. Our customer wanted to expose their beams and what better way then centring the island around this while choosing our Champagne Aurora to customise their look. A real timeless design.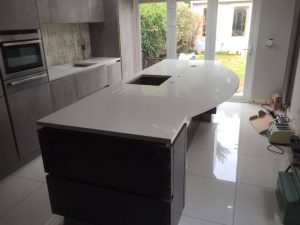 Our customer here has opted for the Bianco De Lusso Urban Quartz to show off their separate prep zone. This white quartz really goes well with the colour of the units making the style of this kitchen look modern and tasteful.
Modern Taste
Keep your island work top clean and uncluttered and add a pop of colour. Keep it feeling relaxed by a large sleek sparkly island by using one of our granites and then add a glamorous pendant suspended above.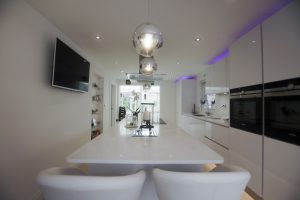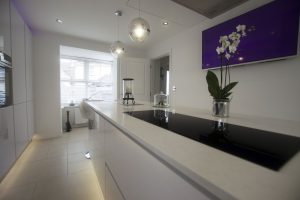 Look at how this kitchen island creates an instant modern style. Our customer has opted for the Bianco Marmo Suprema which looks amazing next to the white gloss cabinets. The white bar stools on the end blend perfectly with the colour scheme in the room and the purple lighting is just FABULOUS. A real contrast between the colours.
Perfect for entertaining
A kitchen island is perfect for entertaining. It is made to be the centre of attention in the kitchen where it can act as an informed dining area and additional seating when entertaining. It can be used as a social affair, laying out the drinks for an instant bar area or spreading out them tasty dishes.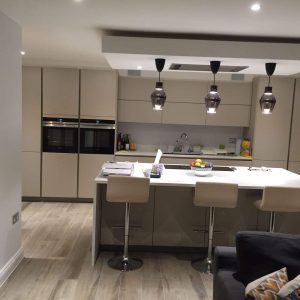 Our customer here has created the perfect space for entertaining. The island is big enough to seat three people as well as cook in front of them. A real social event can take place in this kitchen. The Silestone Lagoon opted in this kitchen especially on the kitchen island offers a real class to the design and matches perfect with the cream leather barstools a real contrast.
Transforming a table into an island
This idea is perfect for a low budget project for your kitchen. It creates a practical feature in the kitchen as well as a beautiful design. So use a table that you already have or buy something that doesn't cost a lot and transform it in to that must have Kitchen Island that you have longed for.
Adding a feature lighting for instant style and glamour
Make your kitchen island stand out by adding a feature light above. They clearly steal the show and provide that vital task lighting needed in a kitchen. The pendants on today's market bring beautiful balance and a contemporary style. Just like the one below.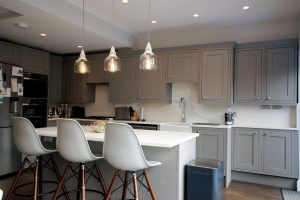 These perfect pendants are a real work of art. Suspended above the island making it a real show stopper. The Calacutta Urban Quartz the customer has chosen blends perfectly with the white of the lights and those amazing bar stools. All the whites in the centre of the room makes it look fresh and the centre piece. The eyes will automatically be drawn to this style attraction.
Defining a zone with a kitchen island
If you have an open-plan kitchen you may want to use it as a room divider. This will mark the transition between a kitchen and a living/dining room.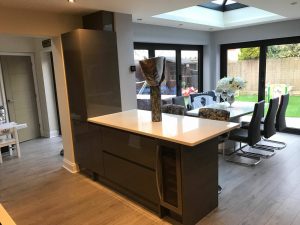 Look how this kitchen island is used as a room divider to separate the dining area to the kitchen as well as a bar area to sit at. The perfect white Bianco Minerale is used here to blend in with the colour of the units and create that instant white appeal making it look clean and crisp.
Why not have a go at creating an instant appeal in your kitchen by designing your very own kitchen island. We have all the Granite and Quartz you can think of, which will really suit your personality and make that all important show stopper.