"Finish off your hub of the home project with a perfect seating area for you and your family"
In this blog I wanted to show you how your hub of the home can have the most stylish and modern seating ideas ever imagined, so let's pull up a chair. You may like the traditional, standard, classical seating, or you might want to push the boat out and choose something a little out of your comfort zone that is cool and contemporary. I will take you into the world of resting your legs in style with these creative seating concepts.
Nowadays a kitchen is used for everyone to gather, whether it's for family time or a dinner party. You want to be able to provide the best perch for all corners, so how do people cater for all the varied functions a kitchen is used for? Well I'll show you…
Open plan living is the thing for today, so functional and comfortable seating is essential requirement in today's kitchen. You need to be able to sit on a comfortable seat after that huge meal you have just cooked, but you need to think that you have to sit properly when eating and resting after. Integrated seating is a more relaxed way of sitting comfortably than a formal dining set, due to it looking and being comfy. It works in all room sizes. If you have a large room you may consider both a relaxed area for seating and a table and chairs that is set up for entertaining. A perfect plan! If you have a smaller kitchen, built-in seating can be a space-saving solution, plus it offers a streamline design to go with the rest of the kitchen.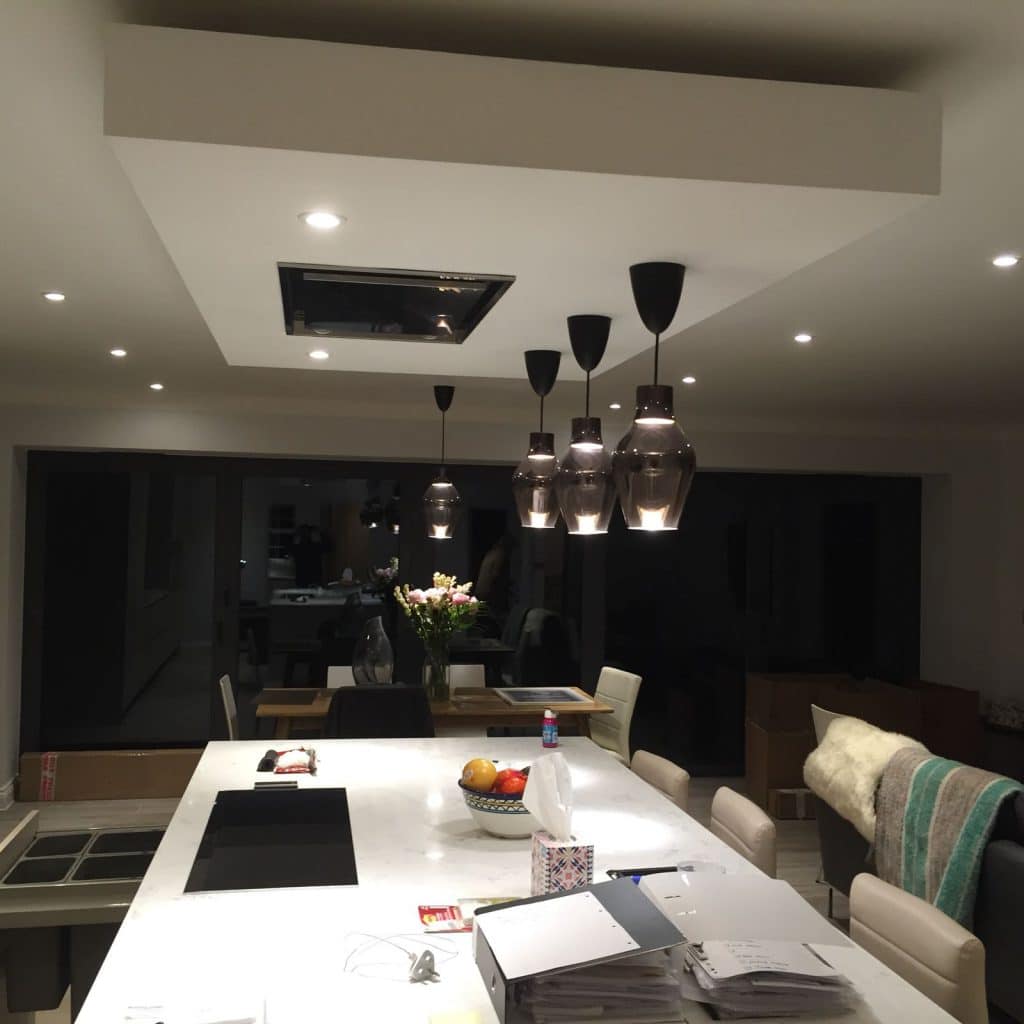 Use your space wisely…
As I said previously built-in seating is a great way to use every inch of the room. If you have an architectural feature in the kitchen this will be a very creative opportunity to use in the modern seating plan you create. Be proud of it and use it! If you are lucky enough to have a large kitchen, a popular idea is to run a banquette along the back of an island, so the cabinetry forms a backrest. You could always choose an L-shape island that surrounds the seating area.
Allow the correct breathing room…
When planning the seating area, you need to consider how many people you wish to sit round the table. The adequate space that has been stated by experts is a minimum of 60cm per place setting. The knee height should be between 61-73cm for knee space.
How to style it…
If choosing the integrated seating idea, it should blend seamlessly with the rest of the kitchen. Don't let it interrupt design, colour, lines and heights of the other areas of the kitchen. Upholstered seating areas will make it much more cosy and create a snug seating area. Choosing fabrics such as faux leather, washable suede's, heavy cotton and canvases are great for being resistant to stains etc.
Breakfast bar seating…
A breakfast bar in the kitchen is a natural seating area that can look sleek and sophisticated with a few bar stools behind. You instantly create an easy eating area, that avoids the expense of a full kitchen table. Don't let your family eat in the dark, so add pendent lighting above the area to illuminate this great space you have created.
Window seating…
You are very lucky if your kitchen can provide the ultimate window seating. You can look onto great views and it creates an instant feature to the kitchen area. Add some cushions and create a wonderful seating arrangement with natural light that creates an open and airy feeling. It can also offer extra storage room if the benches have lift up lids.
Reduce the height of some of your cabinets…
One of the most common issues in a kitchen design is finding the space for storage. It can be hard in a smaller kitchen to have the most adequate room for a seating area, as well as storage space. Reduce the height of some of your storage cabinets and you could be on to a winner. The top of the cabinets can be used as casual seating with cushions and those glamorous velvet throws, to create a comfortable and homy seating area, that can be used as storage underneath. Perfect for the kids or for a casual coffee morning with friends.
Create space underneath your island…
Indent your island to create a space for your stools to fit underneath for additional seating. More space and seating is just a brilliant idea. Hold as many dinner parties without having to worry about being able to seat everyone!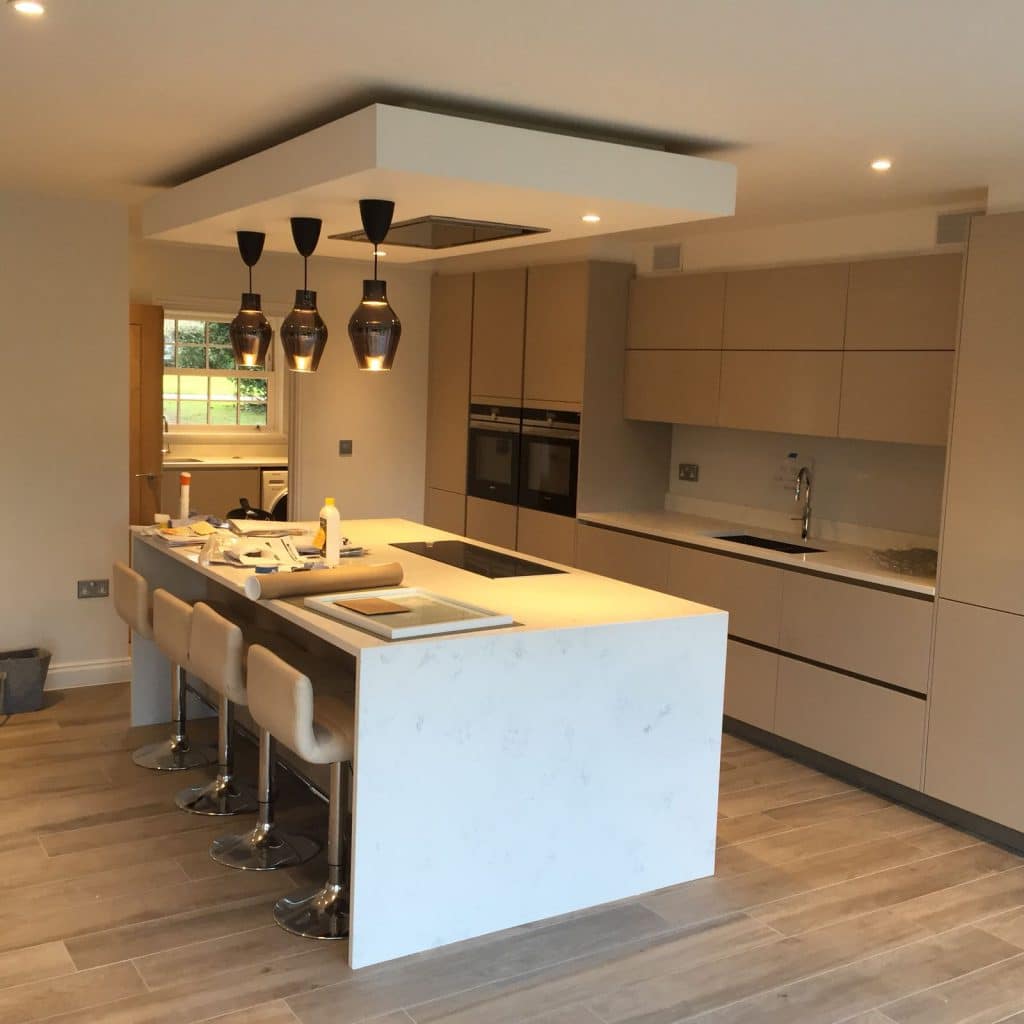 Cool and Chic
This is a beautiful take on a modern, contemporary breakfast bar. The worktops bend round the pillar in the wall allowing a breakfast bar to be made, with the ultimate modern bar stools. A perfect seating area for all the family and when guests come too. Our customer here has chosen the Grigio Chiaro Pura style quartz in this soft beautiful colour scheme.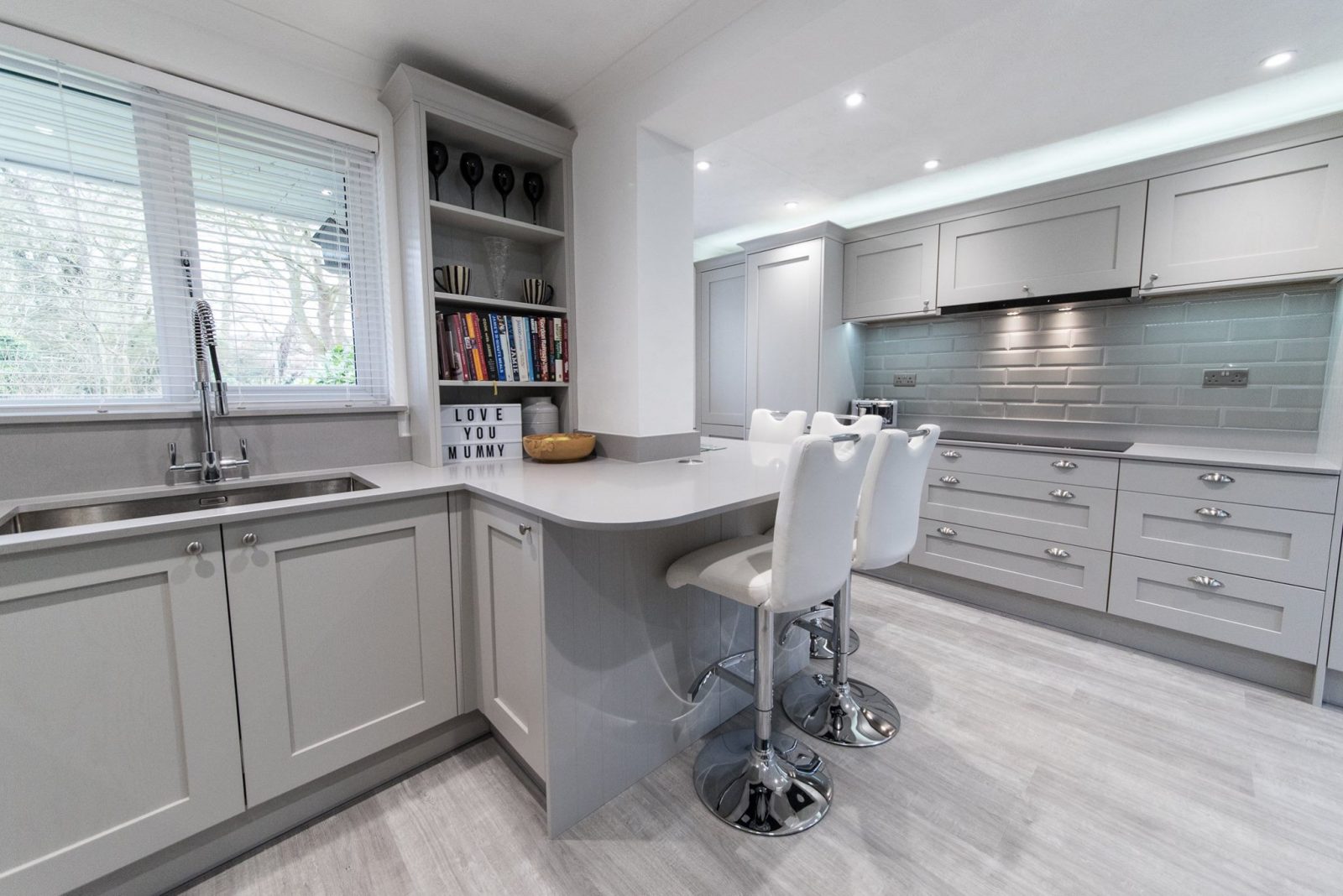 All in a row
A seating arrangement on an island is a simple, naturally beautiful idea, and it wouldn't be complete if it didn't have a sleek row of bar stools. Our customer here has chosen to complete their kitchen with the Carrera style quartz that works perfectly with the colour scheme and brings out the architectural feature, that has been opened up around the cooking area.