Stretching your legs is the ulitimate goal, and why not stretch them a little while you eat!
What does a breakfast bar have to offer…
A breakfast bar makes an ideal place for breakfast as well as an informal meal. It can be used for many things such as, a great seating area for eating a quick meal, and it's great, especially in bringing family and friends together, while serving the nibbles. Crack open that bottle of red and entertain while cooking.
The breakfast bar is a staple of a modern home, which is a laid-back eating area. They were first designed for eating breakfast around, but today they have evolved in to places for working, entertaining and the most important thing relaxing. In some houses they have replaced the dining table, offering space and the ultimate focal point in the kitchen. Extra features can be added to the bar and modern colours to make it the most eye catching piece.
Height of a breakfast bar
In most homes, the breakfast bar sits at 90cm tall, which is the same height as the kitchen work surfaces. Some like to have the breakfast bar taller or lower than these surfaces, and a gas lift chair is ideal for this.
Shapes
There are many shapes and sizes that you can choose from when designing your bar. Firstly, you want to make sure if the breakfast bar is used for seating, as this will determine on the shape and size, and secondly, you want to decide if this is going to be used for a prep and cooking area.
Rectangle– this is an original design and a very popular shape for the breakfast bar. With it being most like a table, this will give a traditional feel in the kitchen and add extra seating. The seats can be placed along the side or at the end of the bar. It has the advantage to include additional features such as hobs and fridges and is neat and tidy for the smaller spaces.
L-Shape– it consists of clear fine lines of a rectangle and adds visual interest, while the units are joined at a right angle, the stools sit on the outer sides of the "L".
T-Shape– this is very different to your ordinary breakfast bar. It takes place on the stem of the "T" placed verticle and has lots of space for seating (perfect for entertaining and larger families).
Curved– If you have the space, a "U" shape curve is perfect, as this can create lots of dramatic effects in the kitchen. It sits quite a few people round so it is perfect for the larger families and entertaining. It creates a bold fashion statement to your kitchen.
Circular– give some consistency to the kitchen by a circular bar and rounded or curved styled stools. You can incorporate a circular extension on to the rectangular bar or make a full circled breakfast bar. It is perfect for smaller kitchens making a design statement.
Elevated Extension– add dynamic and height to the room with a bar extension that is raised. It seperates the eating area from the rest of the worktop, so you will not get in the way of the cook of the house.
High Table– you can create the perfect breakfast bar by purchasing a high table that has ample space underneath for those glamourous stools. They are perfect for a small kitchen and the open sides take up less visual space too.
Lowered Extension– this allows you to eat at a dining table height. Perfect if you do not have a seperate dining room, and is most suitable for young children and elderly people.
Breakfast Bar Statements in our Customer's Homes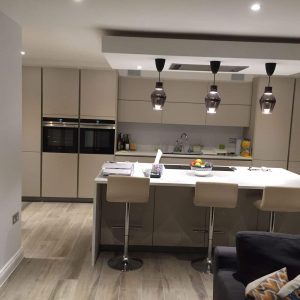 This perfect breakfast bar that is situated in the middle on an island consisting of our Quartz Silestone Lagoon, looks on to the cooking area making it the ideal place to entertain guests. It offers a fair bit of space between each stool, so no one is cramped when they are perched on the stools. The lighting adds instant glamour and sets the mood, while the hob on the other side is positioned a fair distance from the seating area making extra room and the perfect place to prep and cook.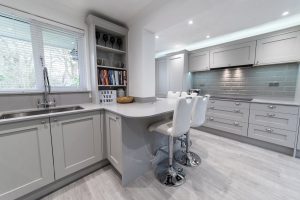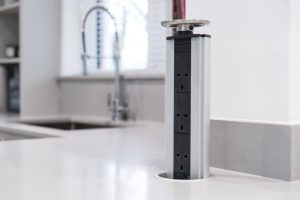 We simply love this idea and look! As the bar bends round the walls, it offers a true definition of fine lines that makes this kitchen absolutely stunning (a new meaning to instant appeal). The decor chosen adds simplicity to the room as well as a contemporary modern look. It offers the perfect eating area, aswell as additional features such as the intergrated power socket that pops up when needed (a modern tech). The customer here has chosen our delightful Grigio Chiaro Pura from our Quartz range.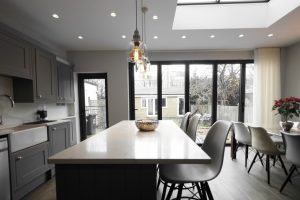 As you walk in to this kitchen everything matches, from the chairs, to the colours. This bar offers a great space to entertain as well as be an amazing focal point in the main area of the home. Our gorgeous Calacutta from our Urban Quartz range simply does this decor justice, adding definition and a new style meaning. The chairs are great for comfort and perfect for letting your feet dangle. Who wouldn't want to sit on those chairs underneath a quartz wrapped bar in the centre of the kitchen.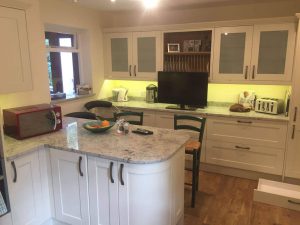 A perfect "L" shape bar has been created here, using our River White Granite. The chairs are postitioned on the outer side of the "L" adding a perfect amount of room for an eating area, as well as entertaining guests. It is truly a great focal point for the kitchen.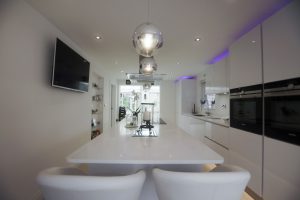 The stools are placed at the end of this modern bar looking on to the fabulous kitchen (you can sit like a king or queen). It creates enough room for an eating area as well as the space to prep, serve and cook. The Bianco Marmo Suprema from our Urban Quartz range is simply devine in this ultra modern kitchen.
You will find a superb range of granite and quartz worktops in our collection here at Rock & Co to add to that main focus, The Breakfast Bar. Check out our colours below by clicking the links and finding that perfect one for you.