"Built-in appliances are made to bring uniformity to your fitted kitchen, offering a sleek and unobtrusive look."
Built-in appliances are a smooth integrated design that match your kitchen decor to a tee. With little, or no gaps for dirt and dust to be trapped in, they are the perfect part in your kitchen to clean with ease. They are perfect if your kitchen doesn't offer a lot of space, and can be installed at different levels, for example at eye-level or beneath them fabulous worktops.
Why built-in appliances are an option
Save your counter space- microwaves and ovens can live side by side behind a door
Make your kitchen work better for you- a built-in oven at eye level
Don't cramp the interior style with freestanding units that do not match your cabinetry
Your kitchen will certainly seem much bigger without freestanding fridges or cookers.
"It certainly is an investment to be made in the hub of the home, it will add value if done properly!"
Built-in appliances are perfect for an open-plan space. With open-plan living spaces being the norm these days in a modern world, hide away those appliances, so that your living area is still cosy where you can relax in.
Design a modest and sleek look…
If you love a flawless design, then look no further than built-in appliances. They are specifically designed for this purpose.
Chef's best friend…
If you have a kitchen with an island you may want to place a built-in oven underneath, so that you are able to cook all in the same place. You may even want to position the built-in appliances in a tall unit, making it easier to access and check on your food.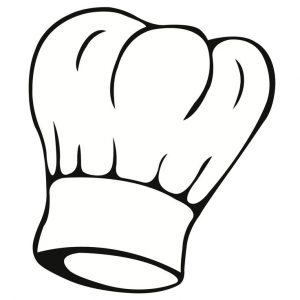 Great choice for the future…
Energy saving appliances are a big bonus for homeowners looking to sell. A slim built-in dishwasher looks great slotted, neatly between the cupboards, it draws attention to potential buyers.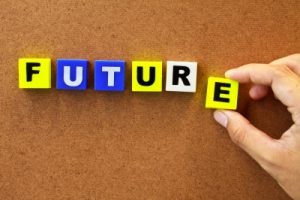 Easy to maintain…
A built-in appliance kitchen minimises nooks and crannies where dirt and dust can build up. A more clean and hygienic environment.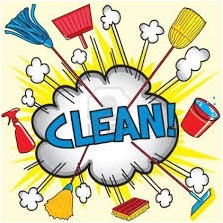 Best places for each of the built-in appliances…
Cookers- Single or double ovens can be neatly housed under a worktop or in a tall unit.
Dishwashers- Keep the dirty dishwashers behind closed doors. Choose to place in a run of units or that kitchen island.
Hobs- Choose between classic gas or electric, or an efficient induction one.
Washing Machine- You don't want to air your dirty laundry in public… Wash those filthy bits behind those closed doors in an integrated unit.
Built- in Oven…
A built-in oven can really change the way you cook. They are sleek and sophisitcated, while being top on the useful appliance list in the hub of the home.
Place at eye level so it is easier to take food in and out and see how the food is cooking
Mix and match the hobs and ovens
Easy to clean
How about taking a look at the Neff B57CR22N0B Pyrolytic Slide and Hide Single Electric Oven, Stainless Steel. An easy cleaning oven, that consists of catalytic liners to turn fat and grease in to fine ash that can easily be removed. A slide and hide door that is a stylish, innovative design, perfect for hands-on cooks.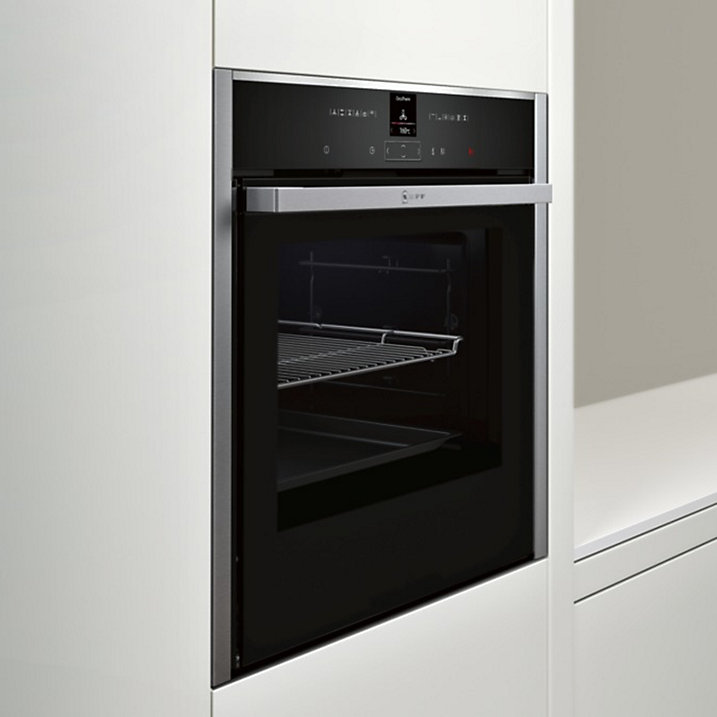 Built- in Integrated Hobs…
Built into your worktop to provide maximum convenience and fantastic results. You can place the hob where you like as it is seperate to the oven and is a fabulous feature in the kitchen.
Choose between electric, gas or induction- regardless of what your oven is
Designed to fit average worktops
Make it work for your multi-functional kitchen
How about taking a look at Neff T16FK40X0 Electric Hob, Black. It will fit snug into your kitchen worktop and provide handy and convenient cooking performance. It is stylish and sleek that will lend a modern look to your kitchen.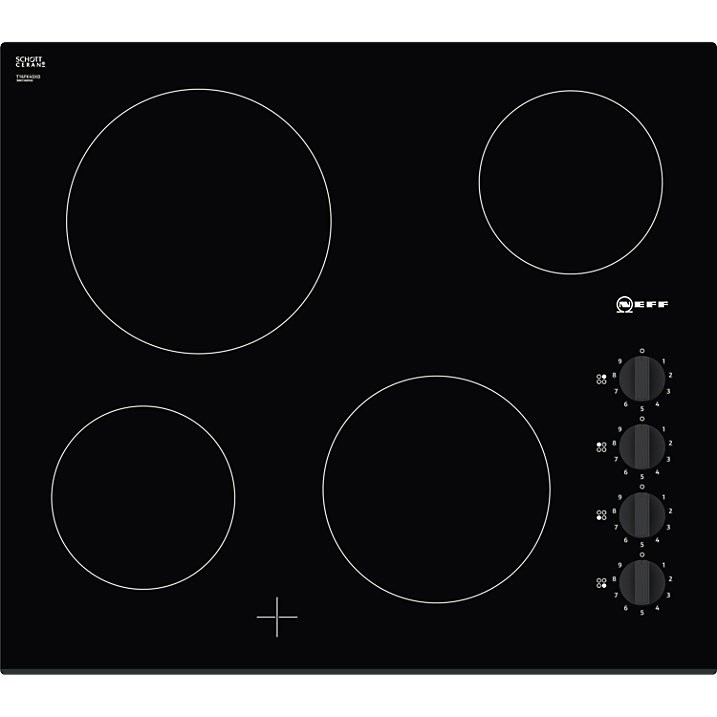 Built- in Fridge Freezer…
Integrate your fridge freezer to your kitchen's design. It is the most noticeable appliance in the kitchen.
Mainly slimmer than a freestanding freezer
Sit behind cupboard doors to fit in with the kitchen's design
Easy to clean
How about taking a look at Samsung BRB260130WW/EU Integrated Fridge Freezer, A+ Energy Rating, 54cm Wide, White Gloss. It is a sleek, integrated design that boasts a 267L capacity that will bring practicality to the home.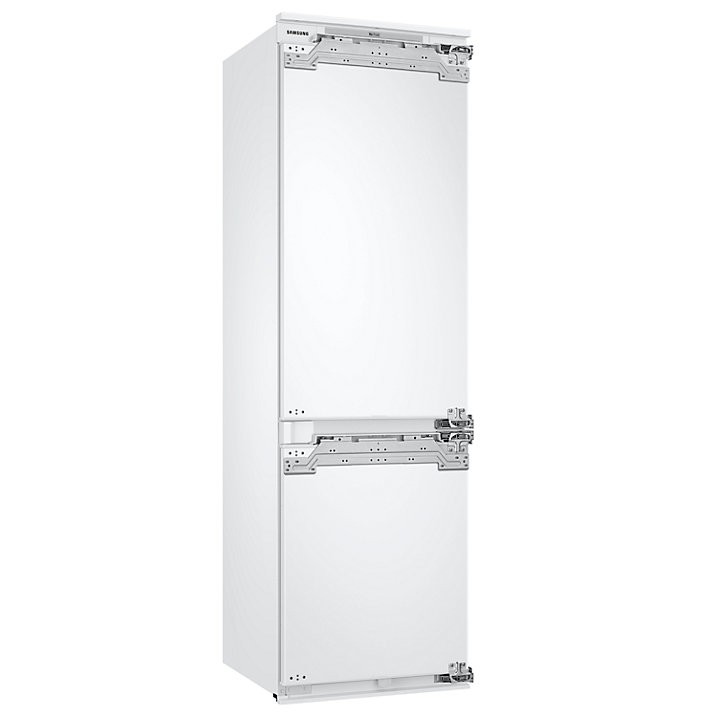 Built- in Washing Machine…
Shut that big, bulky box looking item out of sight.
Quieter to run
Seamlessley blends into the kitchen style
Keep it out of view when friends are over
How about taking a look at Siemens WI14W300GB Integrated Washing Machine, 8kg Load, A+++ Energy Rating, 1355rpm Spin, White. Get your washing super fresh and spotlessly clean with maximum efficency and minimum noise.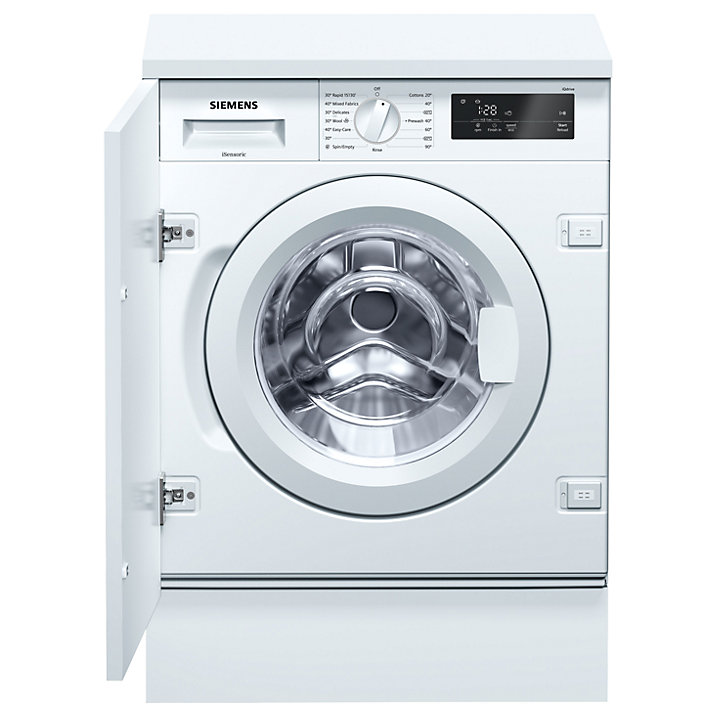 Built-in Dishwasher…
Shut away the dishes, out of mind, out of sight.
Load up the dishes, shut the door and forget about it until the morning
Slimmer ones free up space for storage
Why not take a look at the Bosch SMV46IX01G Integrated Dishwasher. It boasts convenience and practicality inside a stylish innovative design, that is perfect for the hub of the home. It can also blend seamlessly to your kitchen design.