"The kitchen style that remains a classic timeless design, and stands the test of time is a Shaker kitchen"
A Shaker style kitchen is one of the few that remains popular in their classic styles of design, and is the perfect fit for almost any style of the home.
The Shaker style can date back to the 18th century which was made up from a religious group called The United Society of Believers, commonly known as the Shakers. They were keen craftspeople, that produced furniture for their own communities and to sell on. They had high quality workmanship which they were known for and created furniture that was simple in style, and most importantly durable and functional. Seeing as the kitchen is the hub of the home it is always best to choose a kitchen style that offers all of this. The Shakers made most things out of pine, maple and cherry and were originally painted or stained, with popular colours such as blues, greens, reds and yellows. With such a good quality and thoughtful kind of style, it's no surprise that they have become increasingly popular in the modern home. The designs are perfect to create smart storage, a timeless backdrop for those 21st century appliances and adding them beautiful characterful accessories into the decor.
Creating a shaker style…
You need to simplify everything to find the essence of that timeless Shaker style you are trying to create in your hub of the home. All the furniture in the kitchen wants to be able to do this. Choose from leaving the furniture natural or painting the wood.
Brand new real wooden furniture can be expensive, so you may want to visit your local flea market to find any unearthed gems. Older pieces of furniture will give your Shaker kitchen authenticity, making every scratch and groove in the furniture tell a story from the past.
Perfect storage…
The Shaker's believed in having a place for everything and keeping everything in it's place. Drawers and cupboards were designed and produced to fit each item exactly, perfect for a multi-functional kitchen. Hiding appliances behind doors makes the room look serene and seamless, which is a great look for the hub of the home. How about designing special storage solutions into your design like a butcher's block for those knives.
The peg rail is a recognisable feature of the Shaker kitchen, due to it's simple strip of wood with round pegs. It can be used as a creative idea to hang all types of kitchen accessories on it.
Open shelving is another great way to style your favourite pieces of china. Glass fronted units are ideal to break up a row of solid doors, to show off your timeless pieces of glass and china.
Colour schemes…
One of the most important parts of the design process with a Shaker kitchen is the colour scheme. We all know choosing colours for a kitchen can be hard as there are so many to choose from. The best colours to use are cream, pale grey or blue. Any primary colour infact that is muted will work just as well. Combining two colours will work for a more characterful look. If you decide to go for a neutral colour on your walls, add some colour to your furniture, accessories and storage.
Patterns aren't so much of a good idea with a Shaker style kitchen due to it contradiciting the simplistic, clean style that a Shaker kitchen portrays.
Small details…
Finer details such as handles for your storage drawers and cupboards are a great detail to capture the essence of a Shaker kitchen. In traditional schemes, timber knobs and handles were used to match the material of the furniture. How about injecting a modern twist on the handles of your storage drawers with some satin nickel. This will bring an elegant style to the shaker design that will impress anyone who enters and bring out a flair in your creativity.
Counter tops…
In a modern Shaker style kitchen, introducing Granite or Quartz worktops will work perfectly well next to the overall look you are going for. It is the 21st century after all. Here at Rock and Co we have the perfect Granite and Quartz materials on the market today to match your Shaker style effortlessly.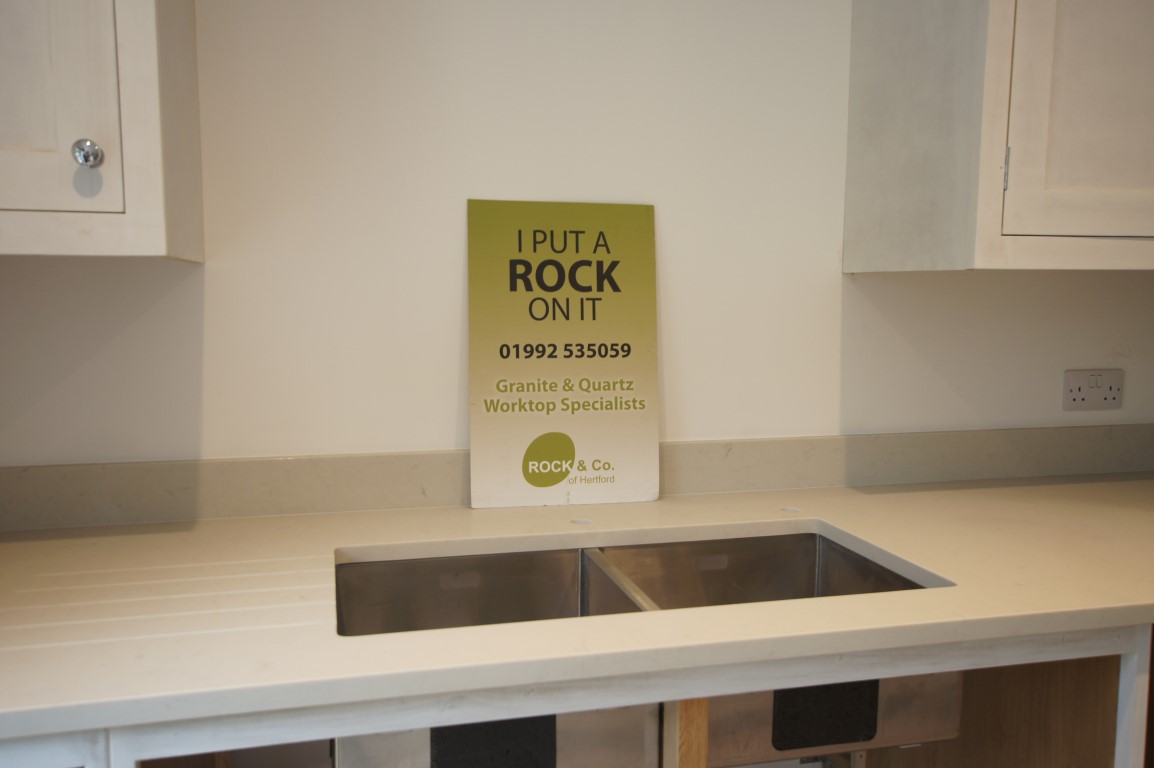 Some of our customers Shaker style kitchens…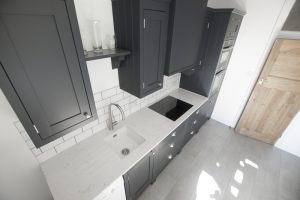 This customers Shaker kitchen has been finished off with our Carrera style Quartz. A grey colour scheme throughout with different shades of grey, providing the perfect ambience to the hub of the home. The Carrera is a white background with a grey marble effect throughout. A perfect compliment for the decor in this kitchen.
This customers Shaker kitchen has been finished off with the Calacutta style Quartz. Another light colour has been chosen for the decor in this hub of the home that is perfect for a Shaker style. The Calacutta Quartz is a white background that has grey marbling throughout.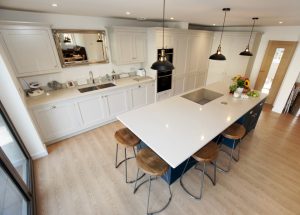 This customers Shaker kitchen has been finished off with the new London Grey Carrera. In fact this is the first installation of this beautiful Quartz and doesn't it look great! The colours chosen in this Shaker style hub of the home are light making the island a feature with it's bold blue finish. The London Grey Carrera is a off-white colour that has a marble effect throughout.