"Your flooring will have a big part to play in the overall look of the kitchen, so it is important to get it right!"
Flooring is one of the most important parts of a kitchen due to it having a pretty tough job, with them muddy feet and the spilt milk from breakfast. You still want your floor to look fresh and stylish, so choosing the right material for your space and lifestyle is crucial. We all know that the flooring finishes off the hub of the home and I can tell you that a Quartz worktop from us will look fabulous matching up next to the flooring material you choose.
When it comes to choosing the flooring everyone is different. Everyone has different lifestyles, preferences and personalities. Some people like the coldness on their feet from those gorgeous tiles, whilst others love the beauty of the warmth natural wood through their toes. Once decided on the material, there's the choice of pattern, colour, theme, design. There is alot to consider, so in this blog I hope to give you the best key factors to consider on how to choose the correct flooring for you and your family before you take the flooring dive for the ultimate finish of your hub of the home!
Are you one for classic stone, wood, practical porcelain, a edgy pattern? There are a lot of options to choose from and they all have their advantages and disadvantages. The trick to the ultimate flooring is thinking of the key considerations and what you will gain from the flooring you choose.
Are you keen to have a stylish, sleek look, or a flawed character design? Have you got the time to look after your floor, or will it be a mop and go kind of thing? Do you live in a big home that is busy day in, day out, or is it just a couple of you pottering around? Are you looking to wow, or be more subtle? Whatever your requirements there is a floor for you and your kitchen.
The way of living today is open-plan spaces. People love to entertain and be hosts for the day/night so they combine their kitchens with their dining and living rooms. The kitchen flooring can be a great way of uniting different areas of the room. It is a good idea to choose the flooring at the same time as the cabinetry, so you can put together a palette of colours and materials, that go with the rest of the space and decor.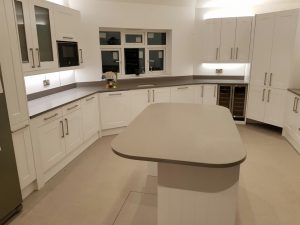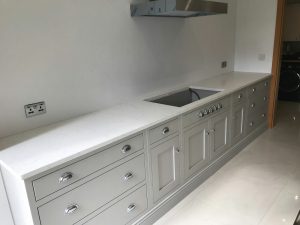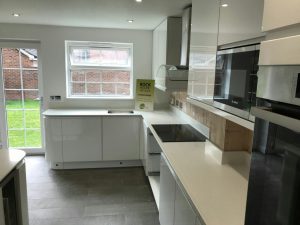 "The choice of flooring can make or break your kitchen look!"
The perfect steps to choosing the perfect flooring…
Look- What style of floor looks best with your decor? What style suits your home?
Space- Is it a large space or small space? What is the shape of the room? Has it got lots of natural light or is there a few dark spots?
Materials- What materials do you prefer?
Colour- What colours are in your decor already? What colours will you be wanting to add?
Size- Is it skinny or wide planks you are after? Square? Rectangular?
Finishing Touches- Do you like the idea of bespoke flooring, grout, borders?
Practicality – As it's the kitchen you need to choose something with lots of durability and easy to clean!
Types of flooring…
Stone…
Stone is a popular flooring choice because of the beauty of the material and it's natural elements. A honed matt surface gives a more modern look and no two slabs are completely the same. Stone brings a wow factor to the kitchen area and is long-lasting, robust and easy to care for. There is a disadvantage when it comes to stone and that is because of stone being so hard it is not forgiving to your feet. So if you stand alot in the kitchen and for long times, this may not be a good choice of flooring for you. Having said that though it does have it's many advantages.
Rubber…
Rubber flooring is durable and warm to the touch. It offers a sleek, modern look to a space, and provides a softer edge than concrete. You can purchase it in tiles and textures such as studs and ridges. A flat surface will be a better option for the kitchen due to easy cleaning. Rubber is a hard-wearing type of flooring, that is good for the feet. It is available in a huge range of colours that will go with most decor's. Unfortunately any type of flooring will have a disadvantage and the cons of rubber are that it can be slippery when wet, and if something drops on it, it can be dented.
Tiles…
Tiles are a practical type of flooring that offers style and convenience. Tiles are a common and popular choice when choosing for the kitchen, as they are versatile and can look the part in traditional and modern kitchens. They are also so easy to clean and maintain. One disadvantage of tile's can be that they are cold to the touch and quite heavy.
Porcelain Tiles…
Porcelain Tiles are very hard-wearing and can be made to mimic other surfaces such as, wood, concrete or leather. Porcelain is hygienic and can be washed with anything. Unfortunately the disadvantage with porcelain tiles is that it can be a struggle to achieve a warm, characterful feeling in the kitchen and they can be more expensive than another type of tile.
Ceramic Tiles…
Ceramic tiles are made in many designs, colours, sizes, textures and can mimic other materials such as wood. They are easy to clean and you can certainly get the look you are after with a ceramic tile. The disadvantage of the ceramic tiles is that they are not as hard-wearing as the porcelain tiles and can crack. They are cold to the touch and hard on the feet.
Polished Concrete…
A polished concrete floor will give you the perfect finish to the industrial style you are after. It is also an ideal floor to sharpen a soft look. It is a hard-wearing floor, and if looked after properly it will get tougher with age. It can come in an array of colours and is very easy to clean, aswell as great for underfloor heating. Unfortunately the disadvantage of concrete is that it doesn't look after your feet if you are standing alot in the kitchen and can be damaged if something is dropped on it.
Solid Wood…
Solid wood come in a huge range of shades and grains. It is very unlikely that it will go out of fashion, and works in any setting from ultra modern, or to the traditional country cottage. A uniform grain looks the part in a modern scheme, where knots in the wood will work very nicely in a traditional scheme. A quartz worktop will look great with any type of wood flooring, and lots of our customers have chosen a type of wooden floor in their kitchen, which I will show you later on. Wood is very nice to your feet and is warm to the touch so you will certainly create a very cosy kitchen in the winter months. The disadvantage of a real wood floor is underfloor heating is a definite no-no.
Engineered Wood…
Engineered wood will look great in a big room. So if you are lucky to have a large kitchen maybe this is a great idea to finish off your hub of the home. The boards are flat, they do not expand or contract and are perfect for underfloor heating. The disadvantage is that they can lack some character of the real thing and can get scratched and stained.
Laminate…
Laminate is a great choice of flooring for the kitchen area. You don't always have to choose a wood look because a laminate can imitate ceramic tiles or slate. They are pretty tough and scratch resistant. Lots of colours and textures to choose from to make your kitchen the best it can be, and is reasonably priced with low maintance and can be installed over an exisiting floor. It needs an under-layer and some laminates are not suitable for underfloor heating.
Vinyl…
Vinyl is a high-quality, budget-friendly choice. Vinyl offers lots of patterns and colours. It can replicate lots of surfaces, from wood to stone and is very easy to clean and maintain. If damaged, it's unrepairable and can be easily scratched. Amtico and Karndean are sure to be one of the best vinyl companies out there.
Patterned flooring…
A patterned flooring can look brilliant if your decor is neutral in design. Patterns can range from bold and bright colourful styles and can give the ultimate wow factor to the hub of the home. Make sure though that if you decide to choose a patterned flooring that something else in the kitchen is overpowering, as you don't want to create a visual clash. Give careful consideration when choosing your patterns. A coloured tile creates a perfect simple, stylish look in the kitchen space and will go perfectly with a modern handleless design or a traditional shaker.
Plain flooring…
Plain flooring is easy to style with a more bold, and colourful decor. Some of us like colour on the walls and a plain flooring is perfect for this! Try to use subtle, natural tones for the flooring so you know that these will stay in fashion for a long time. You want to create a kitchen that you and your family will love forever and you will do just that with a plain, neutral floor.
Some of our customers kitchens with their perfect flooring, matched with the most beautiful of Quartz to finish off the hub of the home…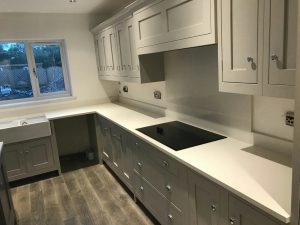 Our customer here has chosen the Bianco Marmo Suprema style quartz to their large, spacious kitchen in Bishops Storford. It works perfectly with the cabinet and floor colour choice. They have chosen a wooden style flooring to match the traditional shaker style cabinets to create their open-plan space with style and rustic features.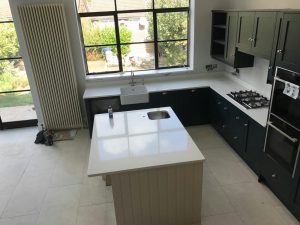 Another Bianco Marmo Suprema style quartz fitted in to this beautiful, spacious hub of the home. Dark and light colours have been added to the decor in this kitchen space and the customer has chosen a light style tile for their flooring that works perfectly.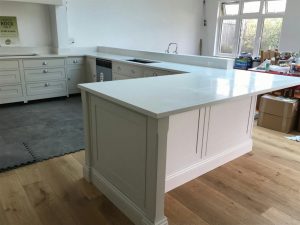 The Bianco Nevoso style quartz has been fitted to this light coloured, traditional style shaker kitchen. The knots in the wooden floor really bring out rustic features in this hub of the home and I certainly think that this type of kitchen will never go out of fashion!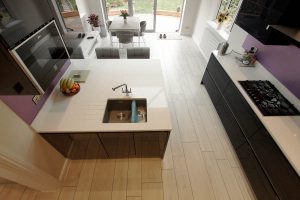 The Bianco Stella style quartz has been installed in this colourful kitchen. It works perfectly with the light wooden flooring the customer has chosen, and the purple splashbacks on the wall look great next to the light coloured worktops and the dark high gloss cabinetry. A real modern open-plan space.