"Highlight the ultimate feature in your hub of the home with track lighting!"
Track lighting is a form of lighting that can transform the kitchen design, enhancing a specific area you want to light up, or setting the mood across the whole entire layout. Perfect to represent your personality and mood.
Track lighting is a contemporary and versatile solution for your hub of the home offering lots of potential. It can be used for boosting the general lighting in the kitchen, or highlighting a feature for example a kitchen island. If your kitchen contains a single ceiling light fixture in the middle of the room, then track lighting can add to this. In any busy kitchen you need to have the correct lighting as well as task lighting that is directly aimed on to the work area.
So… what is it?
Track lighting is a fixture of lights that are held in place by a metal strip or wire, hence the word "track". The track is connected to an electrical outlet, which is normally in the ceiling that powers the bulbs. Genius aye!
The track can be flush with the ceiling or be suspended in the air below. Many lighting styles can be fitted to it like spotlights, floodlights and pendant lighting. Wouldn't it look great suspended above a kitchen island!
If you chose the option of adjustable lights, you can point them over the dark spots or illuminate particular areas and make them your task lighting.
How can it be used in the kitchen area?
Track lighting is a great way of showcasing the very best of your kitchen layout with features in mind. There are a range of ways that it can be fitted. The main appeal of track lighting is it's versatility and can be structured in a way that is appealing to your kitchen space. The tracks can be laid out in bespoke ways that are suited to you and your kitchens layout to illuminate the areas. Opting for long tracks can light a kitchens walkway or light up a worktop if suspended over the top, it increases the visibility so it's perfect to use for task lighting!
Popular formations of the track lighting can include shapes of L-shaped and T-shaped, that are ideal to add light to corners or maximising an awkward kitchen layout. Track lighting can also be installed over an island as previously mentioned to create a welcoming atmosphere when dining and entertaining guests, and creating a mood light when your about to get cosy for the night!
Which track lighting is perfect for me?
There are many styles of lighting to choose from and many different layouts to think about, but it's important to decide first on what purpose the track lighting will have in your kitchen.
Ambient lighting…
Ambient lighting provides a general illumination of the room. It basically means a comfortable level of brightness without a glare. If you have a small kitchen, track lighting is a great way to provide a light source into your kitchen. It's not sufficient to use as the sole lighting in a large kitchen (if you have one), as it will not provide the overall lighting your require, but it can be used with other lights, like under cabinet lights that will create a layered lighting scheme.
Task lighting…
Task lighting is designed to highlight a key area, like the worktops so you can work efficiently with proper lighting. Track lights can be used as task lighting to emphaise a specific part of your kitchen, like the dining table or kitchen island. It is a great subtle way to section off your zones of your layout to suit your lifestyle. Open plan living is one of the main ways of living in the home today and this type of lighting is great to seperate the kitchen from the living area.
Accent lighting…
Accent lighting is like task lighting where it focusses on a specific area, but in a more concentrated manner. It can be used as accent lighting and placed in a way to show off a feature, series of artwork, photographs, or a favourite piece of china.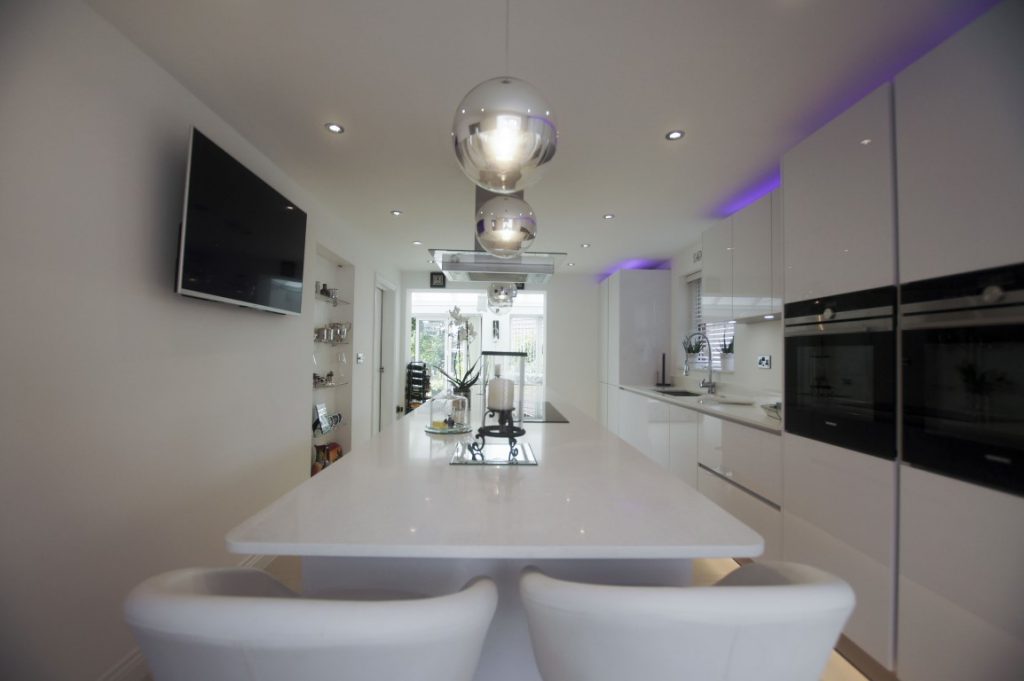 Once decided on what and where your track lighting will be placed, then you can figure out which fittings and styles will suit the decor and interior of your kitchen. There are many types of amazing and beautiful lights on the market today.
Pendant lights are great for high ceilings, and look the part when lined up suspended over a long table or island. LED spotlights are a modern type of lighting these days and are mostly in kitchens today. They are a great feature to have in the hub of the home and can contribute to the ambient lighting.
Flood lights are another idea to use in the kitchen, as they are slightly different but ensure the correct lighting is used in the kitchen. They can be adjusted and aimed to different areas of the kitchen depending on the area and what it is used for.
Top tip- Where you purchase the track lighting from, you should really buy the lights from there too, so that you know and can ensure they are compatible with your track system.
What to buy when purchasing track lighting?
There are different types of track systems, each of which are slightly different.
Things you will need to consider:
Track pieces 2-8 inches long (5-20cm)
Fittings to connect all the pieces together
Lights like spotlights, flood lights or pendant lights
Additional fittings to attach the lights to the ceiling and connect to the electrical supply
A power feed
The picture below shows a perfect example from one of our customers homes using track lighting. The track is suspended over the island in the middle of the room lighting up the task area and providing lots of light throughout the kitchen using spotlights. Infact the customer has used two different quartz in their kitchen too, the Grigio Medio Stella and the Bianco Stella. The Bianco Stella is installed on the island and the Grigio Medio Stella is installed on the kitchen worktops to the side.