"The kitchen sink is one of the most used parts of the kitchen, so you need to pick one that is practical and perfect to your specific needs!"
We all know that the kitchen sink is used for washing hands, rinsing the vegetables and clearing up afterwards. It is something we use every day and with that in mind, you need to make sure you are choosing the correct material and style that works for you and your decor.
Some people centre their kitchen sinks to be a feature in their hub of the home, in some cases like if you have a kitchen island, or want to show off a traditional farmhouse sink. There are so many styles, materials, sizes, shapes to choose from. In this blog I will take you on a guide through all the sinks available to help you make this important decision.
"The sink really is the hub of the kitchen!"
How do we choose the perfect sink…?
A sink is something that you will have for many years to come, you want it to be able to compliment your style in the kitchen and work in a way that will suit you and your family.
Have you got an industrial style kitchen, a modern style kitchen, a traditional style kitchen? From stainless steel, to ceramic, to glass there is a sink out there for you! Let's start with the basics…
Stainless steel sinks
Stainless steel sinks are built to make an attraction in the hub of the home, they will look great with them glistening stainless steel taps. They are hard-wearing and can look great in a stylish, modern kitchen. They are easy to clean and maintain, and come in an array of sizes. Because fo their neutral colour, they can look great with a black or silver theme kitchen and perfect for that industrial style, if that's the look you are after.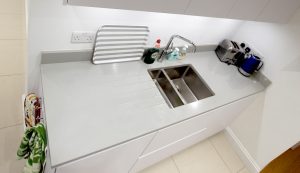 Ceramic sinks
Ceramic sinks are built to last and look great. They are an ideal traditional material, that is fit for that beautiful farmhouse, country look. A white ceramic sink will add a source of brightness to the kitchen and will look stunning next to a white or black style quartz. A black sink will look perfect in a darker style kitchen, and can perfectly compliment a lighter coloured kitchen, taking on a different approach.  A ceramic sink is easy to clean and is heat-resistant. What else is not to love about a ceramic sink?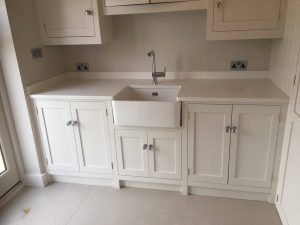 Composite sinks
A composite sink is combined with quartz dust and acrylic resin. They are tough sinks that can handle anything, and bring a style to your kitchen that is different and beautiful. They are great for a busy family life!
Resin sinks
Resin sinks are perfect if you are on a budget and great for a modern kitchen. They are made from a man-made material, that gives the look of composite, that is highly hard-wearing, for daily tasks in your kitchen.
Glass sinks
Glass sinks are unique and suit modern kitchen decors. They are a toughened material that is great to clean, making it very hygenic, and perfect for a smaller kitchen. A sparkle to a matt kitchen.
We have talked about the materials above, how about now thinking of how many basins…?
A large, single sink
A large, single sink is a great idea to easily soak vegetables, or wash a big pan of vegetables. Having one large sink can let you prepare large quanities of food at ease, and can make a beautiful feature in the hub of the home.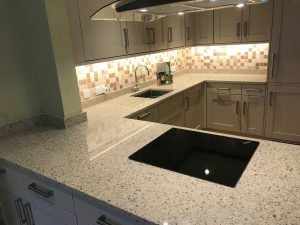 Two basins of different sizes
Two basins of different sizing allows you to perform seperate tasks like cleaning the dishes and prepping the food. You can choose a sink with a 40/60 size that's perfect for using the larger size to clean up and prepping in the smaller one.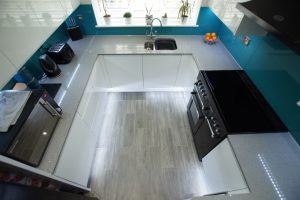 Two basins of the same size
If you love symmetry then two basins of equal sizes is perfect for you and your style. It still allows you to perform seperate tasks like cleaning, prepping, washin and rinsing.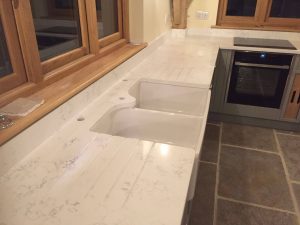 Three basins
A three basin sink can be used as a garbage disposal in one section, with the other sections being used for prepping, washing etc.
What shape of sink to choose…?
Farmhouse
A farmhouse sink has a vintage vibe that will look great in a traditional, country kitchen. They have a large basin that has an attractive appearance, but will your tastes change?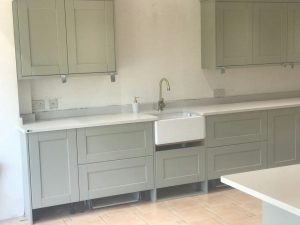 Double Farmhouse
All the benefits that the double sinks have to offer. Seperate basins for prepping and washing.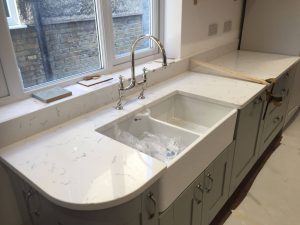 Rounded sides
They are easier to clean that a sharp cornered one, but if your style is sleek then this may not be the look your are after.
Built-in drainboard
Draining the dishes sounds good to me, and can allow fruit and vegetables to dry after being washed, but they do take up a lot of space on your worktops.
Is an undermount sink something you are after…?
An undermount sink gives a creating flow throughout the kitchen, that sits beneath the countertop, instead of sitting on top.
There are different ways you can choose of how your undermount sink will sit in your worktop. Option one, you can expose the sink more to make a design statement, or option 2 where you choose to conceal it from view and create a sleek surface.
If your kitchen offers a sleek look, concealing your sink from view is a brilliant option to keep that style flowing and creating a minimalist kitchen with more space on the counter, that makes the taps star of the show. If you have opted for a more traditional style kitchen, exposing a large, deep, white bowl will look great in a farmhouse kitchen.
Some of our customers kitchens with their choice of sink…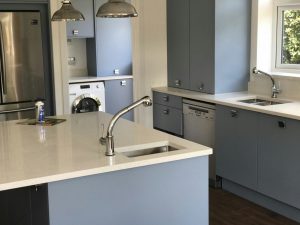 Our customer here has chosen the Bianco Stella style quartz to finish off their hub of the home. They have a sleek, modern kitchen and have chosen two stainless steel, undermounted sinks that are situated on one length of the worktop, and the kitchen island, showing off their taps.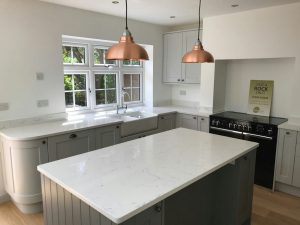 Our customer here has chosen the Carrera style quartz to finish off their hub of the home. They have have beautiful, traditional kitchen that has a ceramic two basin farmhouse sink, exposed to produce a main feature in the kitchen. It is a perfect choice for this style of kitchen and I just love the copper lights!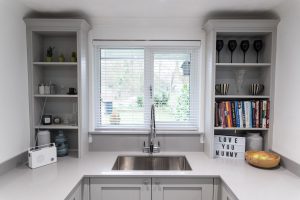 Our customer here has chosen the Grigio Chiaro Pura style quartz to finish off their hub of the home. They have chosen a large, single basin that is finished in stainless steel, which is undermounted to give lots of space on the worktops. It makes the tap a star of the show and works beautifully in this style of kitchen.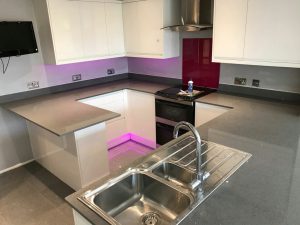 Our customer here has chosen the Grigio Chiaro Stella style quartz to finish off their hub of the home. They have chosen a two different sized, stainless steel basin, with an additional draining board on the side. Even though a draining board takes up room, there is certainly a lot of space left on the worktops in this kitchen.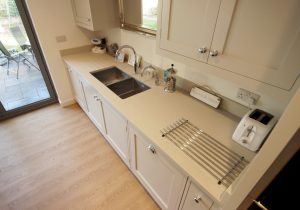 Our customer here has chosen the London Grey Carrera style quartz to finish off their hub of the home. They have opted for a undermounted, two basin, stainless steel sink, with their own tap. A great multi-functioning space in the kitchen.