"Invest in an affordable double oven and it will be a wise investment you will never regret!"
Today's cook may be a working professional, someone who loves to entertain or a stay-at-home parent and a double oven will certainly make life easier. A double oven provides magic in the kitchen with two cooking spaces instead of one. Our world today is very modern because of living in the 21st century and many mod cons have come a long way so practically anything can be customnized, but most double ovens come with a 3 step up like two full- sized ovens, a full- sized oven topped with a smaller oven, or a combination which is a full oven with either a convection or microwave on top. There are many to choose from and the best manufactuers in the world today design the most conventional, modern looking ovens that are perfect for absoutley anything and match in any decor.
When choosing a double oven you will need to consider the most important factors, space, price and options. You need to make sure that there is enough space available in your kitchen for the particular oven that has caught your eye. Will it be wall- mounted, full- sized, or another option. They can vary in price depending on the model and features that it includes.
If you have a big family or love to entertain, a double oven gives you the extra space you need to present the quanity and quality of the food you want. When you have Nanny Bet's 80th birthday party and you are entertaining for a number of guests with homemade classic dishes you will want everyone to sit down together, so having a double oven means that you can have two dishes sizzling away in the top and two dishes bubbling away in the bottom. It really does make it worth while spending your monies on a decent double oven. The double oven is a dramatic upgrade to your cooking experience. When cooking my roast, I roast the meat in the bottom oven with the crispy roasties and cook my homemade yorkshires in the top. Tadahh a perfect roast fit for a king!
With having a double oven you can prepare meals exactly how you want them, with roasting, steaming or baking them. You can cook different dishes in the seperate ovens and switch over when you want to keep one of them warm and the other still cooking. You can cook them delicious brownies in the top and a garlic chicken in the bottom. The brownies will be ready once you have taken your last bite of the chicken. Also top tip the brownies won't taste or smell of garlic.
Energy savings are decreased from a double oven but obviously will increase when using both of the ovens and all the time. If it's just a small amount of people for dinner, then using the top oven will require less energy to heat. There are many appliances in the kitchen that can make a huge difference to how you work in the hub of the home. The standing mixer that will make you job a whole lot easier or a double oven that opens up new possibilities when it comes to preparing and cooking your tasty recipes. I am sure that you will not look at anything else or go back from a double oven.
"Some people like to double double on their double ovens, by having two double ovens by the side of each other!"
Kitchen renovation still make the highest return on your investment, so upgrading your kitchen appliances with better features will make your the gadget king or queen. It also enables you to spend more quality time with family and friends rather than sweating in front of the oven.
Take a look at how some of our customers have fitted in double ovens in their very own kitchens…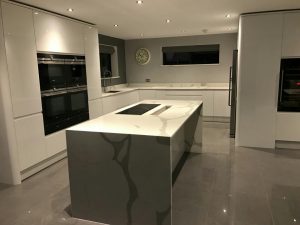 This large modern kitchen has been fitted with the classy Calacutta and has been doubled up with double ovens wall mounted by the side of each other, looks like our customer is a lover of cooking and loves to entertain. The sleek black finish of the ovens combine the crisp white decor perfectly. The veins in the Calacutta really stand out in this kitchen and this is what the customer wanted to achieve. A marble effect fit for a perfectionist.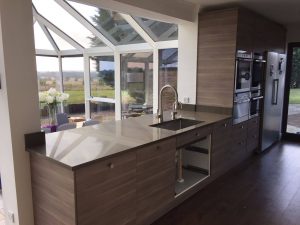 The Mocha Quartz has been fitted in to this kitchen to provide a sleek entertaining space. The customer has opted for two double ovens by the side of each other so they are fit for every party they host. They are wall mounted to provide extra space in the working area.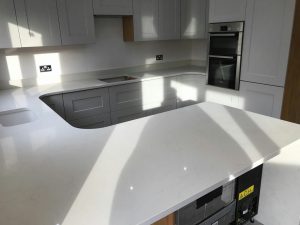 The single double oven looks very classy in this all white kitchen. The customer has opted for a wall mounted oven to provide extra space when preparing the cooking. The Bianco Carrina has been installed in to this kitchen to get the most out of the white clean style the customer wanted.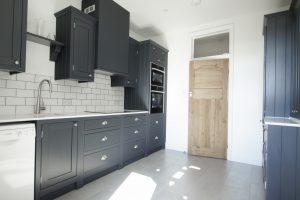 The Carrera has been installed in to this kitchen that matches this shaker style kitchen perfectly. The white marble effect quartz shows off stunningly against the dark coloured cabinets bringing out the fabulous veins throughout the quartz. The customer has decided to go for a wall mounted double oven to host their guests with the best dinner they could possibly imagaine, plus provide extra work space.
A selection of Double Ovens that are available to purchase
Bosch HBM13B160B Electric Double Oven- Black
It features a spacious 71- litre main oven, with five adjustable shelves which are included in this sleek oven. On top is a 30- litre conventional oven. The main oven also offers a handy defrost button, and uses the Bosch 3D hot air technology that distributes heat very quickly. It will enhance the appearance of your kitchen with it's sleek horizontal doors and stylish chrome bar handles. It also features easy touch buttons for the ultimate cooking experience. Purchase from Currys at £579.99.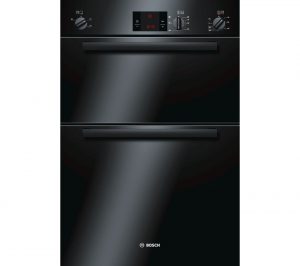 Neff NEFFU14S32N5GB Electric Double Oven – Stainless Steel
This double oven will certainly take centre stage in your kitchen adding a modern look to your scheme. With it's stainless steel appearance and sleek glass front it will complement all the other appliances in your kitchen. Provide and prepare meals when you want them, and how you want them with this state of the art modern technology. Cook an entire meal with this oven that will not dry out or burn thanks to the CircoTherm technology built in this appliance. The main oven features a 71- litre capacity and has six different cooking functions to choose from. A smart easy to read clock is available on the front. Purchase from Currys at £679.00.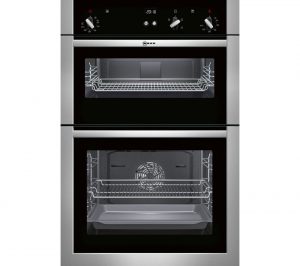 HOTPOINTClass 4 DU4 541 IX Electric Built-under Double Oven – Black & Stainless Steel
This double oven features different level cooking shelves, a 59 litre oven and a fan. Enjoy evenly cooked foods with the fan function. Meats and other produce are cooked faster and more evenly thanks to the fan cooking. Best cooking results every time with this. Use the grill or oven option for smaller foods that you want to be cooked fast will little less oil. It is a sleek modern design that will provide a stunning look next to the decor you have chosen. Purchase from Currys at £399.99.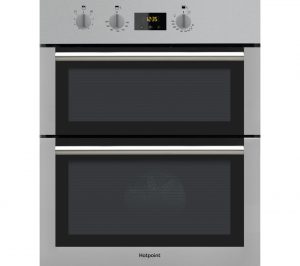 SMEGClassic DOSP6390X Electric Double Oven – Black Glass & Stainless Steel
Enjoy large family dinners with this state of the art oven from the classic makers SMEG. Match your smeg fridge and mixer with this sleek design oven. The large oven boasts a large 79 litre capacity that is great for family roasts and that all important Christmas dinner. The medium sized second oven adds lots of flexibility in the kitchen. Cook different meats and produce at different times on different temperatures and different heights on the shelving. Just as you would expect from SMEG the classic effortless design looks the bees knees but is also simple to use. Purchase from Currys at £869.99.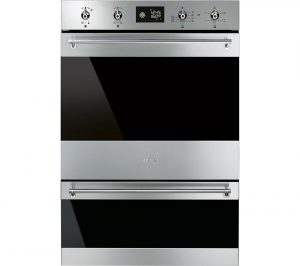 BOSCHAvantixx HBN13B221B Electric Built-under Double Oven – White
This double oven certainly looks great and has the most modern features you would want from a cooker. The white finish will look stunning in an all white environment. The main oven features a 55 litre capacity, with the second oven having a 33 litre capacity. It will give you the amount of room you require for cooking the perfect family dinners. Purchase from Currys at £629.00.