We do love to get our inspirations from movies. Watching the big screen can certainly let our imaginations run wild and copy a kitchen from one of our fave movies of all time. Why not have a kitchen from a movie in your very own home!
I dive in to the movie world picking out the very best kitchen's that I think look absoutely stunning and are my favourite!
The Holiday (2006)
One of my all time fave movies is "The Holiday" featuring Cameron Diaz and Kate Winslet. Kate Winslet play a character called Iris who has a cosy stone cottage in the English countryside named "Rosehill". On the otherhand Cameron Diaz plays a character called Amanda who has a big contemporary, mediterranean California style house in Pasadena. Both the kitchens are extremely different in size and style. The Surrey cottage stole hearts with white stone walls, a tiny stove, powder-blue cabinets, and a fireplace! The generousy large kitchen in America offers lots of seating, storage, a big cooker and dark cabinetry providing a modern twist to the contemporary style.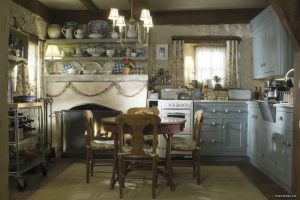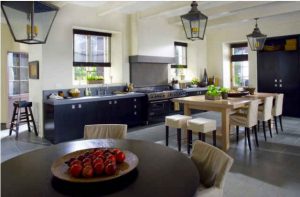 It's Complicated (2009)
A perfect Nancy Meyers movie! The California kitchen which Meryl Streep owns in the film looks wonderful. There is so much counter space as well as seating areas. A true Californian dream! An uncluttered area of the home too that perfectly opens up in to a dining room, and has an airy effect. I would certainly love to get invited to this kitchen for afternoon tea!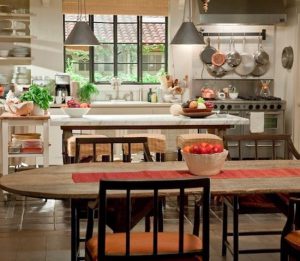 Practical Magic (1998)
The kitchen in Practical Magic is a bewitching Victorian style set in New England. It's perfect for a family of witches with it's black plank floors, glossy oversized tiling and hearth like stove, where the cauldron would bubble away. It's gloomy appeal holds the witches secrets.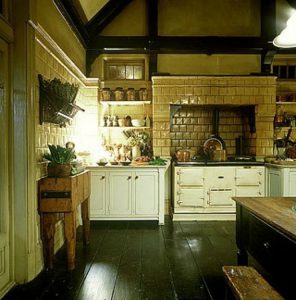 The Help (2011)
A farmhouse Mississippi style kitchen features in the film "The Help". A 1950s Southern style consisted of a checquered vinyl floor, cherry red seating, and a floral wallpaper, brings this kitchen to light. A good old fashioned kitchen to bake a good old fashioned pie!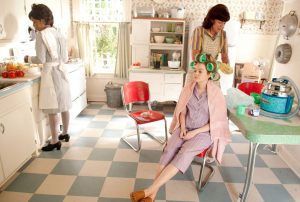 Julie and Julia (2009)
The perfect shade of blue-green cabinetry fits right in, in this style of kitchen, as well as the signature peg board. This kitchen was actually inspired by Julia Child's real life kitchen.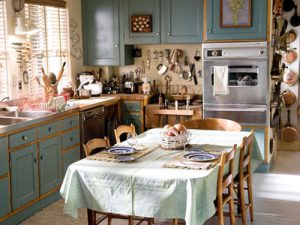 Something's Gotta Give (2003)

This stunning open plan kitchen makes it the most googled and sought-after kitchen of all time. This kitchen just draws you to the film, with it's contrast of colours and materials in the traditional style. It really is something to be jealous about! It features a huge island in the middle with plenty of storage, and fresh flowers with dark wood floors.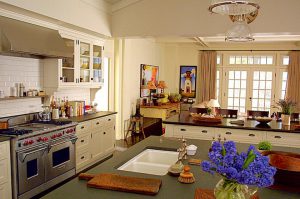 Sex and The City (2008)
This is another one of my all time favourite movies! A true girly film! Charlotte's kitchen does not disappoint with it's perfect pink confections, to the white clean crisp splashbacks, cabinetry and worktops! It's a proper Upper East Side cuisine. I wouldn't really expect anything else than a perfect pantry from Charlotte. The kitchen shows just how perfect Charlotte is and how fabulous it should be. Just look at that big double oven too! I would love one of them cupcakes!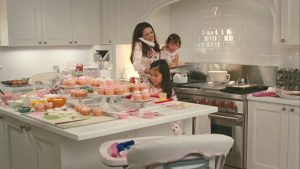 Mr and Mrs Smith (2005)
Mr and Mrs Smith think that the kitchen is the perfect place for the gun collection. The kitchen is filled with stainless steel, and it's certainly a modern kitchen with lots of sophistication. There is a big double oven in the kitchen, where the lower one opens to reveal Mrs Smith's stash of weaponry. A touch of drama and a glint of danger.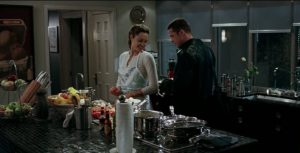 Love Actually (2003)
Little Sam's kitchen expresses a form of function. Clean lines are within, exposed shelving and stainless steel features show off this modern kitchen style. Everything is packed neatly away and on show, except the breakfast things. Can someone please pass the Frosted Flakes?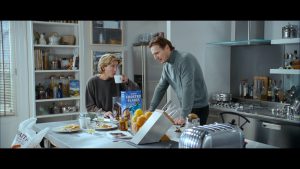 Breakfast at Tiffany's (1961)
Holly Golightly has great ideas for small-space solutions. Especially in her kitchen as it has been made in to the corner, so the living space can be extra large.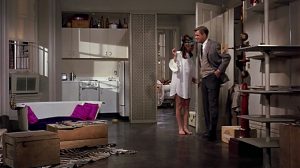 A Single Man (2010)
Any man would be jealous of this mid-century Californian dream kitchen. It's a strong, beautiful, handsome look (just like the man in the film) with exposed wooden beams, panelling and stainless steel appliances. It's a real style statement!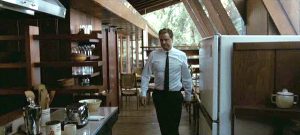 Amelie (2001)
This petite cuisine is certainly cute. It's full of vintage charm, and bold retro features. The kitchen consists of scarlet red and marigold yellow, with splashes of green and blue. A large window too so Amelie can be nosy and see what's going on! Who doesn't like to be nosy?! Like the main character young and fresh, the kitchen matches her perfectly. Even her dress matches the paint work too!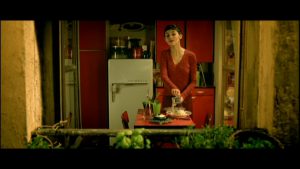 Home Alone (1990)
A perfect Christmas film with a red and green themed kitchen. Perfect for the Holidays! It consists of shiny green tiles, dark wood cabinets, a pot rack, a large space and of course a traditional mid-century feel.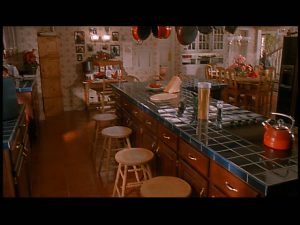 I hope that I have picked out some of your fave movies and their kitchens. Even sometimes people just watch the movie to get inspiration for their own home, especially from a Nancy Meyers movie! Nancy is well known for producing such beautiful kitchens in films. The kitchens above will certainly look great next to one of our Granite or Quartz worktops.