Stainless Steel kitchens are a classic choice!
Stainless steel looks modern and matches almost every cabinetry style and colour. If you are looking for something that is versatile, there really is only one category of appliances to consider and that is stainless steel appliances. If they are incorporated in the right way, they will work in pretty much any kitchen style.
They provide the kitchen with sleekness
They accomplish a contrasting style if the kitchen is just all white
They complete the look of the kitchen giving a professional and appealing look
The secret to why they have been successful in many years is because most of the handles and elements in your kitchen will be stainless steel. It is a very common option and certainly isn't going anywhere.
Many of our customer's have the cravings for stainless steel appliances, and here's a few of their designs in which they have incorporated in to their stylish kitchens.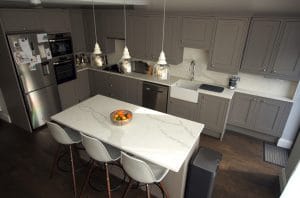 The sleek grey tones in this kitchen certainly show off the love for stainless steel appliances. The balance of the greys work so well providing the ultimate modern kitchen, showing off the best appliances and finished off with our Calacutta Quartz. The island, splash backs and work tops have all been done by our first class service.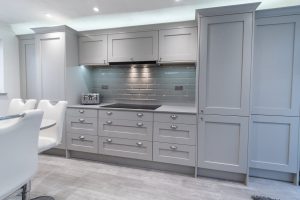 Grey is certainly a popular choice in our customer's kitchens, but doesn't it work so well! The stainless steel handles and toaster set the mood and give it real characteristic. Our Grigio Chiaro Pura Quartz makes an impression in this traditional style kitchen.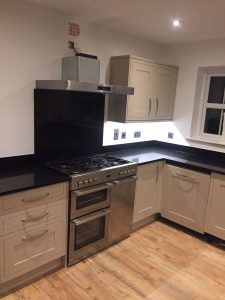 This traditional style kitchen uses our Cosmico Nero Black Quartz adding style and a real sleek finish as well as moving upwards with the up stands. The stainless steel cooker finishes the contemporary look, while the handles provide the ultimate contrast between the colour of the cabinetry and the wooden flooring.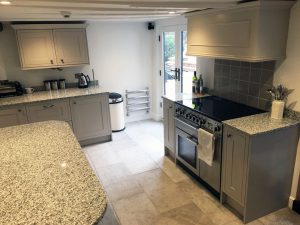 The Champagne Aurora granite shows off a striking appeal but works very well in this traditional kitchen. The use of the stainless steel appliances gives a humble hue as well as an ultra modern feel and looks great next to the natural colours.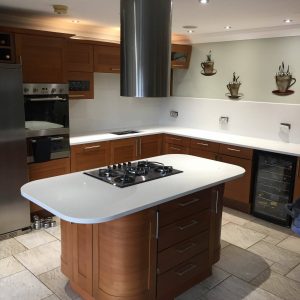 This stunning soft brown kitchen certainly matches with the stainless steel appliances. The fridge freezer and cooker certainly stand out and makes a modern appearance in this traditional style kitchen. Matching in our Bianco Carrina Urban Quartz really gives a contrast between the cabinetry and floor.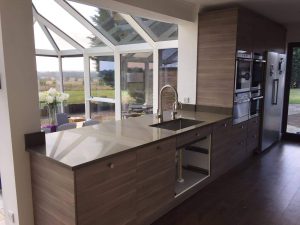 Our Mocha Urban Quartz used here in this kitchen certainly is an eye for detail. It matches in perfectly with the brown cabinetry and makes way for the stainless steel cookers and fridge freezer, a perfect complement to this kitchen.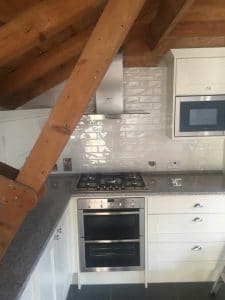 This kitchen is just simply beautiful showing off the exposed wooden beams. The Champagne Aurora Granite from our range certainly makes this barn conversion a must have kitchen style. You certainly will be the envy of your guests with those beautiful wooden beams. The stainless steel appliances such as the cooker and microwave match well with the style and the use of the different knobs and handles give it an unique feel.
Cleaning your appliances
The down fall of a stainless steel appliance is it tends to attract fingerprints and water stains. To keep the flawless finish these simple cleaning tricks will have your appliances clean and shiny in no time.
Dish Soap and Baby or Mineral Oil- Steel has a grain and you need to understand the direction of the grain. Dish soap is amazing, as it cleans off excess oils and simplifies the polishing process. Polish with baby oil and tad ah you have your appliances shiny and new again.
White vinegar and olive oil- apply the vinegar to remove any grime and the olive oil gives it a fresh, shiny polish. Apply to a microfiber cloth.
Club Soda- this will help to remove fingerprints and food residue and gives it a nice shine. Spray straight on to the appliances and then wipe in the direction of the grain.
WD-40- spray on to the appliance and then wipe away. Be careful not to use too much as the kitchen is a food environment. It leaves added protection to prevent the pesky fingerprints from appearing later on.
Lemon Oil furniture polish- apply to a clean towel and rub on your appliance. Wipe clean with a different microfiber towel.
Glass cleaner for fingerprints- spray cleaner on to cloth and wipe
Flour- this is the perfect way to clean a sink. Remove excess dirt and then cover in flour. Use a soft cloth and do a circular motion to buff. It's that simple!
Water and a cloth- warm water and a lint-free cloth is the most perfect and easiest way of cleaning a stainless steel appliance.
Samsung's Technology today in Stainless Steel Appliances
We have looked in today's market on stainless steel appliances and Samsung really are proving hard to beat. We wanted to take you in to the world of Samsung stainless steel appliances, because we feel that you will certainly find one here.
Fridge Freezers/ American Style

Meaningful innovations built from Samsung.
4-door flex– this fridge freezer is versatile with a bottom right door that can switch between a fridge or freezer. A perfect flexible storage option.
French door– available in stylish 3 and 4 door designs, that is stunning and modern and saves you trips to the shops because of the capacity options.
Side by side– a sleek design and impressive storage, this gives you easy access to the items you use every day.
Family Hub– a beautiful, steam line design which will certainly have heads turning. It helps you manage your home and life with an all controlled wi-fi enabled touchscreen, entertain like never before. We certainly love this!
Show case fridges– improves the way you store the food by a innovative two door system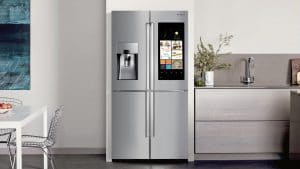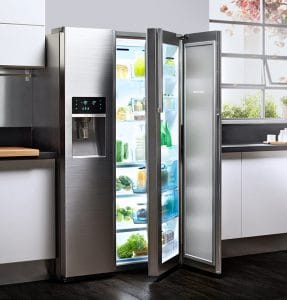 Microwaves
Find the right microwave for you with a counter top or over the range and redefine how you cook.
Counter top– is stylish and powerful and can be used as a second oven, cooking your food evenly and crisping the outer skin.
Over the range– these save time and space by offering a convenient cooking machine with a push of a button.
View Samsung stainless steel microwaves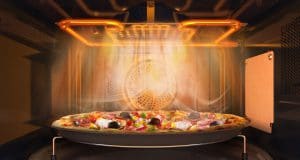 Ovens
Choose from a single oven, double oven or a microwave combination oven. They offer a premium look with premium results, and are a sleek design that give you that modern professional edge.
Hob– visually tells you how hot the hob has got with the LED lighting. A more precise way of cooking
Hood- instantly clears the air with high suction power from the hood
View Samsung stainless steel cooking appliances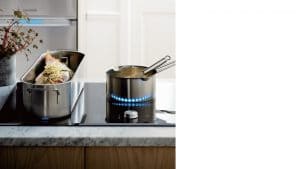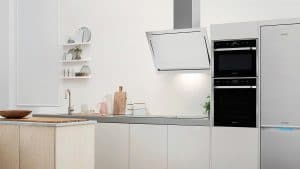 Dishwashers
Waterwall- it consists of a powerfull sweeping wall of water that leaves dishes sparkling
Stormwash- it has powerful rotating jets that wash even the dirtiest of dishes
Rotary- energy efficient
View Samsung stainless steel dishwashers