"Warm up that cold kitchen floor with a plinth heater"
We all know that when waking up from a good night sleep in a warm cosy bed, to then step out onto a cold kitchen floor isn't pleasant especially when it's very early in the morning. Thankfully with a plinth heater we say goodbye to the cold and we don't have to suffer anymore. A simple electric plinth heater can help warm up the cold floor and make you want to step back into your kitchen with bare feet.
So… what is a plinth heater…
It is a heater designed to be placed under the kitchen units, at the baseboard. They focus on the heat output at the lowest point of the room, allowing the heat to gently rise up to warm the rest of the room. You won't have to stand shivering in the kitchen no more whilst making your morning cuppa. Kick the button on, it is as simple as that and your plinth heater will have your toes toasty warm in no time at all.
A plinth heater is a great alternative to a radiator and is designed mainly for use in the kitchen or utility room. They are an excellent solution for the home if there isn't enough space for a radiator or freestanding electric heater. It is a fabulous space-saving idea and can be practically hidden depending on where you position it. Plinth heaters can be either hydronic (plumbed into your own central heating) or electric (standalone electric supply) or a duo model which can combine the two.
They are suitable in both residential and commercial properties, and one of the main benefits of a plinth heater is that they don't become hot to the touch, so perfect if you have small children and pets.
Benefits of a plinth heater…
The benefits of a plinth heater are that they are designed to be concealed behind your kitchen units. They won't spoil your kitchen design and will heat up the room nicely. I think you will impress all of your guests with one of these and they will all be purchasing one. Plinth heaters operate independently and are perfect when there isn't any space to hang a radiator or any free-standing radiator. Another benefit is that they pump out heat without being hot to the touch, so they are safe and no accidents can happen. Also they are easy to use and install and are available in a variety of finishes to suit your kitchen style, and very economical to run and can cost as little as 2p per day.
Types of plinth heaters you can purchase…
Electric plinth heaters…
Smith's Space Saver SS2E Electric Fan Convector – Kitchen Plinth Heater- £111.04

Myson Kickspace 600E Electric Fan Convector (Inc Brushed Stainless Steel Grille) – 3EKICKBS – £164.79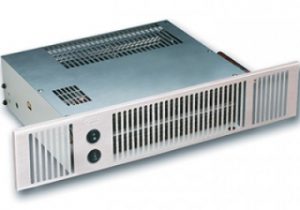 Smith's Space Saver SS3E Electric Plinth Heater – £125.57
Hydronic plinth heaters…

Myson Kickspace 600 Hydronic Fan Convector (Inc White Grille) – 3KICK600 – £214.24

Myson Kickspace 800 Hydronic Plinth Heater – 3KICK800 – £239.87
Some kitchens we have worked in that have a plinth heater…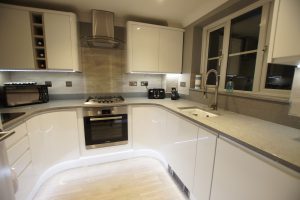 This stunning U-shape kitchen features a white high gloss look and finished with the fabulous Grigio Medio Stella Quartz worktops. A stainless steel plinth heater sits to the right of the kitchen offering the perfect heat for cosy warm toes in this small but wonderful hub of the home.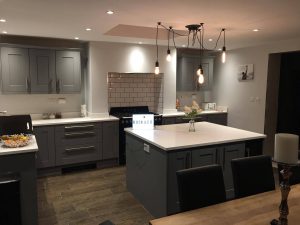 This rather large spacious kitchen has been finished off with the popular Bianco Marmo Suprema style Quartz. A dark coloured plinth heater sits on the back run of units to fill the space with warmth through the winter months, and to match the decor.