"Create an unique, exquisite style using Art Deco"
Art Deco is sometimes referred to as Deco, and is a style of visual arts, architecture and design that first appeared in France just before WW1. Art Deco still features around the globe, from the world famous Art Deco Claridge's Hotel in Mayfair, to the distinctive Chrysler building in New York City. It also features in everything from art, cinemas, architecture, fashion, cars to kitchens today.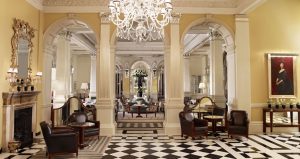 Art deco became popular in the 1920s, 30s, and 40s and is still a popular vintage style in interior design today. Thanks to the film "The Great Gatsby" that entered our screens in 2013, art deco has become more popular with couples and families to date. It consists of bold geometric shapes, rich, bold colours and lavish ornamentation. Adding a touch of Art Deco to your kitchen can be really simple.
"It's very interesting to look through the history books to find periods where we can take inspiration and create it into our dream kitchens"
Hollywood glamour…
Always accessorise in your kitchen especially if you are going for an art deco theme. Clever use and arrangement of ornaments and accessories will lift the mood and bring the 1920s back. A good association with art deco is Hollywood glamour. Think of mirrored handles and soft uplighting. Art Nouveau was also a big inspiration in the 1890s and 1910, with the use of flowers and bolder colours. The bigger the better, so whether you opt for a statement clock or an opulent chandelier will catch the eye in your Art Deco theme.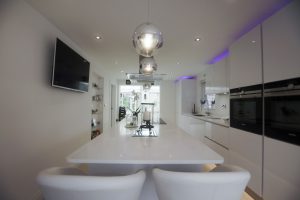 Spectrum of colours…
There are many colours that are often used in an art deco theme and they are mustard yellow, teal, lavender, dark raspberry and muted navy. They work in small colour bursts throughout the kitchen in the accessories or a tiled pattern.
If you are lucky enough to have an island, this can be a great way to bring colour into your room as a statement block. Keep the rest of your kitchen simple or minimalistic and make the island a focal point and the main accessory of your art deco theme.
Monochrome is another type of deco to add to your hub of the home but I will talk about that later.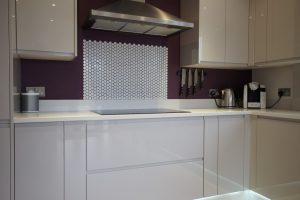 Minimalistic…
One of the important tasks to get right in an art deco style is minimalism. You want to complement the intricate pattern and accessories, so you don't want to clutter the kitchen. A minimalistic approach will allow the art deco pieces to make a statement, from that luxury bar stool that sit's around the island, to a French art piece on the wall.
Creative storage would have to be planned into a minimalistic kitchen to keep clutter and appliances out of sight to really show an art deco theme. If you make lots of room and space you can really show off your art deco pieces to your guests.
Induction hobs are another great way to had minimalism to your kitchen, as they blend into the worksurfaces. A black hob on to a white worktop would particularly look striking.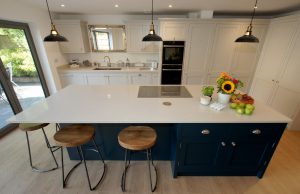 Geometric…
Geometric patterns are back with a huge market behind them and can be easily incorporated into your kitchen design. An art deco style is best recognised by geometric patterns that are produced through tiles, floors and even a splashback. There patterns are designed to catch the eye and will work great in a minimalistic style. Art deco is down to personal choice whether you want to create a subtle design or a bright and bold pattern scheme.
Refined…
With the highly engrossed film of 2013 "The Great Gatsby", art deco is back in the limelight thanks to this Hollywood film of glamour from the roaring 20s. Art deco hold's very strong characteristics like bold geometry, especially curvaceous shapes. Create a kitchen that is unique and an eye-catching design, with decorative elements behind luxury glass cabinet doors that pop colour and own style.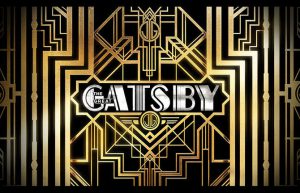 Modern…
Curves on cabinetry and worktops lends itself to a popular inspired 20s and 30s modern style kitchen. Dress a breakfast bar with chairs in a shiny finish and add that unmissable addition of a chandelier suspended above, you will definitely have a modern art deco hub of the home on point and in no time at all.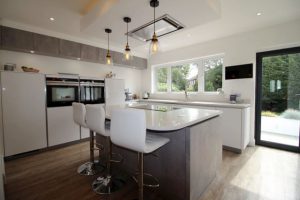 Monochrome…
Art deco is sure to be bold colours and a strong use of black and white. Match a black worktop with a white kitchen and then splash some colour onto the wall, or you could bring some monochrome accessories into your kitchen space to tap into this trend.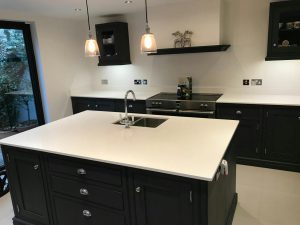 Dark timber…
Dark timber is often used to create an art deco style. Using curves and fabulous surfaces just like in the kitchen below, with dressed up shiny finishes such as silver, brass or gold has drawn inspiration from the art deco era, and created a feeling from the 20s, where lavishness, modernity and sophistication is within.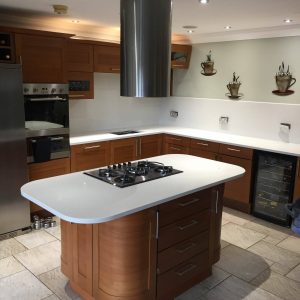 Dining…
Create a space that is sleek, stylish, sharp, clean cut and dressed in a perfect mix of black and white like Jay Gatsby himself. Use the accessories to show through personality and evidence what art deco is famous for.