"Get your British Bake On with the best stand mixer!"
You will need to purchase the best mixer if you are a regular fan of The Great British Bake Off #GBBO, a seasoned baking ninja, or just fancy baking up your muscles at home. A stand mixer will make you cook better, make you a better cook and take the hard work out of mixing cakes and batter.
People do tend to just purchase them as a feature for their kitchen to look nice and impress visitors in their kitchen, but many people nowadays are actually using them to bake their recipes! I'll be honest I use a stand mixer and absoutley love it! They will be the ideal match with our granite or quartz worktops.
We know that a mixer is a cheats ways of baking, but if making cakes brings back memories of those dead arms and aching hands, then a stand mixer is a revolation for you. The results from a mixer are better than any amount of dead arms used when whipping. The mixture is fluffier, lighter and whipped to perfection with a stand mixer. It also saves valuable cooking time and washing up.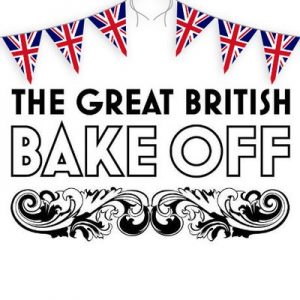 "They seem to be the golden boys of the kitchen tech world, introducing an explosion of a love to bake!"
Mixers can range from £100 upwards and it's always worrying in which one will be perfect to suit your kitchen and personal needs. I look to see what mixers are available to buy and what ones are the best of the best to make your baking skills the next winner of #GBBO, but also the ones within budget.
Spending more on a mixer gives you better features and accessories and of course elegant styling. You need to look for the one's that are good quality and purpose-built to survive years of obsessive baking.
Here's six of the best mixers I have researched:
Kitchen Aid 175 Artisan Stand

This mixer comes in an array of colours. It's classic classy look will match any decor in the kitchen.
The colours include- Boysenberry, Iron Black, Cafe Latte, Candy Apple, Green Apple, Crystal Blue, Ice Blue, Pistachio, Silver, Cranberry, White, Apple Cider, Chrome, Espresso, Golden Nectar, Majestic Yellow, Brushed Nickel, Raspberry, Tangerine.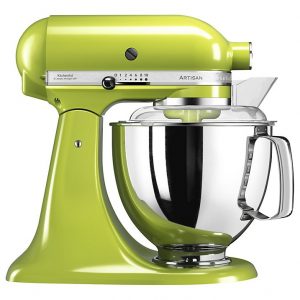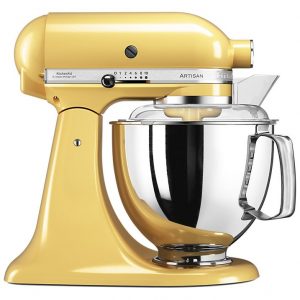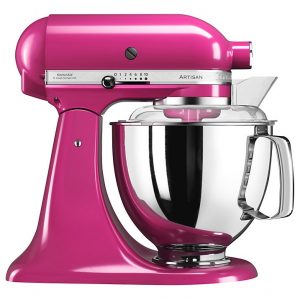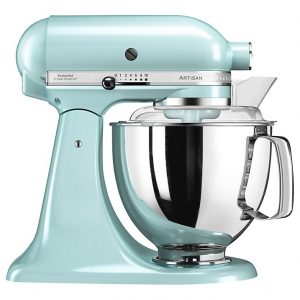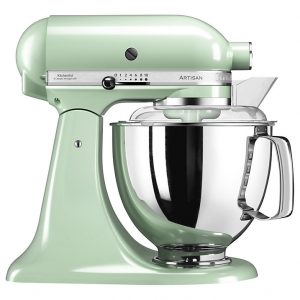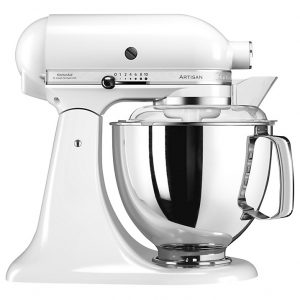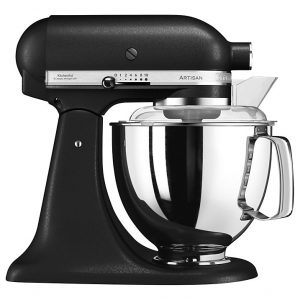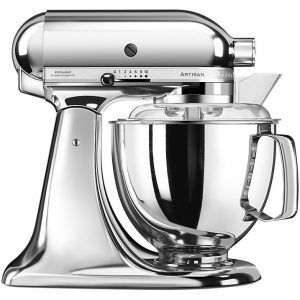 You can add to your stainless steel look, retro look, bright and bold look or a clean clinical white look with one of these state of the art mixers. They range from £549.00-£739.95 available to purchase from John Lewis. You really can whip up a feast fit for royalty with this timeless classic. It is a baking champion and a new edition to any kitchen. It is made of a sturdy design and powerful motor combined with high-quality craftsmanship that makes it the ultimate cooking companion.
The Kitchen Aid was designed in 1937 by one of the great American style gurus, Egmont Arens. It has been made to perform and to last with a professional design that allows you to express yourself through cooking and create something truly special everytime. You can certainly cut your workload with one of these highly amazing gadgets. The features include :
A 10 speed motor
300w power
Excellent performance
Easy to use
3L stainless steel bowl
Can prepare small to large quantities/ batches of food
Stainless steel wire whisk
Flat beater
Dough hook
Flex edge beater
Pouring shield
Useful tilt- up head design
I LOVE THEM!!!
2. Smeg SMF01 Stand Mixer
This mixer will add a retro style to any kitchen. It is available in a range of colours, so the best one can be picked to match your kitchen style.
The colours include- Black, Cream, Blue, Red, Silver, Pastel Green, Pastel Pink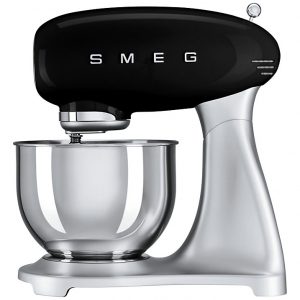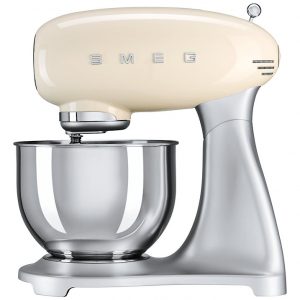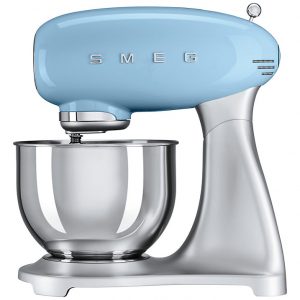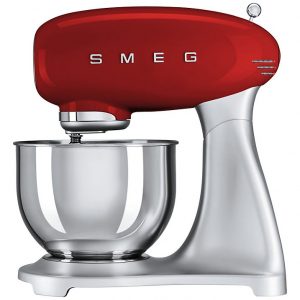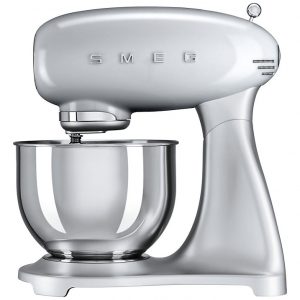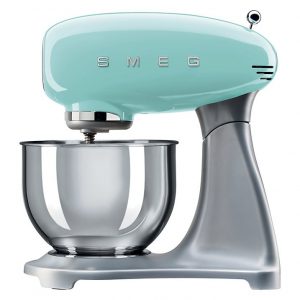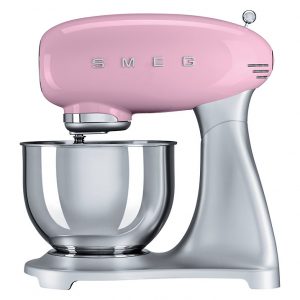 It has an iconic 50's styling to the design, which features a 4.8L high-polished stainless steel bowl and a die-cast aluminium body. It features a 10 speed setting to easily get your mixture to the consistency you want. The price ranges from £339.97- £349.99 which you can purchase from John Lewis. It comes with a range of accessories to help you get the perfect bake with a stainless steel wire whisk, an aluminium flat beater and an aluminium dough hook.
Smeg is one of the world's most leading home appliances. It was founded in Northern Italy by Vittorio Bertazzoni and were an inspired product designed to meet new technological demands in home living.
3. Kenwood kMix KMX754 Stand Mixer
The stand mixer from Kenwood is sure to be a welcome helping hand in any kitchen. It's smart speed control is able to deliver 6 different speed settings without spillage. It also includes a unique fold function that helps carefully layer the ingredients. It is from a selection of beautifully designed kitchen appliances, from a retro red to a stylish sleek white. It combines simplicity, function and style.
The selection of bright bold colours will certainly add a vibrant and modern look to your kitchen. It is simple to use and has an ergonomic handle. It includes a 5L mixing bowl and 1000w power. The colours include black, cream, red and white. They are priced at £329.95 at John Lewis.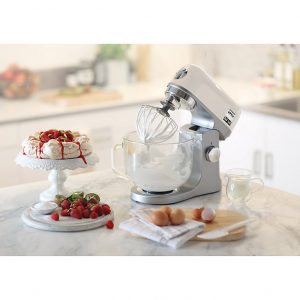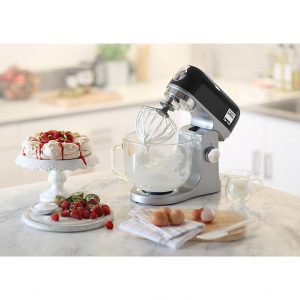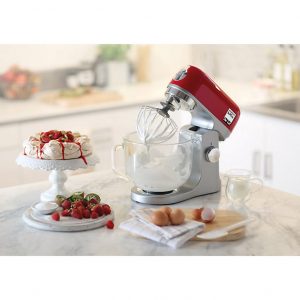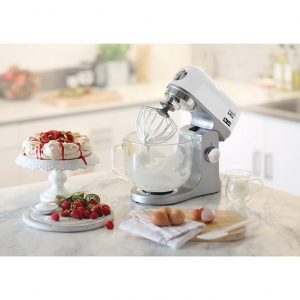 4. Sage by Heston Blumenthal Bakery Boss Silver, Brushed Metal
This mixer is an innotative and contemporary design with quality and elegance added. It is a powerful bit of kit and makes light work of heavy doughs and batters with it's powerful 1200w heavy duty motor. There is even a light situated under the mixer head to give and excellent bowl illumination and tilts back so that ingredients can be easily added. You will certainly be the art of baking with one of these, whipping up perfect cakes and bakes with ease. It will be your culinary accomplice.
Not only does the mixer mix the ingredients better, but you won't need to stop and scrape down the bowl with a spatula, as the scraper beater wipes the sides and bottom of the bowl with every turn. It cuts mixing time by 60%. It is perfect for the multi- tasker due to it's count- up and down mixing timer. It lets you set the mixer to the desired times and automatically stops when the time has finished. The mixer comes with the following features and accessories:
Scraper beater
Standard flat beater
Dough hook
Wire whisk
Splash guard
Spatula
Power- 1200w
Speed control from a slow kneading to rapid whipping
You can purchase this from John Lewis at £299.00.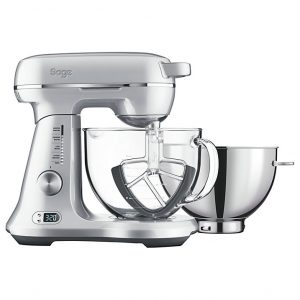 5. Swan Retro Stand Mixer SP25010
This is a great stand mixer under £100, so it is perfect if you are on a budget. They are available from Currys at £79.99 and features an attractive design that will make a stylish addition to your kitchen. It has a retro look to it and is available in black, blue, silver/grey, cream and green. It will add a pop of colour to any kitchen and really bring back a kitchen from the past, which is very common these days. The range of accessories that are inclued with this mixer will make baking simple. It comes with a 4.2L stainless steel bowl which is perfect for baking large batches. The stainless steel bowl complements the stand's dials and trim while it's feet help to keep in in place white mixing. It has a power of 600w with a varied speed control.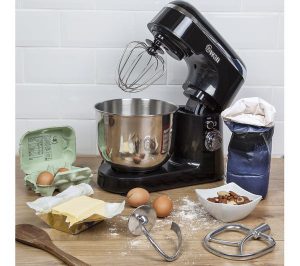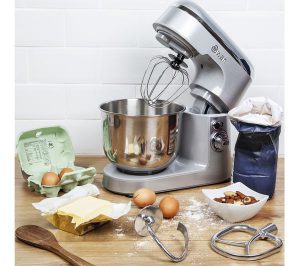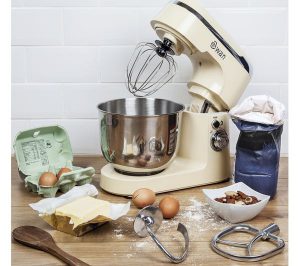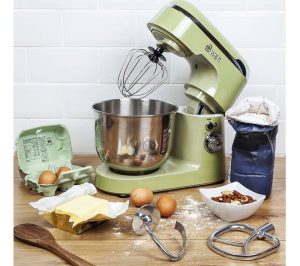 6. Kenwood Chef Elite KVC51005 Stand Mixer- Silver
This Kenwood mixer offers a planetary mix action which ensures all the ingredients are perfectly combined so that nothing is left unmixed around the edges of the bowl. It has a powerful 1200w motor that means this particular mixer maintains the speed and power it has been given to even under heavy food. It featues a variable speed control with an indicator that provides the best control over the mixing. It comes with a variety of attachments that are suitable for most baking tasks in the kitchen. An aluminium steel k beater, a dough hook and stainless steel whisk. It is available at Currys for £399.99.