"Black or White? You decide…"
A black or white colour scheme is always a popular and sophisticated choice within a kitchen. They both work well in a traditional or modern scheme. In this article I will look at how black overlooks white and vice versa. Will you be able to make up your mind…?
BLACK
A black colour scheme is taking the world by storm with it's dark and mysterious ways. They have become the rage in most recent years an are the perfect choice to create a bold and daring space that's so chic and for all the family. It instantly adds depth to the room with a glow of richness throughout. You don't have to choose just the cabinets to be black, many choose the walls, appliances and even the floor to be black. This will create a dramatic look and a unique personal touch. We have the perfect colours in our granite and quartz ranges for the ultimate worktop in your black kitchen. Literally any colour will go with your black kitchen and will look the bee knees. We range colours from black to white, to pink to red.
Here's a few of our black colours we have in our granite and quartz ranges: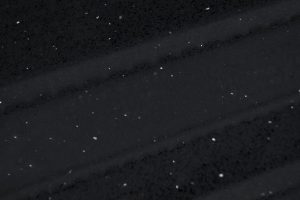 Nero Stella
   Nero De Lusso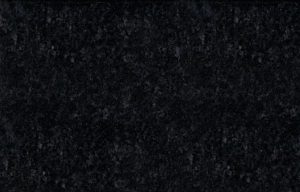 Black Pearl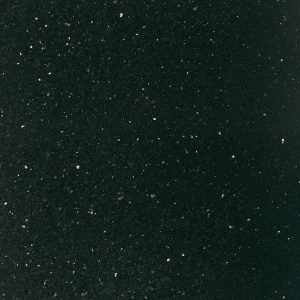 Negro Galaxy
Black appliances give a very sleek, modern look that is very classy. They are usually opted by younger homeowners. They can also appear to make the kitchen look darker and some find that these can be obvious with dirt and grime, so you may want to opt for another finish. You can create a perfect backdrop in a black kitchen with effective lighting. Black cabinetry will look great next to any paint colour which creates a perfect cosy atmosphere for one and all.
Black kitchen finishes can differ depending on if you choose gloss, matt or wood. Black gloss kitchens give off a magnificent shine and look spectacular. There are many finishes you can choose from, and it's a colour that uses high quality materials more so than any other kitchen colour. Black matt kitchens give off an ultra stylish look. Adding pops of colour in the decor will make the matt not appear gloomy like some may think. It is a perfect backdrop when adding colour to the kitchen and highlights the beauty of a feature and draws the eye. It really will make an impact on the home. Black wood kitchens beautifully accentuates the textured grain of the cabinetry and will not fail to impress. The choice is yours!
WHITE
A white kitchen gives off a clean and sanitary look. It features a timeless and fresh approach that never goes out of style. White looks good with any paint colour and the all important perfect worktop from us! It's easier to update to latest trends with a white kitchen if you fancy a change of paint. They are always a best seller, and won't ever go out of date or style. White is often considered as a safer option, but mixing and matching colour schemes within are endless, so you really can create a work of art. If you are daring with bright colours, a white kitchen can harmonise the look and give off a truly modern contemporary style.
We have the most fabulous colours in our granite and quartz ranges that will go with any white kitchen and make your worktops stand out. Enhance the natural beauty of a white kitchen with a stone or wooden floor. An all white kitchen is just what the doctor ordered, and I certainly love this style, but it may look too clinical in some people's eyes. Replace a feature or backdrop with a lick of colour. Use white as a base to accessorise on for your own personal unique scheme.
White has an inner beauty and is great to build upon. You don't have to have everything white. Stainless steel and black appliance will look great in a white kitchen too. White kitchen appliances are a safe option because they are less likely to go out of style. They can suit traditional and contemporary styles and are pretty easy to clean. Some people think white appliances are boring. Bring a touch of stainless steel in to you white kitchen to create an urban chic decor.
Here's a few of our white colours we have in our granite and quartz ranges: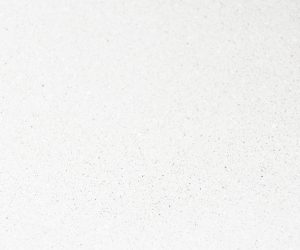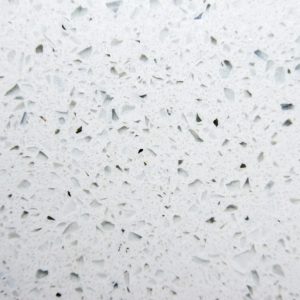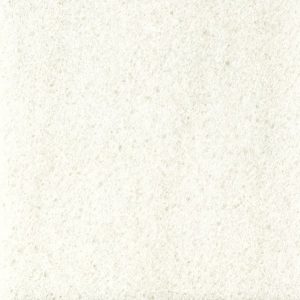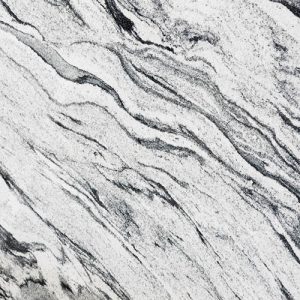 Most of our customers opt for white kitchens as you can see in our gallery. Some customers do opt for black worktops to create a contrast. See below at some of our work we have carried out in white kitchens.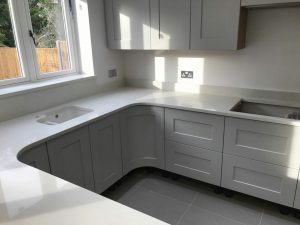 This all white kitchen features our Bianco Carrina from the Quartz range. It is a beautiful white marble effect quartz that offers simplicity within the white decor.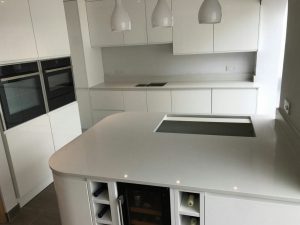 A simply stunning white kitchen featuring the Bianco De Lusso. The quartz finishes off the style beautifully and creates a practical kitchen. The customer has opted for black appliances to mix up the cleanliness of the white.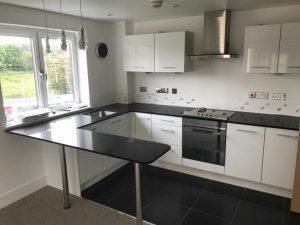 The gorgeous Nero De Lusso that is featured in this kitchen offers a monochrome look. The black breaks up the white of the walls and cabinetry and offers a subtle effect. This black quartz was only launched in Feb this year so is very new on the scene. A true first class appearance.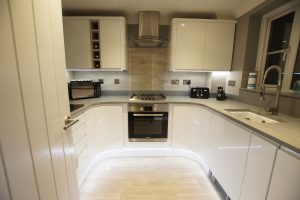 A gloss white kitchen is featured here with our magnificent Grigio Medio Stella. The medium grey starlight sparkles throughout the kitchen giving off a classy, modern style.
Have I made you decide?