A high gloss kitchen brings a modern and contemporary look to any style kitchen!
A gloss style kitchen really fits in well in homes, where perhaps, a minimalist look is favoured. Glossy looking units can fit well in a busier kitchen too, giving the ultimate high end appeal. Gloss is available in a number of different materials as well as colours, allowing you to further personalise your look.
Glossy White
A white glossy effect finishes off a kitchen with a sleek design. If you opt for all white, it will give off an air of cleanliness, which makes the kitchen feel crisp, and opens up the space. The perfect lighting chosen will help make everything look bright, as it bounces off the shiny surfaces. Compliment a white gloss kitchen with our stunning Bianco Puro from our Quartz range.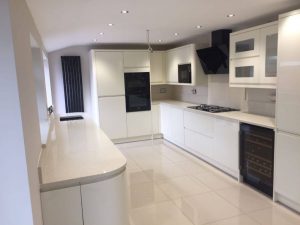 Look at how our customer has introduced our Crema Stella Quartz in to their kitchen. It doesn't get more modern than this. From the floor all the way up to the ceiling it features a high gloss kitchen. The simplicity of the straight lines that run through this is beautiful, and the curved edge on the corner of the worktop, softens the room. A clean sleek design!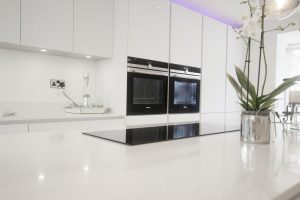 Another one of our customer's wanted to achieve the all gloss look, and they have created this most magnificent kitchen featuring our Bianco Marmo Suprema Quartz. The straight lines define the room and the purple lighting adds wonders to this stunning room. This kitchen is also flooded with light from the windows making everything bounce off each other creating a reflective effect. A real beauty!
White gloss designs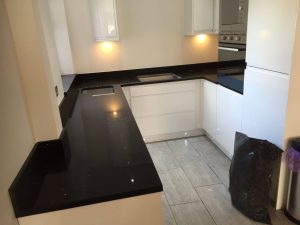 A white gloss kitchen with our stunning black Nero Stella Urban Quartz.
Another white gloss kitchen with a black top but this time it is created with our Grigio Scuro Pura Urban Quartz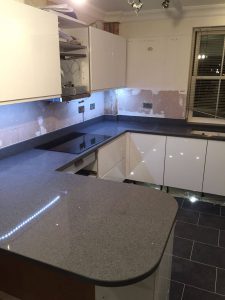 Keeping the white gloss theme but adding our Grigio Scuro Stella, which is a dark grey mirror effect. It's a real winner and very popular.
Alternative to white
A kitchen in any coloured gloss is a huge appeal. Grey is certainly becoming very popular in kitchens like the one below. Our customer has opted for the Bianco Minerale from our quartz range and it certainly balances the colours from the wooden floor to the grey gloss cabinetry. The worktop is light and gives off a stylish finish. We love it!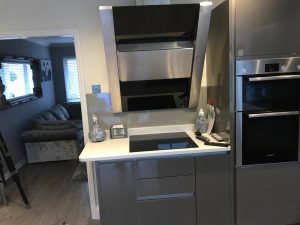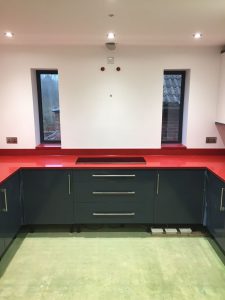 Wow, just look at this daring and interesting kitchen the customer has created here, with our Rosso Stella Quartz– also known as red starlight and a marine grey gloss on the cabinetry. They certainly are being different! We have even made the window sills to match this striking kitchen.
Handleless Perfect
A gloss kitchen is always best in conjunction with a handleless style. A handled kitchen attracts more dirt as it can gather in and around the handles, making them harder to clean. A handleless kitchen means touching the door less frequently preventing them pesky fingerprints we all hate. As you open the cupboards that are handleless, you curve your fingers round the edge of the door and pull it forward so you are not essentially touching the door's surface.
Nothing beats the fantastic style and design of a handleless kitchen. It creates an uncluttered look that offers a much smoother transition throughout the room. They are perfect in a kitchen that is open plan as it creates a modern look. A perfect way to keep those gloss surfaces clean.
Top Tip
Handleless kitchens are typically nudged or pushed shut with a knee or foot, so you are not required to touch the door, meaning the base units stay cleaner for longer.
Cleaning your gloss
A gloss kitchen can show up fingerprints more easily than a matt kitchen. Applying the best cleaning methods to your gloss will have your kitchen sparkling in no time.
Using the best cleaning tool will achieve fast and best results. A micro-fibre anti-scratch cloth is perfect for this and is the only cleaning tool that should be used in a high gloss kitchen.
Use the best cleaning product- WATER. Warm water should only be used when cleaning your gloss. Some kitchen companies may reccomend in using cleaning agents or soapy water, but this is inadvisable. They can contain strong chemicals which can risk damaging your gloss finish, which we certainly do not want.
Use the best cleaning technique- make cleaning your surfaces take less time by taking a clean micro-fibre cloth and dip it in water, wring until lightly damped and wipe with gentle movements- this will wipe clean the fingerprints and leave no smudges behind.
Continue these methods on a regular basis to maintain a hygenic setting and a beautiful shine.