Where do we think is the best place for the microwave…?
Is a microwave something you use?
Many people do have a microwave in their kitchen as well as some people don't. They have become a norm in recent years for everyday tasks when cooking meals or when leading a hectic lifestyle. Microwaves can be an easy style of cooking but can act as a large bulky appliance taking up far too much space. When designing a kitchen you do want to decide on where's best to place the microwave. Easy access is key but on the other hand you want to make sure you can save some space with it. A microwave can be placed high or low, out of sight or within easy reach. There are pros and cons to each option, but I am pretty sure that you will find the perfect place for yours.
The classic location for a microwave is on the counter top, though there are many other locations it can be placed to deliver a good functional kitchen. Placing on the counter top can hog tons of space, so if you don't really have a lot of space, then placing the microwave in a more suitable position may be the best thing.
We all need adequate space when prepping and cooking, so I have looked in to the different options where the bulky gadget can be placed.
Option #1 Below the Counter
This option is perfect for when you don't have much counter top to spare. It looks sleek and neat and tidy, and leaves the counter top clear. It will be on show, but if you choose that stunning appliance and match it to all the other appliance in the kitchen, you certainly will have made a modern, classy hub of the home. Placing the microwave too low can become a nuisance or a back breaker for bending, and can be dangerous if you have small children, so top tip… place at a good height.
Option #2 Integrated into Cabinetry
This is a beautiful customer option for those who love stunning appliances featured in to their kitchen. Where and what height it goes is down to you, so you can have the perfect customized hole for your microwave with perfect reachability. There may just be one con to it and that is, if it is placed too far away from the prepping areas it may be tough to carry the hot plates and dishes over to a counter top. It is always good to think of safety first!
Option #3 Above the Range
Placing the microwave above the range is a classic space saver, where the counter tops will be freed up and lots of space gained to work. How about purchasing a microwave and hood-fan combo to double the duty. It will save lots more space in a more compact kitchen. The only downfall is that if the microwave is placed too high, it may be difficult to reach, and it may add a less appeal approach to the kitchen due to it being on full show.
Option #4 In the Island
Having the microwave built in to the island makes use of the kitchen island as well as it is hidden away from sight. It makes it easier to work in the kitchen if you place the microwave the other end of the kitchen, so if someone is using the oven and one wants to use the microwave they won't bump in to each other. Lots of space has been gained with the other kitchen cabinets too. The only downfall it may be too low to reach.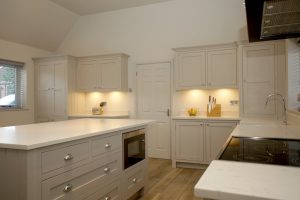 Option #5 On top of the Oven
Grouping together appliances makes cooking easier in the kitchen. It also gives off a sleek appeal with a modern touch. Placing the microwave too high may mean it cannot be reached, so always think of heights when choosing this option.
Option #6 In a Spare Cupboard
It is like an integrated style, but can be hidden away if you prefer for it not to be on show. It can also be placed at the perfect height when desiging your kitchen, and free up some space on the worktop. If you are a neat freak it may be annoying if someone leaves the door open, but please don't let that put you off!
Option #7 On the Counter
If you have enough space on your counter then it's perfect for your microwave. Even if you have a spare space somewhere else in the kitchen that is out of the way to give you enough space on your worktops to be able to prep and cook. It may be a drawback because carrying hot dishes to where there is somewhere to put them may prove difficult and HOT! If you choose to keep your microwave on the side, buying a state of the art one will add a modern style and class. Match it to all your other appliances and bob's your uncle you have a 21st century gadget kitchen.
There are many microwaves today that you can buy that fit anywhere and do anything. The choice is yours where you decide to place it.
Here are some of our customer's kitchens with our magnificant worktops and the all important… WHERE HAVE THEY PUT THEIR MICROWAVE…?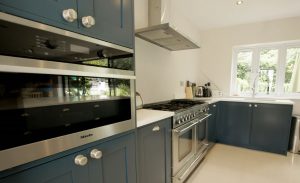 Our customer here has chosen our fabulous Bianco Puro for their kitchen. They have decided to go for an integrated microwave/ conventional oven that sits inbetween two cupboards. It sits right by a counter top so its easy to put the hot things down, and cooking becomes easy in this functional kitchen.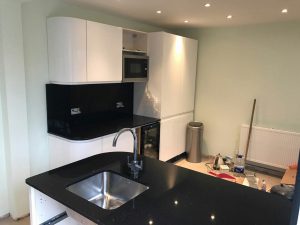 The stunning Nero Stella has been inputed in to this kitchen that goes nicely with the white gloss cabinetry. The customer has decided to free up some space and build in the microwave above the counter top. There is enough room below to put the hot dishes on and serve up in this multifunctional kitchen.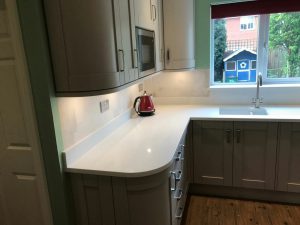 Another integrated microwave chosen by our customer with the beautiful Bianco Marmo Suprema style quartz. There is lots of room in this kitchen to fulfull a multifunctional kitchen as well as oozing with style.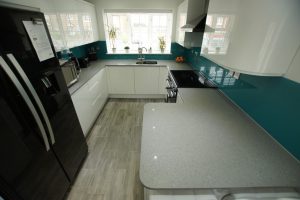 This kitchen has lots of counter top space on the otherside, so the microwave can be placed on on the counter top. The Grigio Medio Stella has been fitted in to this kitchen that matches that gorgeous blue splashback perfectly.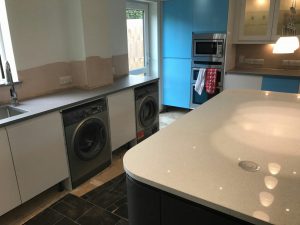 The Grigio Medio Stella and Bianco Stella have been designed in to this gorgeous high white gloss kitchen. The microwave has been placed above the ovens, so all cooking equipment is all in one place.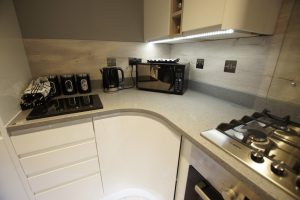 The microwave sits perfectly in this kitchen in the corner away from everything else, adding lots of space for the multifunctional kitchen. The Grigio Medio Stella has been chosen for this kitchen to add a classy feel to the hub of the home.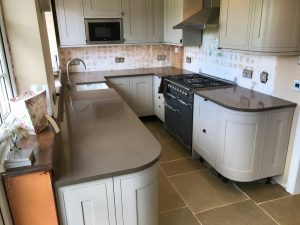 The coffee coloured Mocha has been fitted in to this kitchen adding a beautiful traditional style kitchen. The customer has chosen to integrate their microwave above the counter top adding lots of additional space to be able to prep and cook properly.