Carrara Marble has to be one of the most beautiful and most sought-after materials for a kitchen worktop. In fact the colour and design is used in some of the most expensive hotels, restaurants and spa's around the world, showing it's many functionalities. This stunning Italian born stone product oozes style and grace, Carrara is used by interior designers who will build it into the most prescious of kitchen spaces.
Kitchen worktops have to be durable, and while Carrara marble is a natural stone and very resilient, there is one major downfall, it's ability to deal with acids and more commonly, liquids such as lemon, vinegar and red wine. The marble will generally be made up of calcium carbonate or magnesium carbonate, which react badly to acids.
So what happens to my prescious marble if it comes in contact with an acid? The marble will become 'etched', which is essentially a dull, whitish mark where the acid has literally eaten away at the surface.
Does this mean it can stain? Unfortunately yes, red wine, tumeric and other spices and sauces must be handled with care.
Some people like the fact that the colour of the material varies over time through use, which is seen as it's natural charm. This can be very stressful for most people though.
If you would love to have the same style and grace, but want something with better durability and resistance to staining and etching, then you need to look at Quartz. This material is the most popular in the luxury worktop industry and we are heavily investing in this area, with many new colours being added every few months.
For now there are a number of quality Quartz alternatives from brands such as Silestone, Caesarstone and Urban Quartz, we are going to show you below.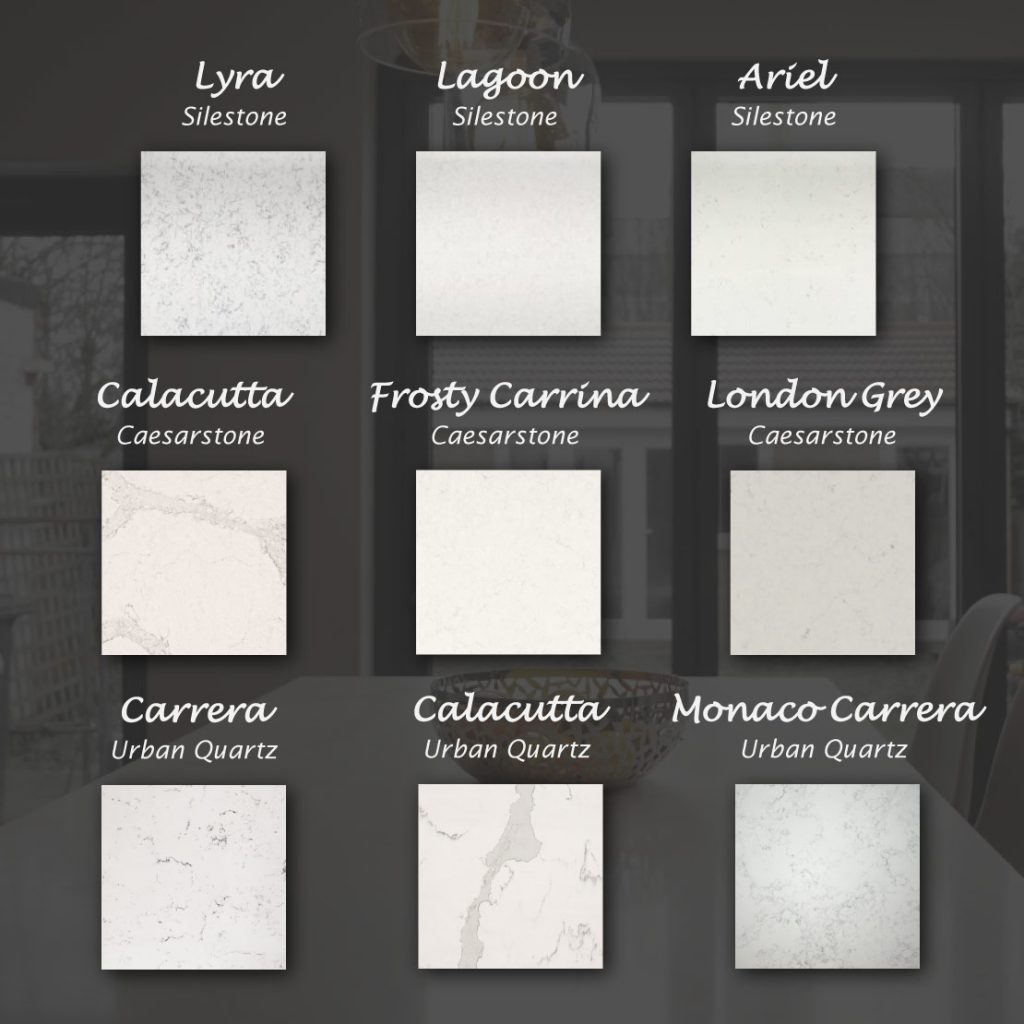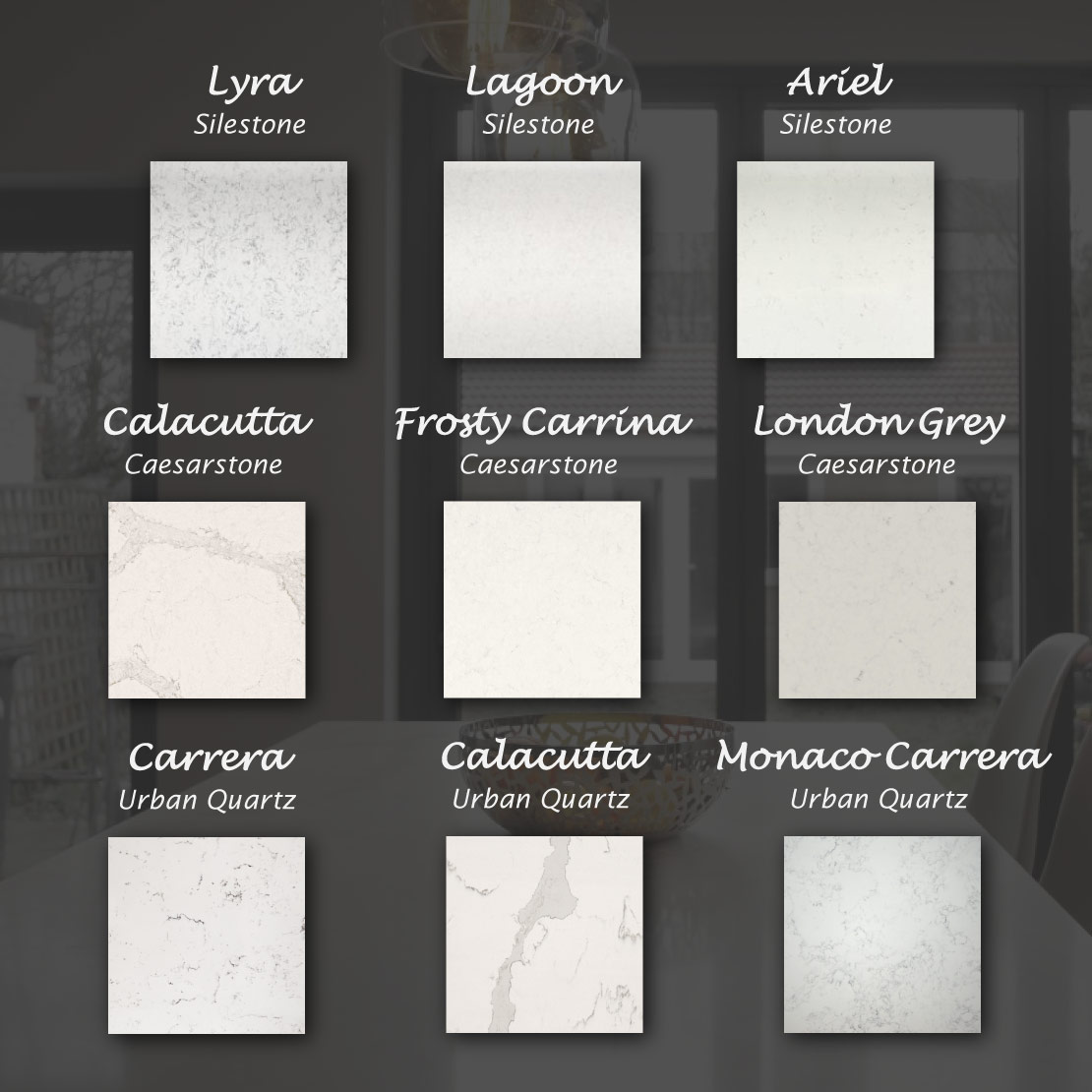 Silestone Lyra – One of the closest matches to Carrara marble, this is a white base with grey veining.
Silestone Ariel – An off-white colour with marble veining.
Silestone Lagoon – Softer, more subtle appearance gives a more natural and understated look.
Caesarstone Frosty Carrina – Sense of depth and purity with long veining for a natural look.
Caesarstone London Grey – A white marblesque appearance with subtle black and grey lines. UPDATE we now offer our very own London Grey Carrera under the Urban Quartz name.
Caesarstone Calacutta Nuvo – Wide, elegant, cascading grey veins on a white base.
Urban Quartz Calacutta – A wide and prominent veining on a white base, very similar to Caesarstone Calacutta Nuvo.
Urban Quartz Carrera – A white base colour with a black marble effect throughout.
Urban Quartz Monaco Carrera – Very similar in appearance to Caesarstone London Grey, a white base colour with long subtle veining.
Update – November 2017
Urban Quartz Noble Carrera – A discrete Calacutta with white/grey shaded marble effect inspired by the Caesarstone Noble
Urban Quartz Calacutta Statuario – Premium marble effect with large pronounced grey vein, inspired by the Statuario Maximus
Urban Quartz London Grey Carrera – An off-white carrara marble alternative, inspired by Caesarstone's London Grey
Montblanc Calacutta – Bold statement piece with calacutta veining throughout, a pure white base
Piatra Slate Carrera – A unique grey slate colour quartz with a white/grey marbling