"Whether you are a fan of steaming, simmering, griddling or frying, there's the right hob for you!"
The hob is always a central feature in the kitchen and one of the main appliances that is used. Whether it's on the long run of units or centered onto an island they will always do their job and fit into a multi-functional hub of the home. The kitchen's primary job is a space to prepare food, so having the correct hob that suits your personal preferences and the kitchen's aesthetic is key.
The layout on a hob is fairly consistent. There are a range of different styles available. The design you choose can really add to the design theme of your kitchen. Take your time when choosing your hob as it's good to appreciate the various types on offer.
In this blog I will talk about the different hobs that are on the market today and how to style them in your ultimate kitchen.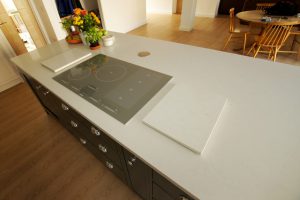 Gas Hobs
Gas hobs are often preferred because you can control the heat under your pan. If you are following a recipe and they say "bring to the boil, then simmer", a gas hob allows you to do this quickly, where an electric hob does not. It is also a perfect choice to provide instant heat for that quick boil. The heat is visible, easy to control and can be used with any type of pan. If you like and often use a wok, a gas hob is a great idea, cook up that perfect stir-fry on a Saturday night.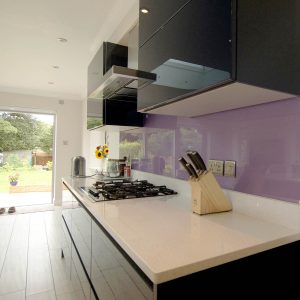 Electric Hobs
With an electric hob they take a while to heat up, and longer to cool down. If your kitchen is a busy space, an electric hob can prove to be hazardous when the hob is still warm. Gas in the home is currently more expensive than using electricity.
Induction Hobs
Induction hobs are becoming increasingly popular due to their easy usage, being highly responsive, very energy efficient and easy to clean. They heat up the pan directly from a spiral copper coil beneath the glass surface, energy is then transferred to the pan. An iron-based magnetic pan needs to be placed directly onto the induction hob for the coil to activate to heat up for cooking. When the pan is removed, the hob cools down reducing the risk of burns.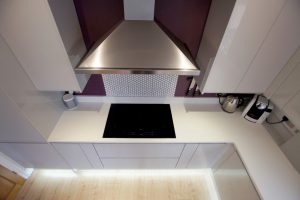 What hob is suitable for your kitchen?…
Hob units are normally made up of four burners, and in everyday life is just enough. However, there may be occasions where you would need and have to use an extra ring, so it may be worth having extra rings for that special dinner party- if your kitchen can accomodate them. You also need to think about getting the right balance between the hob and the worktop space, where will you house your hob?
Your kitchen style…
You want the hob to fit in with your overall kitchen design scheme, so this may affect your choice on whether you will choose gas or electric. With a gas hob, the burners sit above the surface of the worktops making the hob sit prominent in the kitchen. It is perfect to style in a traditional kitchen, but if you was edging towards a contemporary, minimalist style then it may detract the style you was hoping for. An electric induction hob, would provide a sleeker look in a more modern kitchen.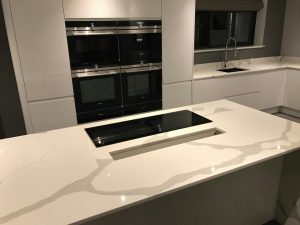 Choosing the material and colour of your hob…
There is not much in the way of difference in the burners, but they do come in a range of sizes to accomodate the different-sized pans and the different style of cooking. There are different materials you can opt for like a stainless steel or ceramic. Make your hob a feature on it's own to create a focal point.
The different hobs in some of our customer's kitchens…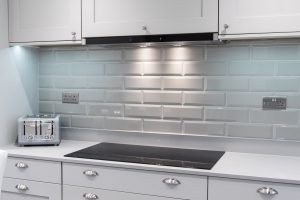 Our customer has surrounded their induction hob with the beautiful Grigio Chiaro Pura. It matches the colour scheme perfectly, and with a glass black electric hob they have chosen, makes it stand out from the light aesthetic of this kitchen style.
Our customer has chosen the Grigio Medio Stella in their U-shape hub of the home. A stainless steel, four ring gas hob sits perfectly in the middle making it a perfect multi-functional kitchen.
Our customer has chosen the Bianco Marmo Suprema to style their hub of the home. The stunning five ring gas burner has been placed onto the island in the centre featuring a great focal point for all who enters. The ultimate cooking station for budding chefs.