"Invest in a Miele wine fridge, and you will not be left disappointed!"
Are you the real connoisseur that loves a good quality wine, that is served from a controlled wine fridge? To get the full flavour of the delicious wine you should store the wine at it's correct temperature. Serving wine from just a normal fridge does not do the wine any justice, as varied temperatures can affect the subtle flavours of the wine. You want to be able to impress your guests at your dinner party…
Miele units are fitted with up to three temperature zones that can be controlled seperately. If you are a love of red, white, champagne or sparkling wine, then all of this can be stored in the state of the art wine fridges from Miele, in the perfect storage conditions.
  Choosing the right model that suits you…
Free-standing… If you are particular in design and features that are eye-catching are your thing, then a free-standing appliance is great to achieve this. It can be placed anywhere, providing you have the room. The advantage is it can be moved to suit you and your lifestyle, aswell as if you plan to move home.
Built-in… A love for integrated appliances? Then integrate your wine unit into the design of the kitchen. They can be fitted in and perfectly to your style.
Built-under… These can be installed under a worktop and offers lots of space for your wine. Perfect for if you have a smaller kitchen.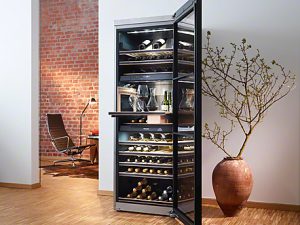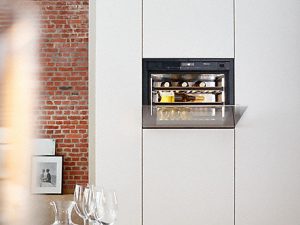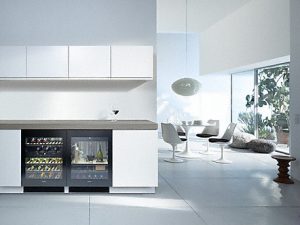 "Store your wine with S.T.Y.L.E!"
What's Inside…
Sommelier Set- New on the market and only available at Miele. Prepares fine wines professionally for decanting. It chills glasses to as well as conditioning open bottles to perfection. "It is a practical connoisseur for your wine!"
FlexiFrame- Holds bottles of all sizes securly.
Selector- Highlight your wine collection! The selector allows you to feature your wine collection with an effective presentation.
NoteBoard- Annotate a label for a quick overview of your wine on that shelf.
UV Protection- Protect your precious wines from UV rays. The glass doors are made of tinted safety glass with an integrated UV filter.
LED Lighting- Present your wine collection in the right light.
DynaCool- It is a fan that circulates the cold air around, to ensure uniformed temperature and humidity.
Push 2 Open- Lover for handleless design? Keeping the handleless theme going on… then the under-counter wine units have this on them. They will look flush and fit into every style and living environment, that goes in your hub of the home.
Miele @ Mobile App- Connect with your appliance all from your mobile using the app.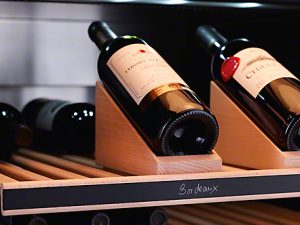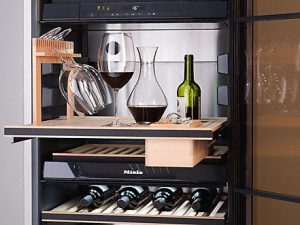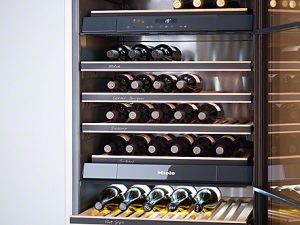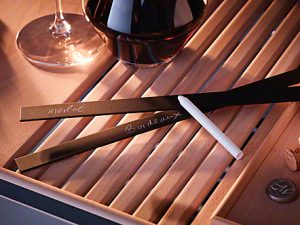 Mastercool…
Mastercool is a high end design that offers technology on a larger scale. The Mastercool gives off an impressive appearance that fives an idea of precision and devotion. Attention to detail has always been the key from Miele's workmanship, and the Mastercool shows just this. High-quality glass shelves, scratch-proof plastic and solid aluminium frames are designed into this appliance to characterize the highest of quality. Convenience is at the tops of the design offering the best each and everyday.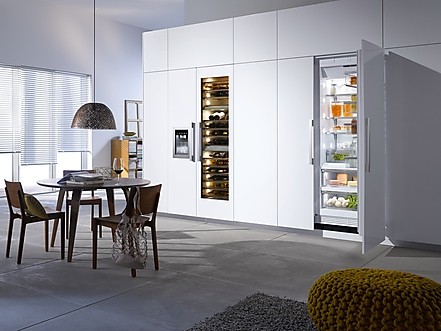 Where to buy…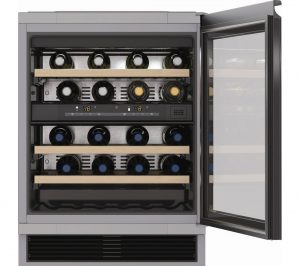 Currys- MIELEKWT6321 UG Wine Cooler – Black £1,770.00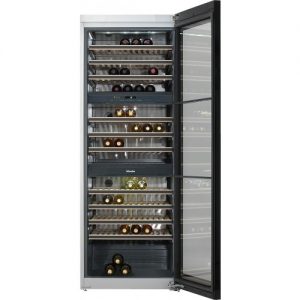 Paul Davies- Miele 6833 Free-standing Wine Unit- £3760.00