"Your kitchen you create reflects how it's going to be functional and how it suits your lifestyle!"
A kitchen is very personal to you, so appliances need to be for individual needs and personal tastes. The Miele range of built-in ovens will sure be the appliance that meets all your needs in the hub of the home. They can be placed directly below the hob or at eye level. They will fit all requirements due to the various sizes they come in.
Do you like to bake? Well a Miele oven is perfect for baking and roasting. They offer sufficient space and suits your individual style. The food that comes out of these ovens is simply delicious. They make baking more fun and cleaning a breeze. So if you thought cooking was a chore, think again!
A Wireless Food Probe
A perfect gadget that tells you exactly when the meat or fish is cooked just right. It includes a countdown indicator, so you do not need to supervise the cooking process. It is always at hand because it is stored in the oven door. What a genius idea!!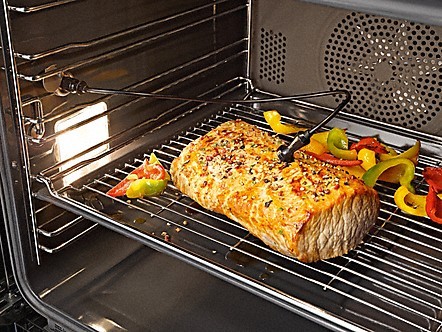 FlexiClip Fully Telescopic Runners
These are perfect for flexible and safe cooking. You will not get burnt due to their technology. Remove trays with ease and turn the meat over outside the oven safely. You can do this at every level.
Special Automatic Programmes
These special programmes will cook your dishes with perfect results. Five of your favourite recipes can be saved to the oven, "wow" what an invention. So when cooking the perfect sponge, this can be baked with perfection every time. Having difficulty getting the yorkshires to rise? Remember the key is to add 2 eggs and cooking to the max time before they get crisp. Set the yorkshires to your oven programme and you will create the most magnificent roast on a Sunday.
Special Applications
These are perfect for different types of food preperation such as proving dough and drying fruit. A particular climate is needed and this oven simply just has that.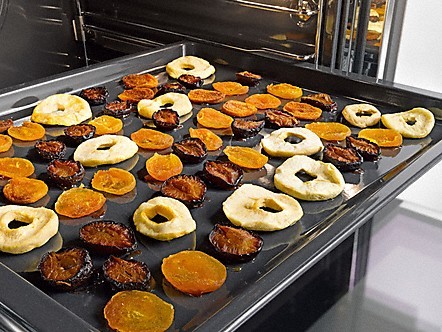 Automatic Programmes
Bread, cakes and meat can be cooked automatically with this function. Cook it all to perfection. You can enjoy perfectly cooked, restaurant quality meat.
Moisture Plus
A special moisture plus feature has been added to the range of cookers to improve the roasting and baking that is done in the oven. The moisture creates an incredibly light dough and a nicely browned crust.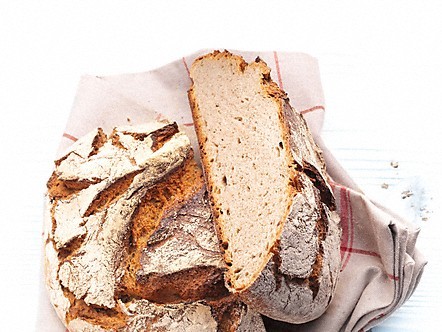 Safety and Lock Systems
The appliance contains a cooling system with a cool front. Miele ovens are cool to touch on all sides so this ensures it is not hot to touch. Safety is a high priority in the kitchen and the Miele oven provides greater safety against burns. You can also lock the oven with a touch of a button, to prevent it being switched on accidentally by little fingers. If you do go out and forget to turn off the oven, don't worry as it has a function where it will automatically turn off when left on for a long period of time.
The Miele oven is perfectly tailored to you, using different various sizes, Extra Large, Classic and Compact. There will be one, that will be perfect for your kitchen. Bake and roast in an individual style with the different sized ovens. Choose from Extra Large, Large-Capacity, Classic and Compact.
Baking becomes much pleasurable when using a Miele oven, as the food simply is delicious when baked. Cleaning has never been so easy with the cleaning processes used on a Miele appliance. They are filled with non-stick racks, so persistant dirt is able to be removed easily. Pyrolytic cleaning is an automatic service that turns all food residue to ash. This makes it easy to clean.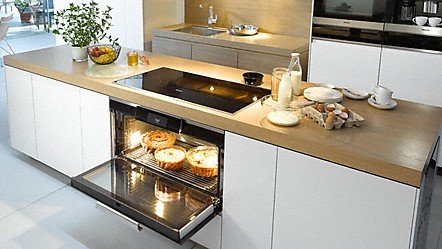 "Miele appliances are great for low energy consumption"
A few Miele Ovens that can be Purchased at John Lewis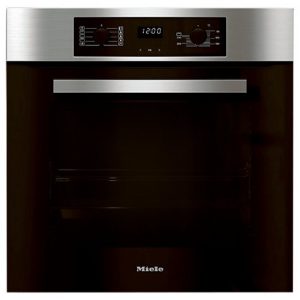 This is the Miele H2265BP Discovery Built-In Pyrolytic Single Oven, Clean Steel. Available to purchase from John Lewis at £619.00.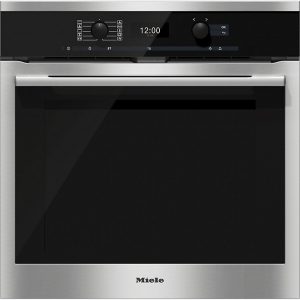 This is the Miele H6360BP ContourLine Single Electric Oven, Clean Steel. Available to purchase from John Lewis at £1,599.00.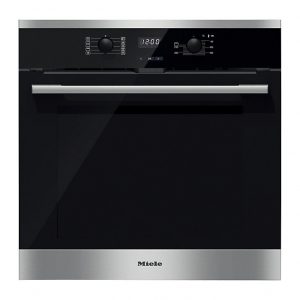 This is the Miele H2566BP Built-In Single Oven, Stainless Steel. Available to purchase from John Lewis at £699.00.