"Get closer to your oven!"
If you love cooking, a NEFF oven provides ample room for your ideas, and gives you the cooking experience that you will love for many years to come. The innovative features that NEFF have designed in their ovens will let you cook up almost anything your can think of and they certainly will look great in any kitchen style. Choose that perfect quartz worktop to show off that NEFF oven, and make it the centrepiece of the hub of the home, we all know that the oven does the most work.
NEFF's cooking passion has been since 1877, and people inspire them. Their moto is "cooking inspires people, and people inspire us". The innovative products they produce will help you prepare mouthwatering food 365 days a year.
"If you love cooking the oven is a quintessential part of what you love."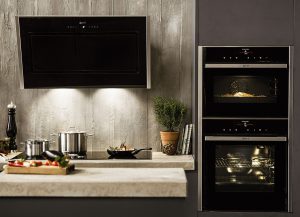 Where do we start…
The Single Oven…
The NEFF single oven is a versatile kitchen companion. They complement your cooking style, and come with a unique CircoTherm hot air system, that allows you to bake and roast dishes on up to 4 levels simultaneously that will make everything come out tasting like it's meant to. If you want to try different cooking styles there are also VarioSteam and FullSteam options. After the cooking has taken place, the oven will take care of the cleaning with the pyrolytic self-cleaning cycle, then you just have to wipe the oven clean with a cloth and taddah good as new!
The NEFF single ovens are a great fit to any kitchen, with their stainless steel strips. They are designed to be the centrepiece of a creative kitchen, and have a neatly combined control panel that is perfect for a streamline design.
The single oven comes with either a Slide&Hide door or a pull down door.

The Compact Oven…
The NEFF compact oven is designed to seamlessly coordinate. It offers additional space within and host many innovative features. Multiple dishes can be cooked with the CircoTherm function, and flavours will not be lost throughout. Perfect for when cooking for friends and family. Combine with a warming drawer to create an ultimate appliance wall.
They are stylish and practical and a great way to extend your cooking ideas. They provide all the functions the single oven does and being small it still gives off lots of big ideas.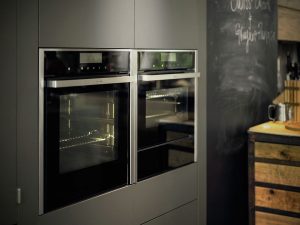 The Double Oven…
The NEFF double oven expands your way of cooking. They allow you to serve a range of dishes at the same time, so if you like this then a double oven is great for you! It is equipped with all the helpful functions like the CircoTherm and ComfortFlexRails, which allow you to place the oven rails where you want them.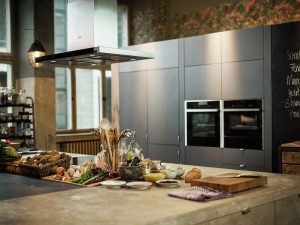 Whatever NEFF oven you choose, you certainly will be bringing a cooking appliance to your hub of the home that will cook the most trickiest of dishes. The oven range from NEFF are varied as possible to suit all kitchens. Create a perfect kitchen by seamlessly stacking single ovens and compact appliances within the Premium Collection Range.