"NEFF dishwashers are equipped to tackle all of your cookware"
Are you a cookaholic? Do you cook with lots of cookware? NEFF have got it sorted with their dishwasher range.
NEFF state that their dishwashers are designed with every cookaholic in mind.
Every bubbled-over oven dish, baked on ramekins and caramelised grill pans will still come out beautifully clean. NEFF's range of dishwashers are available in two sizes, 45 and 60cm, to suit individual requirements and the size of your kitchen.
Seeing as it's Christmas, you want to be able to clear those worktops and put everything in to clean to save you having to wash up. Look no further than these amazing kitchen gadgets.
NEFF's fully-integrated dishwashers offer innovative programmes to take care of all of your cookware. With the most powerful settings to combat the most stubborn of stains. Intelligent care programmes are built in too for your most delicate glassware. They have produced a cleaning solution for all of your everyday cooking and dining utensils.
The HygienePlus introduces a final rinse at a very high temperature to fight bacteria. It is perfect for baby bottles or chopping boards. You can even fit in bulkier items by folding down unused racks thanks to VarioFlexPlus.
They are dishwashers that have many hidden talents.
A hidden hero- 45cm dishwashers
The NEFF 45cm dishwasher is the perfect answer to kitchens where space is limited. It is a slim dishwasher that has many inspiring functions. They are a quiet appliance and you hardly notice them at all when they are operating. Most models feature EfficientSilentDrive, which uses a quiet power to clean your crockery. You will always know when the job is done by the cycle picture projected onto the floor.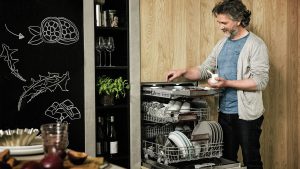 Room to fit it all- 60cm dishwashers
They are completely invisible behind your chosen cabinetry. It's very quiet and packed with ideas to make cleaning as effortless and eco-friendly as possible. No handle in sight, just press it lightly and the door opens. Never interrupt a cycle, as the remaining time is projected onto your floor.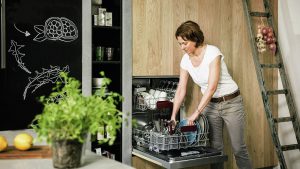 These NEFF dishwashers provide easy access to a front control panel and seamlessly integrate into your furniture. The NEFF semi-integrated dishwashers are a popular choice in a kitchen design. They use just around 7 litres of water to achieve sparkling results. They are very quiet and make your after-dinner conversation more pleasant.
Semi-integrated 45cm dishwashers- Sleek and inventive
If you prefer a dishwasher with a visible control panel, the semi-integrated option may be for you. It integrates seamlessly into your kitchen with a stylish stainless steel panel. They are just as clever as the full-integrated dishwashers.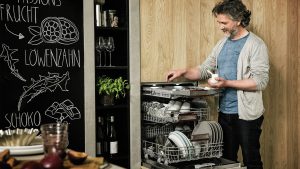 Semi-integrated 60cm dishwashers- Multi-tasking heroes
The NEFF dishwasher is the perfect help to clean up after a dinner party, or just cooking for yourself. They can handle anything from fine china to bulky, heavily soiled pots and pans. The night programme is brilliant, as it reduces noise levels to a quiet hum.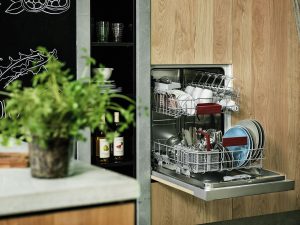 Dishwashers available to purchase…
NEFFS41E50N1GB Full-size Integrated Dishwasher- Currys £434.10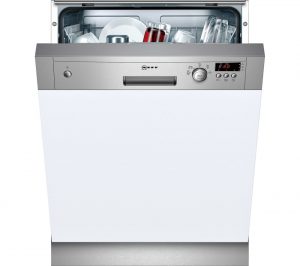 NEFFS58T69X1GB Slimline Integrated Dishwasher- Currys £529.00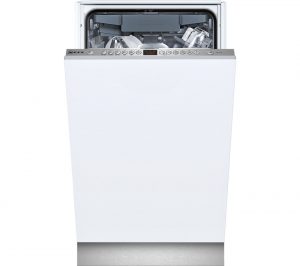 NEFFS41E50S1GB Full-size Semi-integrated Dishwasher – Black- Currys £481.00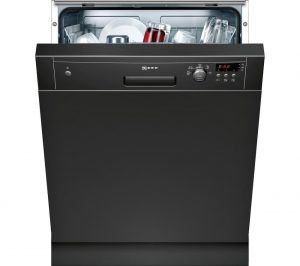 NEFFS515T80D0G Full-size Integrated Dishwasher – Stainless Steel- Currys £849.00