"Create something a little bit special in your kitchen with lighting under the cabinets"
You can make your kitchen look beautiful with the cabinets you choose, but how about adding something to them that will be a subtle illumination, but a bold statement! A row of LED lights underneath the cabinets will create a welcoming atmosphere and add an extra glisten to the room. A perfect addition to glow over them stunning Quartz worktops.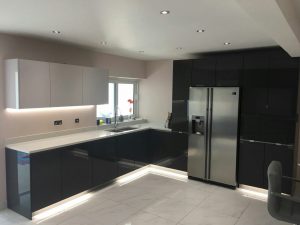 Two of the most popular types of lighting underneath cabinets are strip lights and spotlights.
Strip lights
Strip lights are a long, narrow sequence of lights. They are either structured with a row of small individual lights, or as a long singular bulb. They are designed to provide unbroken illumination across a wide area.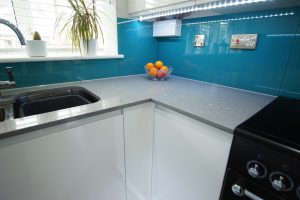 Spotlights
Spotlights are used to concentrate an illumination across a smaller area. They can be used as an independent feature light or placed across an area in a series.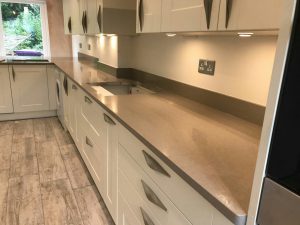 The type of bulbs that you choose play a very important part.
LED lights
LED lights have a long lifespan and are energy efficient. You can use them with a dimmer switch, so you can create the light to suit your mood and they provide an instant full illumination.
Fluorescent lights
Fluorescent lights are budget-friendly, energy efficient and long-lasting. They can take a minute or two to reach their full brightness.
Where should they be installed?
If you have a particular look you want in your kitchen then the under cupboard lights will create this. If there is a feature you want to emphasise in the hub of the home you need to choose whether the strip lights or spotlights are best suited to you.
Low lights at ground level

They are fitted at the bottom, at the base of the units (the plinth), hovering just above the floor. They look great lit up in another colour e.g a blue or purple, and especially if you have light coloured flooring where it bounces off of. If for some reason you are unable to fit the lights around the whole entire layout, consider highlighting one wall to create a contemporary effect.
Alternatively you can add the lighting to above the cabinets to bounce off of the ceiling.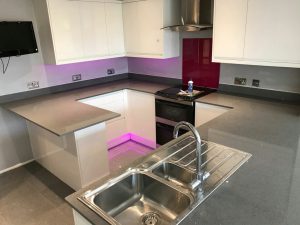 Create a zone with the lighting
If you have a designated food prep area which you want to highlight more with a source of light, place the lights underneath the cupboard to section off part of the worktop area, where you tend to do more of the chopping, stirring and mixing.
Light up something
If you have a small or dark kitchen space, using the cabinet lighting across the whole entire layout will bring an extra layer of illumination to the room. It will be added brightness to your cooking and entertaining areas.
Show off your best china or that expensive vase
An under cabinet spotlight can be a great added bonus to highlight that favourite picture, or highlighting that beautiful set of china.
How to style it…
Glossy, light cabinetry will reflect the light perfectly creating a bright and airy space that is welcoming to all. If your kitchen space lacks light, consider choosing a glossy light cabinetry colour and a light quartz worktop to make your room feel more awake. Bounce the light and make everything come together. Darker colours and wooden tones will absorb the light.
Under cabinet light is a small addition to the kitchen that will transform the way the kitchen looks and feels.
Some of our customers kitchens with their under cabinet lighting…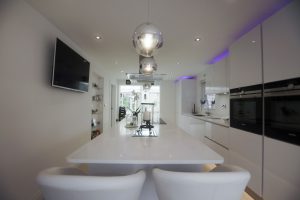 This kitchen has been finished off with the stunning Bianco Marmo Suprema. It is a beautiful quartz that has proven to be a hit. It is a white subtle marble effect that turns heads and it certainly looks the part in this all white kitchen. The customer has added spotlights to the underneath of their cabinetry to highlight a certain area of the worktop, and they have also added overhead lighting to the aboves of the cabinetry with purple lighting to give the hub of the home that instant wow factor, and create a beautiful glow on the ceiling!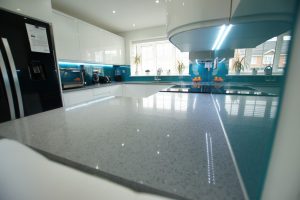 This kitchen has been finished off with the fabulous Grigio Medio Stella style quartz. It is a medium grey colour, that has sparkles throughout. The customer has opted for a blue splashback around their U shape kitchen and added strip lighting underneath their cabinets to highlight this feature, and make a perfect cook and prep space.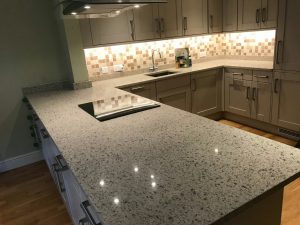 This kitchen has been finished off with the Caffe Magnifico style quartz. It has a different take on the ususal black, whites and greys in the kitchen. This kitchen offers lots of storage space, worktop space and a U shape style, which has been fitted with under cabinet lighting to light up the cooking and prepping areas of the kitchen, and also bring out the beautiful tiles the customer has chosen for their hub of the home.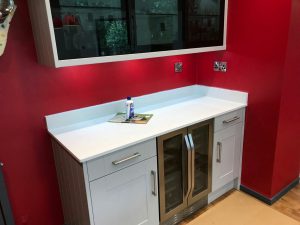 This kitchen has been finished off with the stunning Aspen De Lusso style quartz, which is white in colour and shows off certain features of the hub of the home, like the one in this picture. The customer has added a bar like area to the hub of the home with a wine cooler integrated with lots more storage, and a clear glass shelving system to show off their china, ornaments etc. They have added under cabinet lighting to show this tasteful added addition to their space, which will make any guest envy!