"Protect your fabulous worktop, from cooling down them tasty bakes, and hot pots and pans with a simple but smart kitchen accessory!"
In this blog I will be talking about how a trivet and worktop saver can become the most used accessory in the household, as well as all the different ones on the market today. I think you will be able to find the perfect one that matches your style as well as your personality, and find lots of uses for your smart purchase.
You may be one of those classy style people who love having dinner parties and more than usual family/ friend gatherings, or a lover for baking and you are trying to find the perfect way to keep your home fresh and beautiful for guests and yourself of course, then trivet's and savers are ideal. They add a decorative appearance to your worktop as well as the dining table, and the most important thing of all protect your worktops from heat, scratches and overall damage.
A trivet is an object that is placed between a serving dish or bowl on a worktop or dining table, to protect from heat damage. It's purpose is to keep the heat raised up from a hot surfaced dish to protect the surface it is placed on to. The word "trivet" comes from Latin tripes meaning "tripod". A trivet is also referred to a tripod and is often a tripod-like structure with three legs to support, but may come four legged. It is a kitchen basic that is a smart kitchen gadget, that comes in all different shapes, sizes, colours and designs.
A worktop saver is a highly versatile board that is used for a variety of tasks in the kitchen. They aim to satisfy food preparation as well as protecting the work surfaces from heat, scratches and damage as previously mentioned. They brighten up the kitchen and come in a range of materials, colours, shapes and sizes. A tough glass worktop saver can be doubled as a heat mat or serving board!
"Protect your table in style!"
Trivet's can be used for many different things such as a fun and modern center piece for that beautiful bouquet of flower or house plants. This will add a quirky new meaning to the hub of the home, and also protect from water damage and scratches. It adds an extra special touch to the tops of your prepping and eating areas, as well as a shelf or the window sill and can be easily upgraded when you fancy a new style. Don't we just love changing accessories with seasons and styles! I do!
Trivet's are made from a range of materials. They started out by being made of cast iron and heavy metals, and as the years have gone on have been produced in other materials. For a natural look, wood and cork have been implemented in to the design to make a stunning trivet. They are lightweight and simple, yet still serve the purpose of insulating the worktop/table from heat.
I have researched in to the market of trivet's and savers today and found the following attractive pieces, that will look stunning in the kitchen. I am sure you will be able to find one that will be well suited within your choice of decor.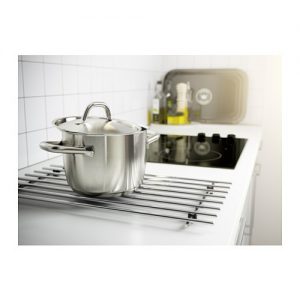 This is a Ikea trivet (Lamplig) which is made of stainless steel. It includes plastic feet that prevents scratching, and makes the steel non heat-conducting. Stainless steel goes with anything and will look perfect matched with the ultimate stainless steel appliances that you have purchased. All for a price of… £3. A real bargain but a simple yet modern design!
Create waves on your worktop with this attractive design from Lakeland. It is the perfect accessory for the kitchen to add style, quirkiness and to rest hotpots and pans. Only £7.49 and is made of chrome.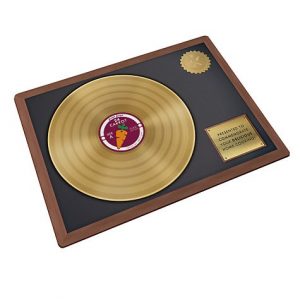 Perfect for a retro style kitchen! This is an ultimate fun and playful way to protect your worktops. It has been designed by Joseph and Joseph and features a gold disc design, just looks like a record, made from toughened glass and non-slip rubber feet. It has received 5 out of 5 star reviews and costs £13.60.
I love a bit of Kate Spade, so why not add Kate Spade to your kitchen! They have designed a perfect trivet for those heated objects. It is a fun and playful design, with a clean graphic approach and has an eye for luxury. It has turned a traditional piece in to an unpredictable elegance. £16.00 from John Lewis.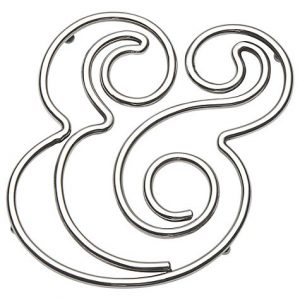 I am a lover of fish recipes and I just love this quirky fish trivet made of cork. This will provide a dash of fun for those hot things and prove that the most simple gadgets in the kitchen can be entertaining. This has been reviewed with a 5 out of 5 star rating- John Lewis- £18.00.
A timeless kitchen classic cast iron trivet. It has been made to last and features a leafy design. You will bringing a blast from the past in your kitchen. Match this to one of our beautiful worktops! John Lewis £18.00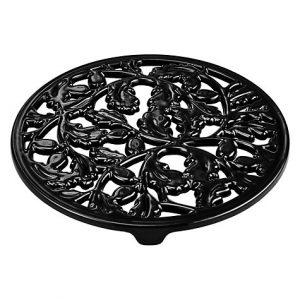 Add colour to your worktop with this fun design that will go with any colour worktop. It is a non-porous toughened glass with non-slip rubber feet. I love all of the different colours and I think this one would be perfect for a family. John Lewis- Joseph Joseph £17.00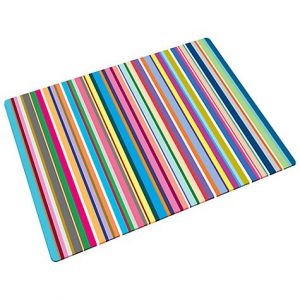 Look at this beautiful hand- drawn hare illustrated glass work top saver. It certainly will add a splash of colour to any kitchen and also if you love bunnies, as well as the perfect granite or quartz worktop from us! It can be used for your perfect trivet or chopping board. Not on the High Street- £22.50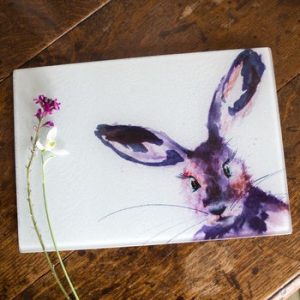 This is a solid oak trivet that will protect your work surfaces from damage and heat. It will look the bees knees as well as adding character and warmth to your kitchen. It gives off the perfect message of "Hot Stuff" which is ideal because you will be placing hot stuff on it and a great heart shape! Not on the High Street £35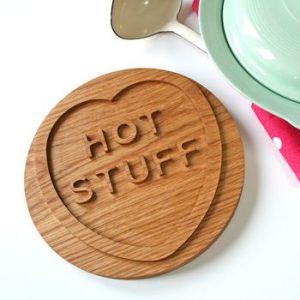 Some of our customer's love a trivet…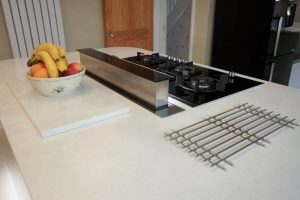 This is the Bianco Marmo Suprema that has been installed in to this kitchen. It is a beautiful white quartz with a subtle grey shading throughout. Represents a soft marble effect. As you can see clearly our customer has opted for a simple trivet yet a great modern design and placed it in the correct position (right next to the hob, what a great idea!). There has been an added feature here to with an extra piece of the quartz for the fruit bowl. AMAZING!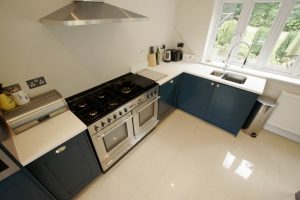 Yet another simple trivet added to this kitchen but a modern gadget. It has been placed in the perfect position again next to the hob. Our customer has opted for the Bianco Puro, which is a stunning white quartz and matches perfectly with the blue retro cabinetry.
These style trivets seem to be very popular in our customers homes. This is the Grigio De Lusso quartz which is one of the most popular grey style designs. It features diamante sparkles throughout and glistens beautifully when the light catches it. A perfect trivet for this style kitchen positioned in it's right place.