"Get your kitchen rocking with the perfect tools!"
The kitchen is the hub of the home where all family members will use it at some point in their everyday life. The kitchen should be an enjoyable place with the best tools and ingredients on hand.
If you are a recent home owner or a lover for cooking these 14 tools are the most essential we feel will create that perfect dish, and carry out everyday tasks. If you don't have the right tools it can become frustrating when you are trying to try out new variety of dishes or healthy meals.
I dive in to the world of the must have tools that should be in every kitchen. And if you are planning on revamping your kitchen, why not revamp your old tools for new. You can buy inexpensive ones and also provide the best quality tools for all family members to use in the kitchen. (Obviously not the kids unless under supervision)
Knives are important to the home cook as you want these to be easy to hold, comfortable to hold, soft grip and a great chopping tool for those herbs and other ingredients. Before buying a knife you do really need to hold it first so you know that, that knife is the one for you. Buy the best knives and they will last a long time. The knives that are the most used in the kitchen is a serrated knife, a 9-to-10 inch long chef's knife and a paring knife. Butcher blocks will look fabulous on your counter top, especially next to that stunning quartz or granite that you have purchased from us at Rock and Co.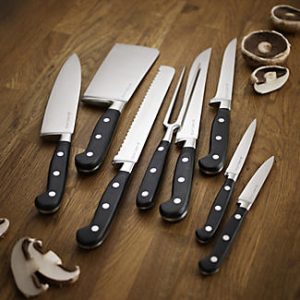 Fully forged knives- Lakeland from £13.79- these knives will give you great control when chopping, slicing or carving.
2. In a kitchen two cutting boards should be at hand- one for raw meats and one for cooked foods and produce. You really need to avoide cross-contamination when cooking. Perfect ones to put in your drawer are the polyethylene plastic ones. They are inexpensive, durable and easy to clean. Dishwasher safe ones are always best as you can just place them in the dishwasher and not have to worry about cleaning them. Though I would recommend washing the raw meat one first so you are not putting any contaminated products in to the dishwasher where everything else goes. You could also purchase one of them amazing chopping boards for your glamorous worktop, that matches in with your decor, or just a feature in the kitchen or as a serving plate.
Colour-Coded Fleximats- Lakeland £9.99- lightweight and flexible for putting the peelings in the bin.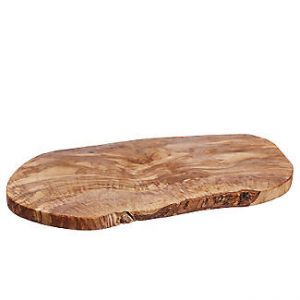 Just Slate Rustic Chopping Board 45cm- Lakeland £33.99- use it for a feature on that fabulous worktop or make it as a tray to take them delicious bites to your guests.
3. Mixing bowls that fit inside one another is a space saver in them cupboards/ deep drawers. They will last a lifetime, inexpensive and versatile. You could purchase ones that match your decor and place on open-shelving for a feature.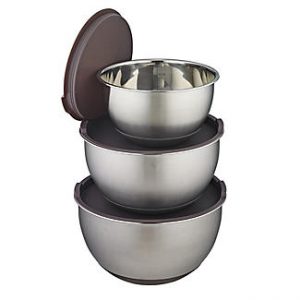 Mary Berry's 3 Stainless Steel Mixing Bowls- Lakeland £25.99- a good quality set of mixing bowls from our fave baker!
4. Measuring spoons and cups are great for the perfect baking. You should really purchase one full set of measuring spoons and two sets of measuring cups.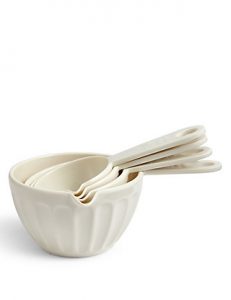 Measuring Cups- Marks and Spencers £6.00- perfect results and correct quanities with these measuring cups.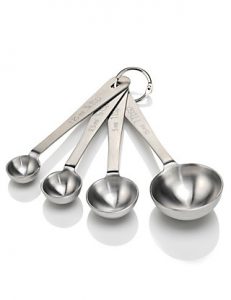 Measuring Spoons- Marks and Spencers £5.00- a great stainless steel kitchen essential.
5. Pots and pans are a very useful tool. A wok, different sized frying pans and saucepans are the perfect array of cookware to have in your amazing kitchen. Remember not to use metal utensils on non-stick pans because scratched surfaces can affect their non- stick surfaces and you really won't have the best non-stick pan or pot anymore.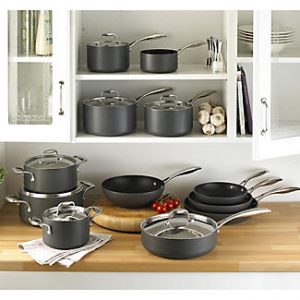 Lakeland Hard Anodised Pans- Lakeland from £25.99- a striking look that makes the food cook beautifully.
6. A thermometer is the perfect gadget to have in your kitchen. You can easily check that the sizzling chicken has been cooked to perfection. They can be purchased in any supermarkets and have an array of designs.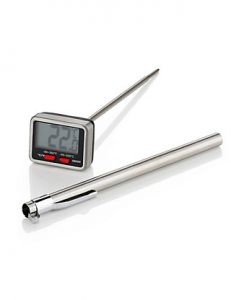 Digital Thermometer- Marks and Spencers £15.00- easy to read LED digital display for measuring the temperature of your food and making sure it is cooked to perfection.
7. The perfect utensils to have in your kitchen drawers are-
heat resistant non-stick spatulas
vegetable peeler
whisk
tongs
wooden spoons and spatulas
meat mallet
slotted spoon
rolling pin
ladle
grater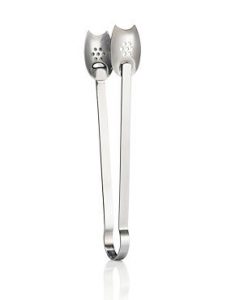 Tongs- Marks and Spencers £5.00- a great value stainless steel untensil which is a contemporary kitchen essential.
Grater- Marks and Spencers £6.00- a high quality stainless steel kitchen essential.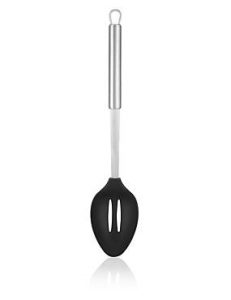 Slotted Spoon- Marks and Spencers £4.00- Ideal for use on non-stick pans and provides extra heat resistant.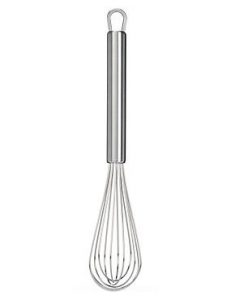 Whisk- Marks and Spencers £4.00- this whisk will whip up a storm in your kitchen.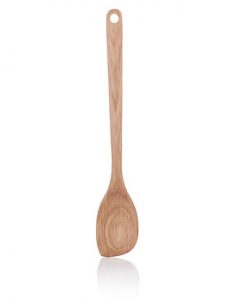 Wooden Spoon- Marks and Spencers £5.00- perfect for mixing them ingredients in your mixing bowl.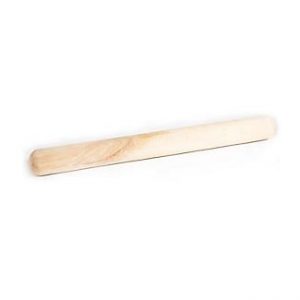 Rolling Pin- Lakeland £3.99- perfect to roll out the pastry.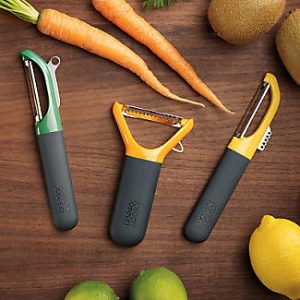 Joseph Joseph multi-peeler- Lakeland £8.99- this makes peeling a pleasure to do.
8. A colander is great for all the different ingredients you need to use it for. Maybe purchase different sizes so you have a few on hand so when entertaining for guests you can cook up a bigger portion. Make sure though that the larger one fits in to your sink.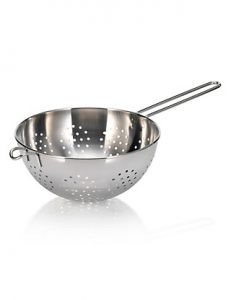 Colander- Marks and Spencers £12.50- a 20cm that proves useful for all things in the kitchen. Pasta, potatos, vegetables!
9. Bakeware- for the perfect baked dishes, a roasting pan and rack, pizza trays, baking sheets, glass baking dishes and a hotpot dish are great for the basic cooking requirements.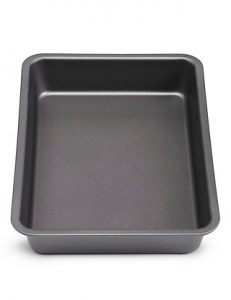 A non-stick deep oven tray- Marks and Spencers £3.00- make baking a breeze with one of these.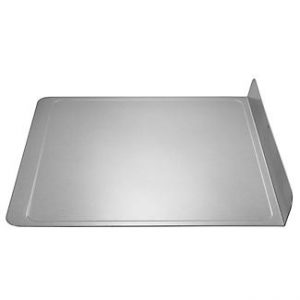 Baking Sheet- Lakeland £5.99- a value non-stick tray that makes baking a pleasure.
10. Storage containers are brilliant for left overs, packed lunches and any unused ingredients.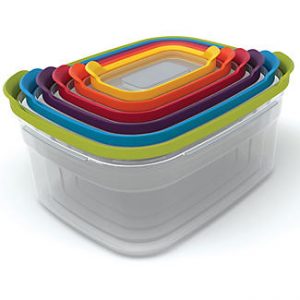 Joseph Joseph Nest Storage 6 Piece- Lakeland £39.99- they slot in to eachother providing excellent storage space. The lids are colour coded to the pots so you know exactly what one fits and so they can't go astray.
11. A slow cooker is ideal for a family or someone that is always on the go. A lot of ingredients can be thrown in together before you go to work and is ready when you get home for that delicious dinner.
Crock- Pot Digital Slow Cooker- John Lewis £39.99- it brings modern style to any kitchen and is highly practical and versatile.
12. Electric hand mixer will make your baking so much easier.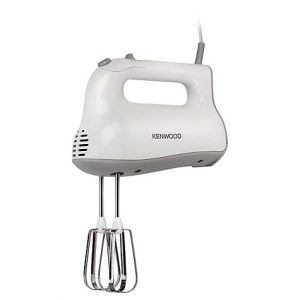 Kenwood Hand Mixer- John Lewis £19.99- a compact mixer which is perfect to fit anywhere in the kitchen.
13. A blender is great for those delicious smoothies.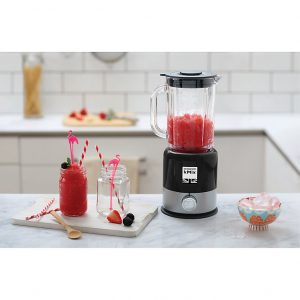 Kenwood kMix Blender- John Lewis £129.99- a perfectly blended smoothie everytime.
14. An oven mitt is essential in the kitchen. We do not want any burnt hands!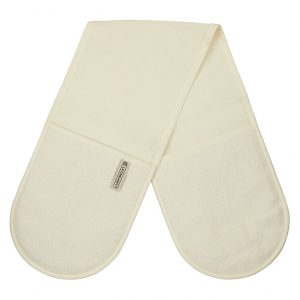 Le Creuset Double Oven Glove- John Lewis £18.40- available in various colours and ensures maximum protection from heat.
"Which tools you prefer to buy is totally up to you and at your preference. Making sure that these tools are in your kitchen will really make your life so much easier and when learning to cook that new latest recipe."