"The question… How do I choose the best cooker hood for my kitchen?"
It can feel overwhelming when selecting a cooker hood for your kitchen. There is so much to think about like, colours, extraction rates, noise levels, building regulations, where it's going be be located, what preferred model, and if it's ducted- out or a recirculation design. You begin to think where do I start? In this blog I will explain and advise on how to choose the best cooker hood for your hub of the home.
Open-plan kitchen's are becoming increasingly popular in today's living with the dining and living room attached. Excellent extraction is the most important to create a pleasant environment in which you can cook, dine and relax in.
There are lots of styles to choose from so you certainly won't be loosing your style for function. Are you one for appliances that catch the eye, or super practical downdraft design? Remember if you have a budget you need to stick to it as extraction fans can range from as little as £50 to £3,000. I will talk about this later on.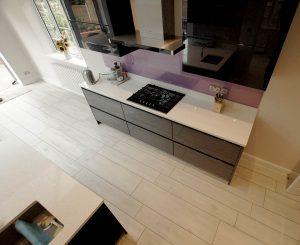 Let's start with the basics… What a cooker hood is used for?
Cooker hoods are designed to remove airborne grease, odours and cooking fumes from your kitchen. No one wants the surrounding areas to become greasy when they are cooking do they? Socialising, soft furnishings and lounging does just not go with the smell of frying.
There are many ventilation methods to choose and they can be used in any type of home. They can be made as a feature in the kitchen space, or to complement the cooker and other appliances purchased, making an ultimate modern pad with the smartest of gadgets.
There are a few things to consider when choosing your cooker hood to complete the kitchen and I think it is worth noting down that some of the choices I will be talking about will be determined by your exisiting layout, unless you are wanting to completely rebuild your kitchen.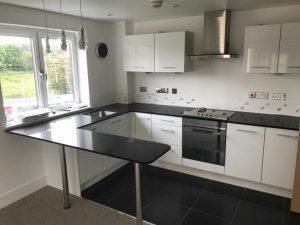 Benefits of a cooker hood?
You already know what a cooker hood is for, but did you know ducted cooked hoods remove steam from the kitchen? This is why it is important to research and purchase the correct cooker hood for you. Experts say cooker hoods should be in all kitchens.
Why is an extractor important?
When frying, or wok cooking, oil can deposit from the pan on to the cabinets and surrounding areas making it difficult to keep the kitchen clean. The kitchen extractor will remove the grease from the air and filter it through the grease filters.
The extractor will remove smells from your kitchen. You don't really want to smell last nights cooking… Top tip- leave the hood switched on for a while after cooking to remove the odours better.
When cooking it can create lots of steam and condensation. Have your windows ever steamed up? It can also create mould! A kitchen extractor will remove the steam and condensation from the kitchen.
A kitchen extractor can add to the overall look of the kitchen. They have evolved through the years and there are many styles now to choose from.
Set a budget…
Extractors can vary in price from as little as £50 to £3,000 for some of the advanced models. Set your priorities right in order to set a reasonable budget for the cooker hood. More and more people these days are spending around the £800 mark on an extractor fan, creating a visual centrepiece in the middle of the kitchen, that is admired to everyone who enters.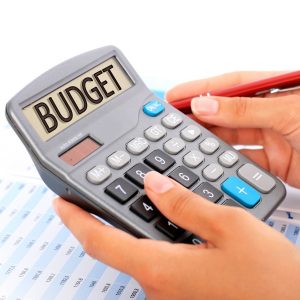 Choosing the width…
There are hoods available to fit all freestanding cookers and built-in hobs. It's best to purchase and research a hood that is the same width as your cooker and hob to make sure it works efficiently. But you can fit any size aslong as you have the space!
Some cookers and hobs that you can purchase have a matching hood, but it is really down to your choice preference when it comes to choosing the perfect hood.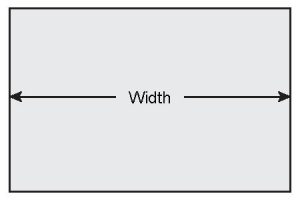 Getting the perfect height…
The extractor needs to be the right height above your hob, so make sure it's correct. The space needed to be left from the hood to the hob is between 65cm and 75cm, depending on whether you have a gas, electric or induction hob.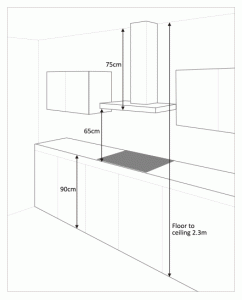 Choosing the extraction method…
You will need to decide whether you choose to go for a ducted-out or recirculation extraction. This will then determine where you can or can't position it.
Extraction Hoods
Ducted or extraction hoods remove the smoke and grease out of the kitchen, sucking it out of the room via a pipe that's located outside. These types of fans are more effective and usually faster, although can be louder. They may need to be fitted by a professional, unless an extraction is already in place.
Recirculation Hoods
Recirculation hoods recycle the air in the kitchen passing it through filters that clean the air. They all feature a grease filter that can be made of metal, paper or cloth. Carbon or charcoal filters are required if you want to neutralise that odours as you cook. They can be fitted by yourself and are often cheaper. It can be less effective though there can be advantages like, being able to place in an unsuitable location that suits your style. If you live in a flat this might be your only option.
What extraction rate do I need?
To find the best extraction rate for your kitchen, you need to know the volume of it. Simply get the tape measure out and a calculator, and follow the simple steps below!
Measure the width, height and length of your kitchen.
Multiply the measurements together to get the volume of your kitchen.
Take the volume and times if by 10 to get your extraction rate number.
It's important to consider the type of cooking you are likely to be doing. Frying or indoor barbecuing requires a greater extraction than others. A hood with a minimum airflow of 400m3 per hour is ideal if you are likely to be cooking two or three items at any one time. The new energy-saving regulations state that any hoods with an airflow higher than 650m3 per hour are fitted with a timer.
Silence holds the golden key…
Extraction noise can be quite loud, so another consideration to take in is the noise level of the fan. The faster the speed the more noisier it will be, though higher-end models do tend to be quieter across all power levels.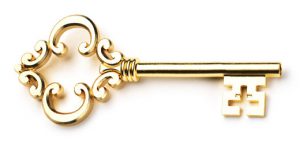 Choosing the type of hood…
Ceiling Extractors
Perfect for an open plan space. The ceiling extractor is built into the ceiling or a bulkhead designed to lower the height of the ceiling. The benefit of one of these is that it does not affect the cook's line of sight.
Wall-mounted Extractors
Many people have their hobs facing the wall, this is a common design in the kitchen. If you have a smaller space, maybe look out for angled-wall mounted designs, which are less intrusive.
Island Extractors
An island extractor is fixed to the ceiling above the kitchen island or a peninsular unit. They create a stunning, stylish statement in the hub of the home. Depending on where the island or unit is situated, you maybe able to duct out for the ultimate extraction. If the kitchen is being designed from scratch then this could be planned into your design! What a result! Many of the models that are available to place above the island are also suitable for recirculation.
Decorative Pendent Extractors
They are similar to the island extractors. They are suspended above the island from the ceiling. Many are suitable for recirculation only! So take advice and speak to someone where you purchase the extractor from to see if its suitable for all your kitchens needs. Some of the island extractors even resemble like a light fitting, and can indeed provide secondary lighting.
Downdraft Extractors
A downdraft extractor has a beauty within, as it rises up out of the worktop when in use, and sits completely flush with the surface when not. It is often installed to the side or behind the hob. The theory on how a downdraft extractor works is, if you place the extractor closely to the source of cooking, the more chance you have of sucessful extraction before the air in the room becomes "dirty".
Built-in Extractors
Built-in extractors are built into the kitchen cabinetry above the hob, so they blend into the kitchen design and look seamless. They are great for people who like the minimalist approach as this type of extractor does not intrude on the kitchen design. They are also known as canopy hoods.
Visor Hoods
These are known as a traditional type of hood, that are basic and more affordable in our homes. They are ideal for a smaller kitchen.
Telescopic Hoods
Similar to a visor hood, they feature an extended section for a more streamlined design when not in use.
Chimney Hoods
These extend down from the ceiling, very stylish and do require lots of space. They are eye-catching and high performance!
Choosing the brand…
The hoods some of our customers chose in their hub of the home…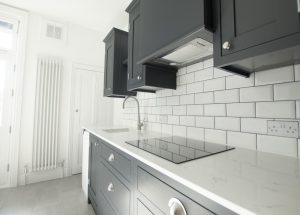 Our customer here has chosen the beautiful Carrera style quartz to finish off their kitchen in style. They have opted for a built-in extractor for a seamless design.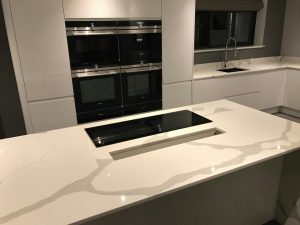 Our customer here has chosen the beautiful Calacutta style quartz to finish off their stunning kitchen. They have opted for a downdraft extractor for the ultimate extraction (this is the gap in front of the hob on the island).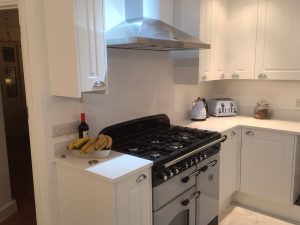 Our customer here has chosen the popular Bianco Marmo Suprema to finish off their stylish kitchen. They have opted for a chimney extractor.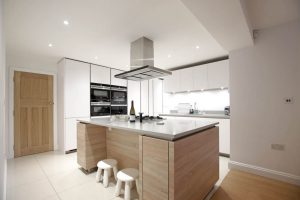 Our customer here has chosen the Grigio De Lusso to finish off their hub of the home. They have opted for the hob to be located into the island so an island extractor has been placed above.