"The kitchen should be the warm and cosy heart of the home"
The kitchen can be one of the most warmest rooms in the house and we all know why, due to cooking, but you still need an effective heating system for the cold winter months to make it that extra bit cosier. With hard, cold floors and chilly external walls you want to make the space comforting.
I want to take you on a guide through the different heating options and ways to make your space feel toasty and inviting in the winter months.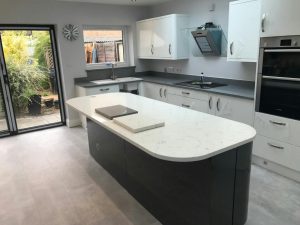 Think about a classic radiator…
We all know that the most common way of heating a room is with a radiator. These days, they come in many different shapes, sizes and colours, allowing you to fit them in to small and awkward spaces and shout about them with their bright colours. Some of us don't have alot of room in our kitchens so this could be a perfect choice, however if you do have the space, make a statement with a striking designer radiator. Sleek, upright radiators look the part and fit neatly onto a narrow section of a wall. They blend seamlessly in the design and prevent obstructing a walkway into the room when they are set into the wall which gives off a perfect finish.
When choosing your radiator you need to check how much heat you will need. Find the British Thermal Unit online and calculate the requirement for the room.
You need to ensure that the radiator you choose will heat up the space correctly. Consider where the most amount of time is spent in the room. If you have an open-plan space think about installing a radiator near to the seating area like the dining table. It will keep you nice and toasty while enjoying the perfect meal with friends and family.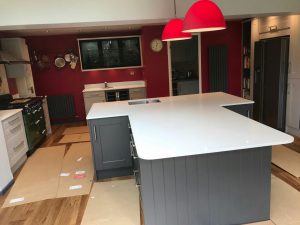 Keep your toes toasty with a plinth heater…
The kitchen floor can often be hard and very cold, and with a plinth heater we say goodbye to our toes feeling cold. Who doesn't want toasty toes when they are making thier morning brew? Think about where you stand the most in the kitchen for example the kitchen sink or hob. They are a great way to use dead space to add a little extra warmth to the hub of the home.
Warm the floor with underfloor heating…
Underfloor heating is becoming increasingly popular feature in the home today. It is the most efficient way to heat up a room and of course the floor. It warms the entire area from ground up that allows the warm air to rise gradually. There is nothing better than placing your toes on a warm cosy floor. Underfloor heating will take the chill off your cold floor and it also reduces the amount of radiators you will need in your kitchen area. Wall space is also freed up and a more minimalistic approach is conquered. Underfloor heating offers lots of advantages, with being invisible and a definite plus in smaller kitchens.
There are two types of underfloor heating: Wet Systems and Electric Systems.
Wet Systems- run off the central heating and are a more effective heating system that is efficient and run on a low running cost.
Electric Systems- are made up of a thin mat that is laid onto the sub floor before the flooring is laid on top. It can be more expensive to run, but will certainly take the edge off a cold floor.
Underfloor heating is suitable with most flooring including ceramic tiles, wood and laminate, but do check before you purchase your new flooring if you decide to opt for underfloor heating. Solid wood is a no-go, however engineered wood is a great alternative. Anything that has a good thermal conductor will be effective and allow the heat to flow through.
Allow a range cooker to offer heat into the room…
An AGA looks amazing in a kitchen and is a constant source of heat. You need to research these fully before purchasing one as they are an expensive item and can have an impact on your home and cooking. Many AGA owners swear by them and couldn't imagine life without one. They certainly will help to warm up a cold kitchen during the winter months and will fit into your design, as they come in many different sizes, colours and styles.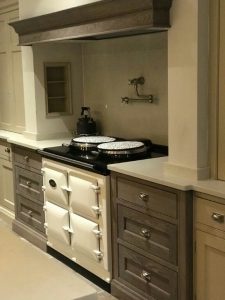 Let the sun shine through…
The sun is a great way to add warmth to the kitchen space, it is natural and makes us happy. If a kitchen lacks natural light it will not benefit the sun's warmth, so introducing a roof light, internal windows or external double-glazed doors will bring the warm rays into your hub of the home.
Tackle draughts…
You may have a good heating system but your kitchen still feels a bit nippy, have you ever thought about draughts? Old windows are beautiful and can be a feature to the kitchen space, but sometimes they don't offer great insulation. If you have a door out into the garden, you will need to make sure that it's fit and quality is fit for purpose as it may affect the thermal properties. Install some draftproofing strips to improve the seal, or even replace the door.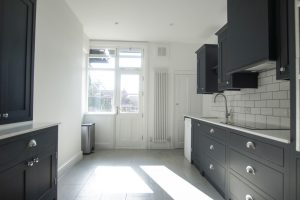 Dress windows and doors with blinds or curtains…
Block draughts at night with good-quality, thick curtains or a Roman blind. Adding a thermal lining to your window and doors will enhance the insulation properties, and provide you with a warm, cosy kitchen, aswell as a space that oozes with style.
A feature fireplace…
A wood-burning stove can give you a good source of heating in your kitchen space, aswell as be an incredible attractive focal point. Not alot of people have one of these features in their home so you could be the envy of many people. If you intend to install this you will have to factor in building regulations and requirements. The kitchen will need to be properly ventilated, so please ask a professional.