"We want to be able to lift the mood of the cook with these festive ideas"
Christmas comes once a year and I certainly feel that it has come upon us very quickly this year. The kitchen serves us very well throughout the year and especially at Christmas time. We always think about the food at this festive time but what about the decorations?
In this blog I will talk about the different ways you can decorate your hub of the home the best you can and show off them fabulous Quartz worktops in there too.
There are many styles that you can decorate your kitchen with this Christmas. Any style will add charm and character and show off all the intricate detail of the cabinetry. A traditional style Christmas includes red and green and are the perfect colours for a traditional style kitchen. A black and white Christmas style is perfect for a Scandi or minimalist style kitchen.
A Christmas tree in the kitchen…
A tree in the kitchen for Christmas has become a tradition in many homes and especially in an open-plan space. It is a style that spreads lots of joy around the kitchen at this particular time of the year whether it is big or small, you will always find a tree that is perfect to fit your style and decor. A glitzy tree can make a huge impact in your home and if you have stunning sparkly worktops they will complement eachother beautifully. Place the tree near the dining table to be admired at meal times and decorate in colours that will give your kitchen a finished touch.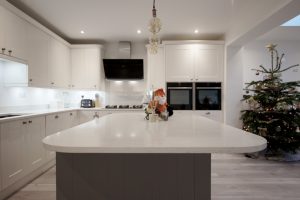 A Christmas kitchen wreath…
Spruce up your kitchen and add festive glamour with a wreath hung on the window, door or kitchen wall. Spread the cheer all around for your guests to enjoy with the use of baubles. They are a fantastic decor piece that doesn't take up that much space and can be used for many years to come. Select moisture-resistant, wipe-clean and faux foilage to avoid wiltering in the heat if they are hung on a pendant above the dining table.
Kitchen accessories made for Christmas…
Get out your Christmas accessories because it's time to get festive. It's a fabulous time for keen cooks to dig out the family recipes and cook up a feast. The Christmas accessories are used to set a mood and give the cooking area a whole new look. Kitchen towels, tea towels, coffee and tea mug sets, oven mitts, bowls and trays will get your kitchen in the festive spirit.
Christmas ornaments…
Ensure the Christmas theme runs right through the house with wooden reindeers, mini trees, bowls of baubles and themed prints dotted on worktops, open shelving and islands.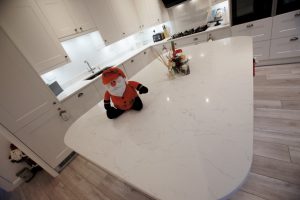 Create a feast with edible decorations…
With so much food going around there will be enough for some decorations to place around your kitchen. Make the kitchen a bit more inviting with sausage rolls, Christmas cake, mince pies and biscuits scattered on a bold red runner.
Set your festive table…
If your dining around the table this Christmas create it so it's a work of art. A bold red is perfect for kids and grown-ups and works perfectly with a two tone colour scheme like navy and grey.
Brighten up the space…
Hang twinkling fairy lights around open-shelving and if you have exposed beams, it will create an instant Christmas pick me up and create a festive atmosphere during the evening. They will have such an impact on a busy room.