"A brand new quartz creating a waterfall effect inside a stunning design scheme"
This is the brand new Calacutta Vanquish style quartz. It is a white stone with a grey, prominent vein throughout and a true Calacutta marble. It is a unique stone that has an unique appearance with it's "light" and "heavy" veining. We have fallen in love with it! It is so exciting when a customer chooses one of the new ones so we can really show it off!
Our customer wanted to create a waterfall effect on the sides of their kitchen island, to give the finish it deserves and to really show off this truly spectacular piece of quartz. Just look at how the veins flow down and across the island.
We have before and after pictures of this kitchen.
Before…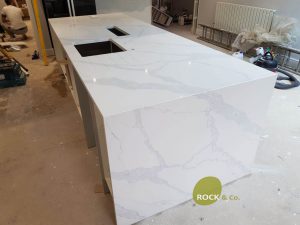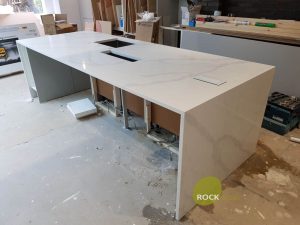 We have recently been to revisit one of our customers kitchens to see her brand new beautiful hub of the home that is all complete and take some pictures for our gallery. Our Calacutta Vanquish Quartz was chosen to finish the grey and white tones of this kitchen, and just look at how it takes centre stage. It has been bookmatched to give a flowing effect down the mitred end panels of the centred island which we think looks fantastic. The Calacutta Vanquish is a white quartz with grey marbling throughout.
The island in the middle is made out of a full length of a slab and one of the largest we have produced. It features plenty of storage, a wine cooler, an area to sit around with stainless steel bar stools, the sink, a pop up socket to plug in them appliances and an impressive stainless steel ice bucket that is perfect for entertaining. We haven't seen many of these and we are a little bit jealous and what a greay idea! Three industrial style pendants are suspended above too giving the ultimate task lighting. The whole island has got it going on!
The whole kitchen has been opened up with a sky light giving the ultimate light and design and an open-plan space that features a comfy armchair and the dining table all matching within the colour scheme. The dining table sits at one end of the kitchen infront of a rather large window giving the maxium sunlight. Grey, slate brick like tiles are focused around the cooking area giving the ultimate splashback design and a great focal point for this spectacular kitchen. The black Aga sits behind the island and features a rather large stainless steel hood. The light grey wooden flooring brings everything together and provides the correct balance between the light and dark colours used in this space aswell as a great floor for traffic.
The colours have worked really well in this kitchen and our very own quartz looks the bees knees in this beautifully constructed new kitchen!
After…