"It's the summer holiday's, you may not be doing something one day… get the kids to love cooking, in your child-friendly kitchen".
If you have children, you want to create a child- friendly zone where they can learn, work, play and talk. In this article I will look at ways in introducing child- friendly ideas in to your hub of the home and how to achieve it.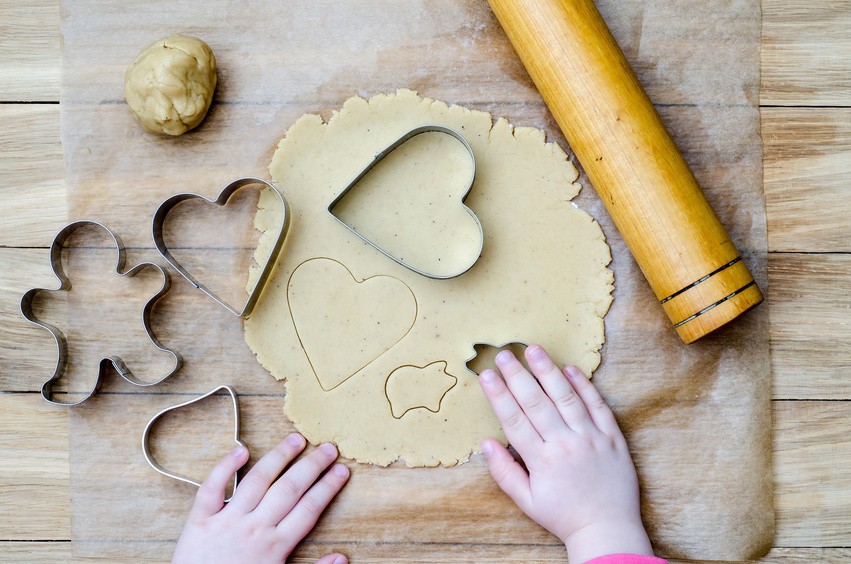 "Combine lunchtime with playtime, and get the children involved with their lunch, so variety can be added to the child's diet alongside quality time together".
A kitchen island is really on everyone's kitchen wish list, however sometimes this can prove difficult in smaller spaces. A small table is just as great! A kitchen island looks good and are ideal for social gatherings and being practical in the kitchen. They are designed to suit your needs, which can make them perfect for a family. If there is enough space, include chairs around the island, with adequate prep space and the children are able to play and do their homework, while you cook. They can even join in and make them delicious fairy cakes and lick that wooden spoon! (though we shouldn't encourage them!). A lower section on an island is another ideal place for children to sit, as this is low and easy for the children so they don't have to climb the stools. It is handy for when the children's friends come over to play, and being sat opposite you can keep an eye on them and they are out of danger when you are cooking.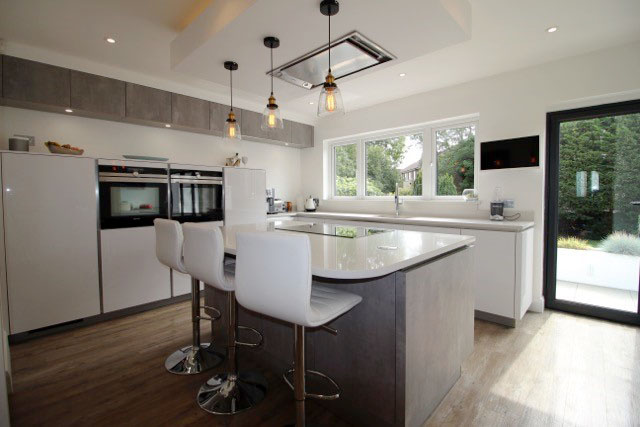 This kitchen features our Bianco De Lusso quartz as the worktops and the kitchen is from one of our kitchen partners Blax!
Think about a play zone…
Make it a magnet for the children, but a safe hang out! Make the kitchen a learning environment aswell as a fun space. If you have lots of space in the kitchen, make an area theirs. Ideally the area should be away from the cooking zones, but where you can still see them. Inject colour and include their favourite things. Children love to play and create and they will do just that in a kitchen.
C

o

l

o

u

r

…
Children love bright things, and what better way to inject some colour than the kitchen. The kitchen is the hub of the home where most time is spent so you want this to be opened up to new exciting ideas. How about making their own kitchen area?
Create a perfect area for the children to eat…
Eating with the children is a social and knowledgeable time. It builds relationships and tells the other family members how your day went. Research shows that psychologists studied families with children between the ages of 6 to 11 and found out that they concentrated more at school, with better social skills because they took part in family meals.
Eating at an island can not always be easy for the children to sit at, especially if it includes high bar stools. Include children into the family meal with a smaller table that's just for them. This is perfect idea for them to still get involved in the family meal but also feel grown up, as well as learning on how to behave at meal times.
Encourage them to help themselves…
Kitchen's are a great area in the home where we can get children to help themselves. Designate a drawer that is in reach for their tiny little hands, where they can access their cups and plates for meal times. (Obviously make sure that everything in there is SAFE!!). Children love helping out in the kitchen, so what better way to do this than let them find their cutlery etc to set the table. Fridges are a great way to help the children learn. Drawers can be opted for the snacks for the children, so if the child is feeling hungry or thirsty they are able to just help themselves to the drawer that is designated for their snacks. These drawers can also be separate from the rest of the food, making it a healthy drawer for the children. You decide what goes in!
Children love to doodle…
Children love to doodle and be creative. In these modern times many things have been designed in mind for children and families, to help create a multi-functional kitchen. A chalkboard or black board can be added to the kitchen making it a fun place. Make notes, shopping lists and messages to one another using this creative design. The children can also draw you a picture, or practice their spellings and times table. When the children become older or you no longer like the design anymore, it is very easy to cover over.
Child friendly surfaces are key…
You want a worktop that is child-friendly, hard-wearing, stain resistant and easy to clean, where else other than Rock and Co to go! Our materials are suitable for everything. Rounded worktops may be the best option so the children don't bump their heads. A lot of parents opt for handleless doors to stop the children from swinging or hanging off the handles.
Play it safe…
Always make the environment safe for children! Encourage family life into the kitchen, but do always think about safety. A good kitchen designer will show you this, on how best to plan your kitchen around your family. Having a hob situated on the island is a great idea to be able to face your family while you are cooking. Checking in on the kids!
Appliances and where they are located is important. Some appliances are safer for children, such as an induction hob. It does not get hot when in use, so there is no risk of burnt little fingers. Maybe consider locks on appliances and cupboards out of reach that have potential hazards in them, that you don't want little fingers to get hold of.
Choose a material that is best suited for children. You don't want them to slip and fall over on a very hard surface. Maybe choose a slip-resistant surface and not such a hard type of floor.
Benefits of cooking with the children…
Children gain lots of learning experiences when cooking with their parents or other family members. It's practical and teaches the basic life skills, as well as academic skills like reading, science and maths. Time spent together in the kitchen encourages interaction and communication between the parents and children. You benefit from a healthy meal and an experience that has been enjoyed in each other's company.
Imagination is a great skill to learn and improve in the kitchen. Experiment and problem solve using the ingredients. Cooking teaches the child how to use their eyes, mouth, ears and skin to observe the different foods you are using.
Why it's important to get the children involved in the kitchen…
It's always good to show our children basic life skills such as cooking. They are important skills that we want them to have when they are older, so teaching them young is a great idea! Getting the children involved in the kitchen allows them to:
Make decisions

Be responsible

Be independent
Get involved
Social skills
Develop their creativity
Improve self confidence
Get a good understanding of nutrition
Bond with us and make cooking enjoyable and FUN!!