Here at Rock & Co we are proud to have been able to work with some famous names. We have been scouted on the net, thanks to our marketing man! It really does just show you how promoting our company on the internet can return in a job with a famous face!
Lorraine Pascale
In May 2017 we set the trend off by working with a famous cook (how ironic when we provide worktops!). Lorraine Pascale found us on Google and didn't look back when we was in touch with her. She selected some samples on our website to be sent to her and loved the Grigio Medio Stella quartz. We sent Paul our Sales Executive to carry out the laser template, the file came back to the office and was loaded on to the CNC machine to be cut. Our stone masons hand finished all the cutouts, bevels and edges, and Lorraine's worktop was produced. A date was set and the team went along to Lorraine's home to install the beautiful worktops. Once the worktops were installed Lorraine could not of been any happier.
Just look at how spectacular the Grigio Medio Stella quartz looks. It is a grey- mid tone consisting of sparkles throughout. Perfect for someone who is always in the spotlight!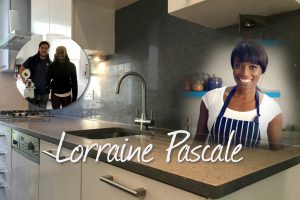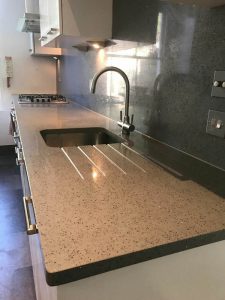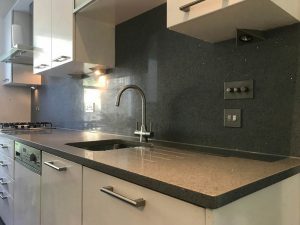 A little bit more-
Lorraine is an English television cook and former model. She is best known for selling almost one million books in the UK alone. In January 2011 Lorraine presented a television bakery programme "Baking Made Easy", and published a bakery book based upon this series. Later part of 2011 a series called "Home Cookery Made Easy" was made with an accompanying book. In December 2011 A Last Minute Christmas programme was aired, and a third book was published in 2012, with a television series based upon it, called "Fast, Fresh & Easy Food". The year of 2014 Lorraine Pascale- How To Be a Better Cook was aired with 6 episodes. Lorraine is also a judge on Food Network's Holiday Baking Championship, Spring Baking Championship and also a mentor on Worst Bakers in America.
Lorraine Pascale's quote- "Deep breath in and deep breath out. Then hold that head up. Now go grab the day with both hands. You've got this!"
James DeGale
Our second famous face we had the pleasure in working with was James DeGale and his parents. The DeGale's found us on Google and made a visit to our showroom and factory in Hertford and was introduced to the granites and quartz. They were immediately drawn to the Bianco Stella, fell in love with it and selected this for their new build. Later part of May we went down to their new build and installed the beautiful crisp white worktops to the Kitchen Island, and the other prepping areas in the kitchen. It has been made out of our exclusive 3.5m jumbo slab which gives a very long and expansive working area with no joins at all.
The kitchen is an open plan area which is on a large scale and includes high grade appliances and handleless doors. Take a look below at how the Bianco Stella sparkles in this high end classy kitchen. The Bianco Stella is a very popular choice of colour and style with large mirrored pieces included throughout. This popular quartz will certainly add huge excitement to the hub of the home, as like it does here.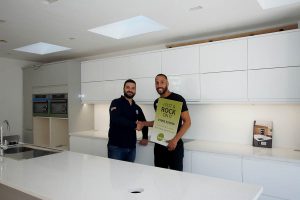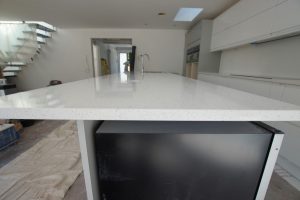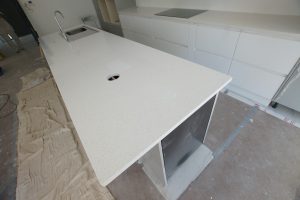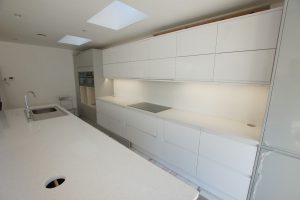 A little bit more-
James is a a British professional boxer. He has held the IBF super-middleweight title since 2015. He has also previously held the British super-middleweight title from 2010-2011, and the European super-middleweight title from 2011-2012. In May 2017, he is ranked as the world's best super-middleweight by The Ring Magazine and the Transnational Boxing Rankings Board. He represented Great Britian at the 2008 Olympics, winning a gold medal in the middleweight division. He is the first British boxer ever to have won both an Olympic Gold medal and a professional world title. GO ON JAMES!!!
James DeGale's quote- " I believe I am the number one super-middleweight on the planet." Now that is determination!