"A Miele coffee machine is made to produce a perfect coffee, with just a touch of a button"
Miele's technology just keeps on growing, and with coffee being a popular drink of all time, they set to invent an appliance that not only makes a delicious coffee, but looks great in the kitchen. There are two types to choose from, a built-in one or a free standing one and I will look at each one in dept, so that you are able to choose the ideal one for you.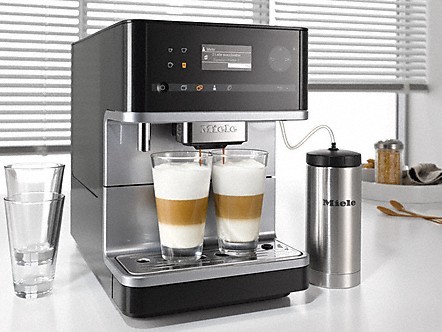 First up…
The Built-in coffee machine from Miele…
They are tried and tested for an exquisite taste and there is no doubt about this from Miele. Miele wants to provide excellence in their products and they have done just that in their coffee makers.
A special feature can be added… the Nespresso system that holds up to 20 capsules. This is the only machine that holds up to 20 capsules. It is an uncomplicated system that produces a freshly brewed coffee everytime. The Nespresso system makes your normal coffees, cappucinos, lattes, macchiatos etc and the process seals the ground cofee in a capsule and delivers a high quality cup after cup. The aroma of the coffee is captured in a capsule and brings out the very best.
Miele has entered into cooperation with illy coffee. Illy is an Italian quality brand that offers an exquisite blend and premium roasting of the finest Arabica beans. Miele only wants to produce the best, so using the illy coffee will make the delicious coffee it desires. A pleasant and refreshing taste and aroma.
The Cappuccinatore is the perfect additional accessory to froth up your milk. Prepare hot milk or frothy milk in no time. Create the perfect cappucino for that special guest!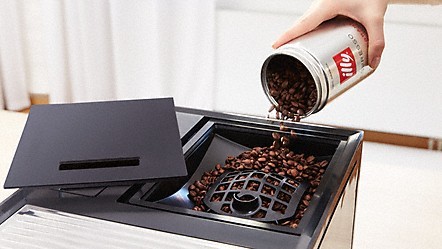 What's inside…
OneTouch and OneTouch for two…
This function allows you to make two delicious coffee specialities at the same time with a touch of a button. More time together as it is a quick process.
Personal preferences?
A ground coffee chute is located in the machine for a second type of coffee. So a lover for decaf? Then this is perfect for you.
A coffee pot function…
This can prepare several cups one after another. Touch the button and dispense 8 cups of coffee all in one go for that perfect family gathering.
A CupSensor…
This recognises the height of the cup and positions the spout for the flow of that beautifully ground coffee. What a genius idea!
LED Lighting…
This puts every cup of coffee in the spotlight. It provides an ambient mood in your kitchen too.
Built-in cup warmer…
Warm up your cups controlled by the coffee machine half-hour before the programmed switch-on time. Hot coffee in a hot cup, will never leave you disappointed.
Aromatic System…
The brew chamber expands when the water flows in, so that the coffee aroma can unfold even better.
Conical grinding mill…
Miele is always about producing the best and the grinding mill just compliments just that. It is made from high-quality steel that grinds the coffee beans in a special flavour-preserving way.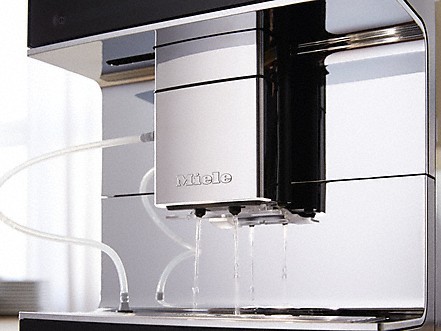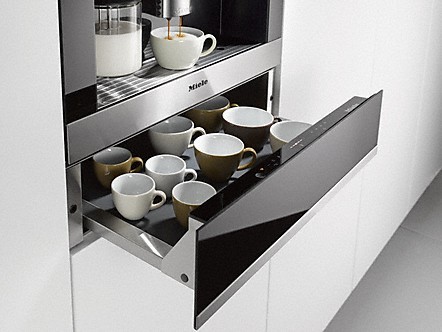 Where to buy…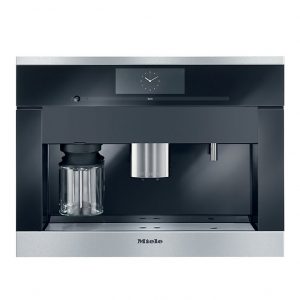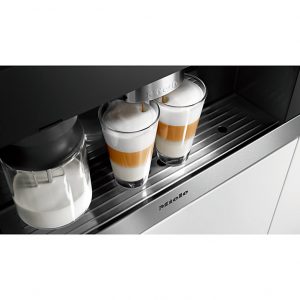 John Lewis- Miele CVA6405 Built In Bean to Cup Coffee Machine £2,789.00.
Free-standing Coffee Machine…
Do you love choosing your favourite varities from all the coffee and teas in the world? Miele's free-standing coffee machines CM6 and CM7 will do just that for you. The countertop appliances are great to put where you want in the kitchen. You may want to build a coffee station into you hub of the home! There is a right size for everyone and every kitchen.
The CM7 is designed with clean fine lines made from the highest quality materials. It is available in Classic, Obsidian Black and Elegant Brilliant White. The C touch display it holds allows easy operation for all users. Adjust your favourite beverages with a touch of a finger.
The CM6 is a compact design full of clean fine lines. A perfect accessory to any kitchen. It is a colourful bit of kit, that will make a big impact in any kitchen. Choose from Obsidian Black, Lotus White or Graphite Grey. It has a modern touch function that offers the highest convenience to all users.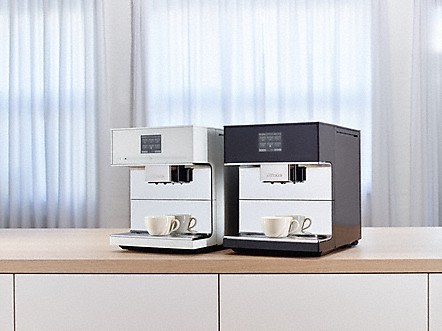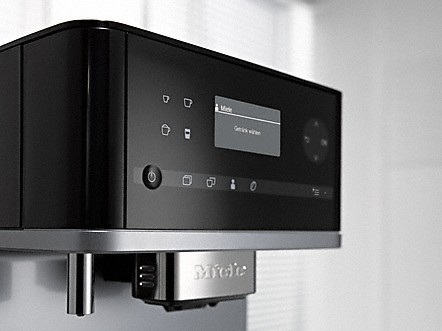 What's Inside…
Automatic Descaling…
The CM7 descales on it's own thanks to the invention Miele has come up with. Everyday at a time that you have chosen, the machine will descale itself from a cartridge at the back of the appliance. Even when there are milk lines visible the CM7 cleans these off with fresh water from it's tank.
The compartments can all be removed at ease for perfect cleaning. Cleaning is a breeze.
It has the OneTouch and OneTouch for two, Aromatic System, CupSensor and Cappuccinatore that the built-in coffee machine has.
Choose when you want your coffee with the timer function too. Wake up bright and early, and have a coffee waiting for your after the dreadful climb out of bed.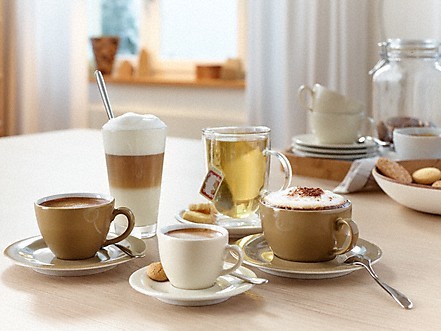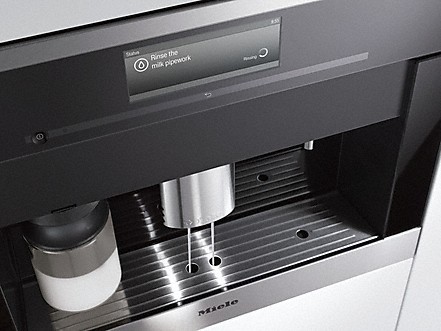 "Adjust all machine settings to suit your taste!"
Where to buy…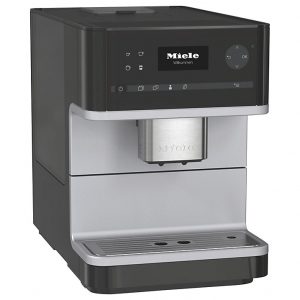 John Lewis- Miele CM6110 Bean to Cup Automatic Coffee Machine, Black £849.95.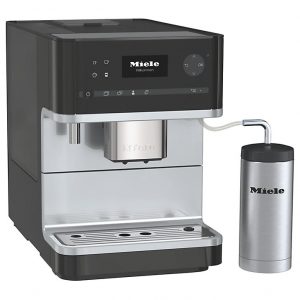 John Lewis- Miele CM6310 Bean to Cup Coffee Machine, Black £1,249.00.
Which one will you choose… built-in or free-standing?