"Do you have an open-plan kitchen that doubles up as a dining room?"
Alot of kitchens today double up as a dining room in a bid to bring the family together that little bit more and to save space in other areas of the home! It's perfect for them entertaining days too, where your guests can pull out a chair at the dining table and sit and relax around a bottle of bubbly, while you prepare that ultimate delicious three course meal and still join in on the fun.
Lighting is essential in the kitchen, and if you choose the best effective one you can create a mood and atmosphere when eating, that is away from the main kitchen area, where you can relax and indulge. You can do many things with lighting, and in this blog I will show you how you can make the dining area a feature of the room, and how you can seperate it from the food preperation area.
The key for making the ultimate lighting in your kitchen is to seperate each of the areas in the room, according to their uses. We all know the three main lighting effects in a kitchen- task lighting, ambience lighting and accent lighting. Each of the lights should have their main job, but when used together, the kitchen will be bright and fully illuminated, and if they are used seperately you can create ambience and focus for the dining area. Tadaah how brilliant is that? Now let's see how it works…
How can we use these brilliant light ideas in our kitchens…?
Ceiling spotlights…
Spotlights in ceilings are a perfect idea to illuminate any area, especially the dining and food preperation areas. They can be turned on at seperate times, and a great way to create an atmosphere when entertaining. Use with a dimmer switch to lower the level of brightness. Illuminate the dining area from the main area of the kitchen, like the food prep zone and build an ambience of light that suits the mood.
Pendants….
Are you stylish? Do you like stylish things? Pendants are a very stylish kitchen and home accessory. Use a lower watt bulb to create a pleasing atmosphere from a row of suspended pendant lighting above your dining table. There are so many on the market today, you really will create a statement in your kitchen/ dining area.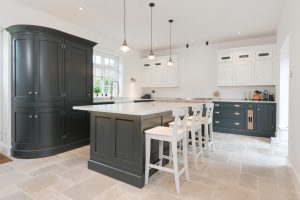 Chandeliers…
Chandeliers are very much a statement piece in the home today and can look very expensive. I am not going to lie I do like a chandelier.  Not many rooms suit a chandelier because of their style and spacespace, so it is best to measure the space you have before buying one of those beautiful lights, as you don't want it dominating the room. Your dining table may need that little bit of focus on it, so inserting a chandelier suspended above it is a perfect solution. It will draw the eyes and wow your guests. Centre it to avoid unbalancing of the room.
Wall lamps…
If you are limited on space in the kitchen/ dining area, you can install a wall lamp to illuminate the kitchen area from above.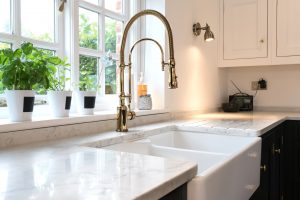 Table lamps…
You can buy many beautiful and glamourous table lamps these days, so if your worktops allows it, why not consider a table lamp to double up on light and act as an ornament.
Floor lamps…
Everyone loves a floor lamp right? Use a floor lamp for a delicate style of lighting to use in your dining and cooking areas, where it can be tucked into a corner.
Uplights…
Throw the light upwards with an uplight, to illuminate shelving and various points you want the light to focus on around your dining table.
Downlights…
Downlights do the opposite to uplights which is pretty obvious. They are perfect to create a subtle ambience, and switching from food prep, to dining, to entertaining.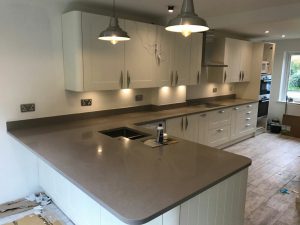 Some of our customers using their lighting in their dining area in the kitchen…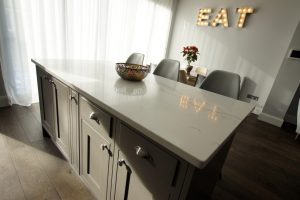 Our customer here has chosen the stunning Calacutta style quartz to finish of their hub of the home. In their kitchen they have their dining area situated behind the kitchen island with a big illuminated word sign on the wall above it that adds a mood lighting when entertaining. Spotlights have have installed all around the kitchen and dining area that can create an atmosphere to suit the mood when dimmed for that perfect entertaining evening.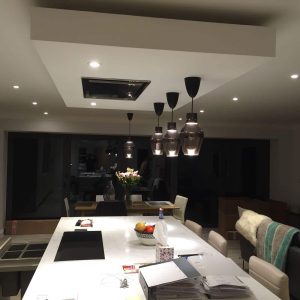 Our customer here has chosen the Lagoon from Silestone which is very beautiful and stunning. If you was to consider other options, you could look at the Carrera from Urban Quartz. The kitchen and dining area have been fitted with spotlights above to give that extra light, and can be dimmed to create a sense of mood lighting. The same pendant as the kitchen island pendants, has been suspended above the dining table to create a pleasing atmosphere and statement in the hub of the home. When all these lights are dimmed it will illuminate the area of the kitchen you want to be showed off.