"Make a healthier kitchen that you feel you are on cloud 9!"
We are well in to 2017 and healthier lifestyles are becoming the norm in everyday lifestyles. The perfect body is on some people's minds, and diets, healthy eating, and going to the gym is the fashion. Obviously you need that treat or two! You may want to become sugar-free, or you may just have found out that you are gluten-free, well revamping your kitchen can be the first step in cleaning up your diet, and providing the best healthy lifestyle ever imagined for you and your family. Personalising your kitchen, and making it attractive and simple to navigate things makes it easier for you to eat in ways that promote that flow of vibrancy. You don't have to go overboard with being strict on your healthy space, you just need to de-clutter, organise and stock your space with food that makes you feel fantastic.
A large dresser or pantry is the perfect place for them mason jars, as well as open top shelving. Store all your pastas, grains, seeds and healthy nuts in the sleek jars to make the food look harmonious, appetizing to eat and stay fresher. Even if you don't have a pantry or a large dresser, open top shelving looks just as good (certainly will free up space on them worktops). A spice rack is a great way to line up them colourful flavours, and is a bright idea for a small space. It adds vibrancy to the kitchen and will make you adventurous in your recipes as they will be right in front of you. Say no to the boring meals, and add a spice for a full flavour healthy recipe that you and your family will love for years to come. You may just impress them guests!
Detoxing the fridge is one of the main priorties when planning a healthier kitchen. Use up the less healthy foods first before you decide to take on a diet plan, and search for healthier alternatives to satisfy your cravings. Everyone loves a smoothies especially smoothie bars in New York, so why not renact this with your own smoothie station in your very own kitchen. The Nutri Bullet is taking the world by storm, and having the superfoods to hand is a great idea to create that satisfying smoothie. Store ingredients in mason jars on an open top shelf or in the fabulous larder (fruit in the fridge or freezer of course) and this way you are ready to go out of the house with your morning smoothie in hand. Perfect for on the go! Everyone will want to try that bold colourful drink!
Display them adventurous cookbooks on open top shelving in your kitchen, it is a creative idea too. You can then try out them inspiring recipes from your fave cookbook and start a new you! It will also show off your personality for a lover of cooking.
You want to be able to say no to takeaways if you have run out of fresh produce, so keeping stocked up with beans, wholewheat pasta, coconut milk, wholegrain rice, spices, curry pastes, flours, quality tomato sauces and nut butters is a great idea to cook something up with the dry and tinned food, and is a decent meal to carry on your healthy lifestyle. Quinoa is a popular healthy choice and is becoming the norm in most recipes, so keeping this stocked up in the kitchen as well as oats, barley and buckwheat is a bright idea too. You want to keep these out around the kitchen so they can easily be sprinkled on to soups, salads, smoothies and dishes, and also perfect for a mid-afternoon snack.
Keep a bowl of fresh produce around the kitchen for a bright, healthy and vibrant addition to the space. This will urge you to stop snacking on the unhealthy snacks and take a bite in to a juicy apple. When something is pretty and looks tasty it normally makes you eat it, so bright fruits will certainly get your mouth watering. Arrange them in to a beautiful glowing display in a fabulous fruit bowl for you and your family. The kids will love it! Making a still life out of the fruit and vegetables will be the first thing people see when entering the kitchen.
How about having a chalkboard in the kitchen where you can write your daily meals and recipes. You can paint one of the walls as a feature wall in chalkboard paint and let the children be creative. A lot of families love this idea and I think this would create the perfect healthy kitchen.
A herb garden is a smart money saving solution and looks so pretty. You can choose your favorite herbs to have on your window sill and dress them in pretty pots that match your kitchen decor. Herbs are at your fingertips to make your food taste so good. I love a good herb to hand because I love mixing coriander in my curries.
The colour of your kitchen does have an effect on your cooking habits. I know you probably wouldn't think so but it's true. A pretty blue is the best colour to calm your junk food cravings. It will take you to that lovely beach looking out at sea. If you aren't really a blue person (not everyone is), then the next best thing is an earthy green. Try adding accessories in these colours, such as decorations like pots, china and tea towels.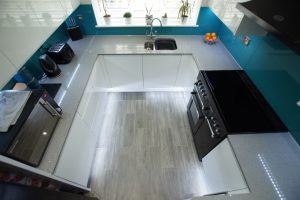 Play your favourite tunes out of a wicked sound system. This is a great way to enjoy cooking. It helps you do more things around the kitchen and make you forget about them cravings for the biscuit tin, as you will be singing and dancing away. Who doesn't love a good bop?
Additional modern electronic devices are a great way to follow your cooking skills. Why not add a TV in the room to keep up with Mary Berry, Jamie Oliver and Lorraine Pascale. If you love a good recipe and want to find out more exciting recipes, plus you can't find that one in the cookbook, then make an IPad station a part of your kitchen.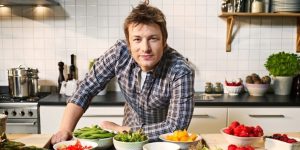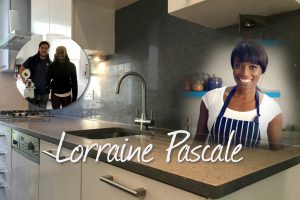 We was very lucky and had the pleasure to have been able to work with Lorraine Pascale in her kitchen, providing her with our very own Grigio Medio Stella Quartz.
Purchase a good freezer and freeze your food. If you live a hetic life which most of us do, then eating good food all the time can be difficult. How about cooking in bulk, portioning it out and freezing it, this will maintain your healthy living lifestyle throughout the week. Keep almonds in the freezer for a satisfying carbohydrate- protein combo, they have also been shown to reduce cholesterol levels.
For healthy eating, smaller portions are key. It may be worth shrinking the plate sizes and trick your mind in to thinking you are eating a larger quanity.
If you have the correct tools to create the perfect dish then this will make cooking enjoyable. Match utensils with your personality and you will be on your way to an enjoyable experience, as well as a healthy living lifestyle.