"You want your small kitchen to be as multi-functional as possible with the added luxury"
With a small kitchen, maximising the space with useful storage and preparation ideas with a functional layout, will transform your small kitchen into a place that is easy for socialising and help with all other aspects of your daily routine.
You want to choose ideas that will be useful to you and your smaller kitchen, so in this blog I will talk about the best tips in getting the best out of your small hub of the home.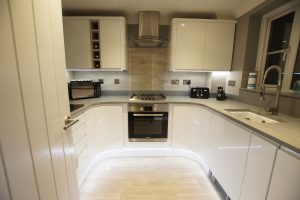 You need to get the layout right…
The layout is essential to create a kitchen space that works for you and your family. It is very important when planning a smaller space. Think about your lifestyle, tastes and everyday routines to help you create your dream kitchen. The design should include generous worktop space and suitable space for storage and luxury appliances.
If you have specified a small area for sitting or dining, then you need to include this into the plans. They layout has to be correct for you to simply enjoy using it.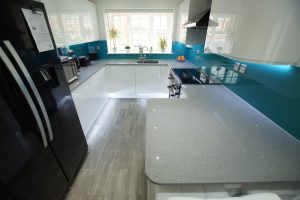 Keep the area light and bright…
Colour plays an important part in the design process that can make the space feel big or small, so it is important to choose a shade that will maximise your space. White is the most common colour to use to make an area feel larger. Kitchens that have limited natural light will use a lighter colour. Sometimes white doesn't appeal to all, so if this is the case then there are other lighter colours that you can choose from such as, off-white, taupe, cashmere, light blue and pale wood. Add a bold accent to make a feature and to work well with the neutral colours. Be sure to balance out a darker colour if you have chosen this with a light wall and floor to avoid overwhelming the room.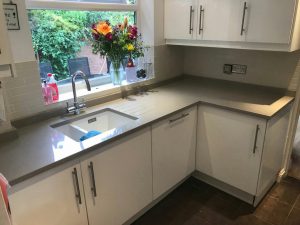 Reflective surfaces are a good idea…
Choosing glossy, shiny surfaces also enhance the effect of making a smaller space seem bigger. When the light hits these surfaces, it is reflected back across the room and onto other surfaces. A glass or mirrored splashback behind the hob is perfect. Another option to make light bounce is opting for wall units with glass-fronted doors. This allows the eye to travel through the door to the back of the cabinet, and the extra depth we interpret gives the sense of a larger room. It will not work if the cupboard is cluttered.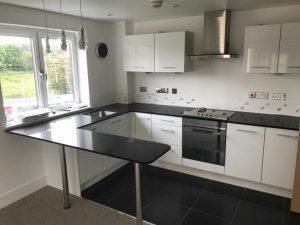 Skinnier cabinetry…
Narrower shelves and cupboards are ideal to make the most of your trickier spaces. In the corners or on a shorter wall, spices and dishware can be stored for convenience and easy reach.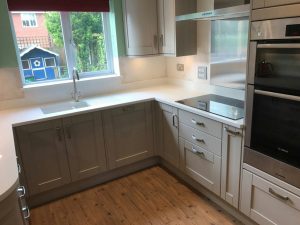 Integrate appliances and accessories where possible…
Integrate accessories and appliances where possible to save space. A small kitchen solution is choosing a chopping board that is integrated. When not in use it can hide between your cupboard and free up counterspace. It will provide you with a clean, sleek uncluttered look.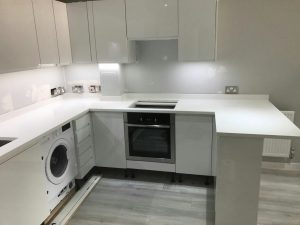 Save more space with extra additions…
You don't want to overcrowd a small kitchen but you want to have the best possible storage. If you have a country cottage, wicker baskets are great to store things, they will certainly play the part on top of the worktop and as drawers. They are ideal to store vegetables and pots and pan. Peg hooks are another useful storage solution that can be attached to the wall to hang utensils or pots and pans to free up the space in cupboards and on the worktops.