"Pets become a part of the family when they are first bought home, so everyone wants to keep their kitchen pet friendly!"
Pets are an important part of our lives and we want to keep them safe, as well as the hub of the home as clean as it can be. Whether you have a playful puppy or a curious kitten, you want to be able to keep your kitchen safe. So here's some easy steps to keep your kitchen clean and your fur baby safe from daily hazzards.
As you carry on with daily tasks your furry companion is normally always by your side. They love to be around you, and you know that when you are in the kitchen your little fur baby will be around your feet. You want to be able to create a kitchen that is suitable for you and your pet as you move through each day.
When designing a kitchen there are many ways where you can integrate food and water bowls into the cabinetry. They can be installed into a unit or on the side of a kitchen island. When you sit down for your meal after that exhausting day, your pet can share your mealtime with you. What a great idea! If there's a large space under the cabinetry this can be used for a pet bed. Your pet can snuggle while you do the daily chores. Make sure the pet bed isn't underneath a food prep area though, just incase they accidentlly trip you up. Making a cupboard especially for your pet is a great idea. Store their food, medication, waste bags, treats and grooming equipment in one place for easy access.
Keep away the food…
Food in the kitchen is a number one hazzard, as some of the ingredients we hold can be toxic to your dog or cat. Dogs seem to be the ones that are more attractive to the food, and unfortunately will eat anything, so it's important that these substances are stored away at all times. Chocolate and grapes are deadly to dogs! If food is left on the side for some reason make sure it's put up high so it's less likely to fall for the monsters to tuck into it.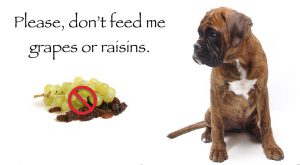 The most important thing, keeping your pets safe…
When you have a pet, keeping the kitchen clean is very important for everyone in the home. The sprays and creams that are used to clean the kitchen can be toxic to humans and animals so we want to keep them out of reach. Assigning a cupboard in the kitchen to the cleaning materials is a brilliant idea. It means that they are out of reach from the children and the animals. Even putting child-proof latches on the cupboard will keep the most cleverist dogs out. When cleaning the kitchen, make sure that your animals are out of the room before using things like bleach, as these are harmful substances and can actually harm your furry friends paws.
Bins in the kitchen are tempted by your pets because of the smell of food. What furry friend does not like food?! We don't really want the animals rummaging around places they shouldn't be, so a clever idea is assigning a cupboard for the bin. If you think about it, it will make your kitchen look that little better and lots of extra floor space too.
Some of the luxury appliances we purchase for our kitchens are harmful to our pets. We all know cats love climbing and the hob is the most dangerous place for a cat. An induction hob is much better choice if you do have a cat, as the induction hob only heats up when a pan is placed on top. No paws will be getting burnt anytime soon.
Because we are talking about the kitchen, knives and sharp objects are mostly used in this space of the home. Maybe think of integrating a knife block into your kitchen drawer to keep them out of harms way, and provides a neat storage place.
Keep any electrical wires out of your pets way, you don't want them to be chewed. Trunking is an excellent way to prevent the dangling wires, and also gives your a neat and tidy appearance to your kitchen decor.
Cleaning your hub of the home with pets…
When we bring a pet home, we have to remember that we will have to deal with muddy paws, drool and shredding fur. It may feel and look like a dreaded task, but keeping the kitchen clean with pets is pretty easy and a produces a fabulous result after. As long as we clean as we go, we will have a kitchen free from dirt everyday. Now we don't want guests coming into a untidy, dirty kitchen.
Laminates, tiles, vinyls, any flooring that is easy to clean are a good choice to choose for the flooring, as they are easy to tackle the dirt and mud as they appear. A mop can easily be used on this type of flooring aswell as a broom or dustpan and brush. An easy cleaning task!
When painting the kitchen choose a paint that is waterproof. You want a pet-proof wall! Lots of paints are water resistant, so it's best to choose one of these, especially if you have a pet. When they come in from the garden, when it's been raining they love to shake all their mud and water everywhere, up the walls, on the ceiling, you know where I am going with this. You want to be able to wipe away the dirt and water easily. Tiles are also a great choice to make in the kitchen, as they are easy to clean and buffer.
Sweep up everyday! It is a must. It is surprising how much your pet will shred their fur, and you will find this out if your are a first pet owner. This five minute job, will avoid a much larger job in the future, trust me!
Top tips
Use a roll of tape to pick up loose hairs
Use a dampened mop for hardwood or vinyl floors
Use a rubber broom to pick up the hairs in the kitchen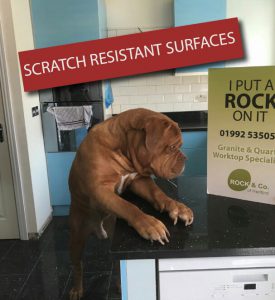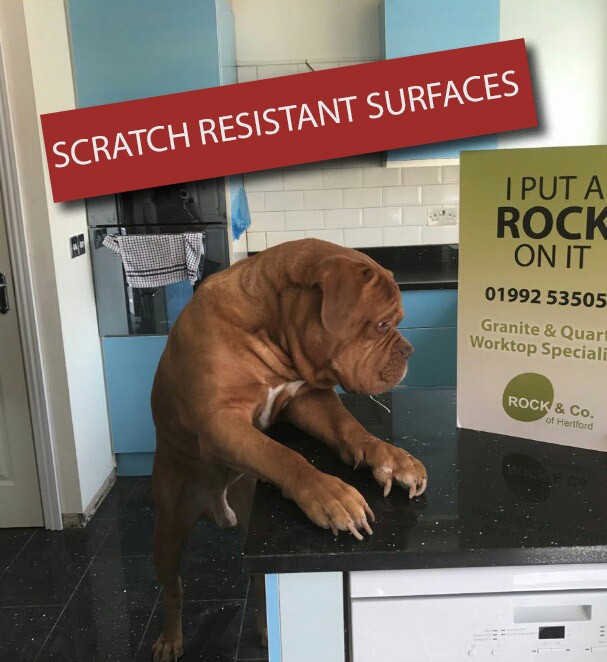 This beautiful dog, that one of our customer owns loves their state of the art pet friendly kitchen with the stunning Nero Stella style quartz on the worktops.