"Be different and add a flow of quartz to your splashback, or a bright bold colour"
Splashbacks are no longer just used to protect the walls from spills and splatters, nowadays they are used to create a great focal point within the kitchen. Kitchen splashbacks are a great way of incorporating design and colour into the hub of the home. The first element that is noticed when walking into the kitchen are the worktops aswell as a splashback. A splashback can range from a bold, bright colourful pattern, to one colour that oozes style.
When it comes to choosing your splashback design there are many different ones to choose from and it's great to know also what is on trend. Metallics such as copper and gold are proving a major hit in today's kitchens. A smoked mirror will make a compact room feel larger and welcoming. Black and grey style quartz splashbacks are becoming popular, and will work perfectly with a pale grey or chalky white tones. People are choosing their worktops in a quartz colour and adding it to their splashback idea too, and brick-like tiles and geometric tiles have become the fashion again. A bright toned toughened glass splashback will inject colour into the space which defines the style with character, and looks great in contemporary kitchens.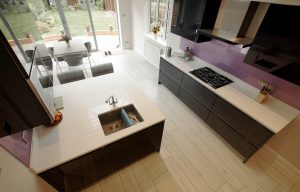 Why settle for a plain wall when you can extend the quartz up the wall. With the quartz you will be able to flow the pattern/design of the natural stone up the wall to blend in seamlessly with your style and make it look amazing. Sometimes the quartz will have off-cuts which can be big enough for your splashback and save you money in the long run.
There are many advantages to using quartz as a splashback and here's some:
It has a non-porous anti-bacterial surface
It has a high stain and scratch resistance
No colour change or fading
No grout lines to collect dirt
The worktop colour, design and pattern can flow
It is one of the toughest and thickest materials around to be used as a splashback due to it's thickness
By choosing quartz from us, you will be introduced to the laser templating. If you let the laser technician know you require a splashback, he will be able to template for this area too. You splashback will then be made- to- measure.
Below are just a few of the kitchens we have completed with quartz splashbacks flowing from the worktops, which we think look out of this world!
How about opt for a coloured splashback. Inject some colour into your kitchen life that be a perfect complement to a traditional or modern decor. It is easy to maintain, and is a sleek alternative to a tile. A great design idea would be to add a slim prefabricated frame for LEDs. You could have lighting that will change from cool white light when you are cooking to an ambient warm tone when dining and relaxing afterwards.
We are very pleased to announce that we offer this service. Our glass is used from toughened Pilkington glass, and we cut and paint them in house for you. There is endless colour choice, they can be produced in RAL, Dulux, Farrow and Ball, or any colour you can think of.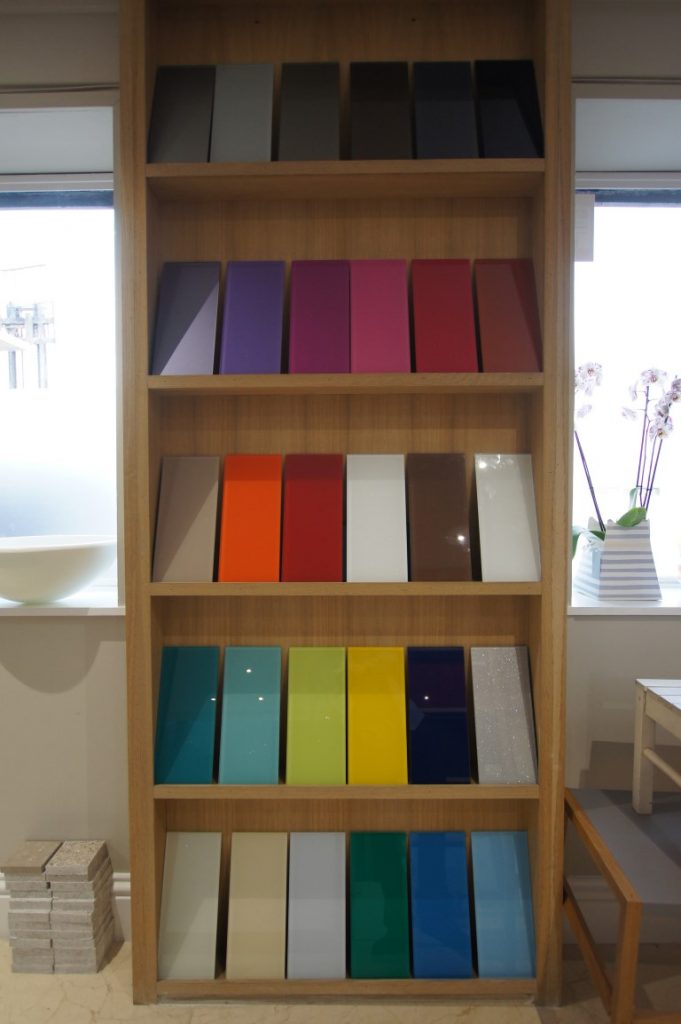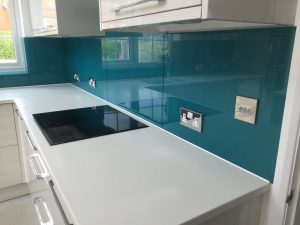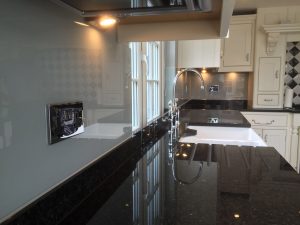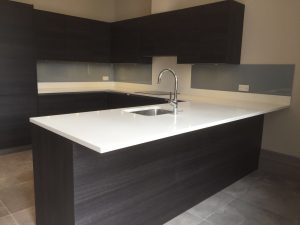 Patterned tile splashback…
A patterned tile splashback can really stand out if the cabinetry are a pastel or neutral shade. You want to show off the pattern so keep your worktops clutter free. Keep the pattern the focus and opt for utensils that would look great in the same colour.
Block tile splashback…
Block tiles look the bees knees in a minimalist kitchen. Take the tiles half way up the wall to give enough colour and style to your decor. Having simple ornaments, appliances and utensils surrounding the tiles will help bring the tiles out and create a splashback to die for, capturing all the spills and splatters.
Black tiles are perfect to match with a white kitchen just like the picture below. Black gives a sleek and sophisticated look that makes a striking hub of the home. Gloss tiles are easy to clean, so they will always be looking in tip top condition. Use pops of colour around the room, like plants, furnishings and beautiful pendants.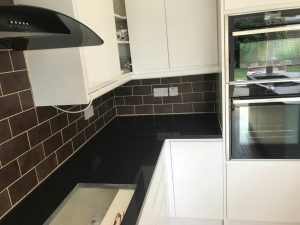 White tile splashback…
A white tile splashback gives a clean and fresh look to any kitchen. Imagine it matched with an all-white kitchen. They come in an array of shapes, sizes and finishes such as matt or gloss. This type of tile will never go out of fashion.