"Design your cupboard layout in a way to suit YOU"
When designing your layout with the cupboards and cabinets it can change the entire look and feel of the kitchen. You want to plan your layout of the cupboards to suit your lifestyle and taste. Next time you go to reach something you need, it will be in the exact right place.
You want to install the kitchen cabinetry in an easy way that suits your space. There are many layouts to choose from but first you need to make sure it will fit in the space you have.
In this blog I will talk about how you can design your cabinetry in the hub of the home to suit your lifestyle and personal preference that's great for you and all the family.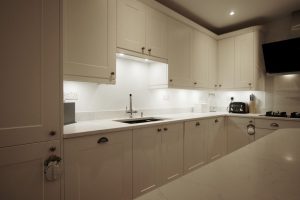 Kitchen Triangle…
The first thing is the "kitchen triangle". It is one of the most popular concepts in kitchen design. The "kitchen triangle" is where the hob, fridge and sink are positioned in a layout where if you drew lines they would all connect to create a triangle. Modern kitchens today include dishwashers, islands and washing machines and the principles of the kitchen triangle remain the same even with these additional appliances.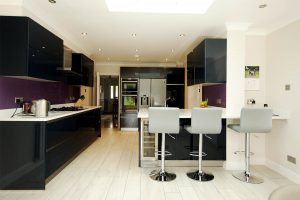 Floor cabinets…
Depending on the layout of your kitchen and storage requirements is where you will fit your large kitchen cabinets. Once you have decided where to install the common luxury appliances, you can then fill the gaps with cabinets and cupboards. Floor cabinets will define your kitchen space and give you lots of extra added storage. How about thinking of placing them next to and either side of the hob, fridge and other appliances. There sure will be other areas in the perimeter of the kitchen to add floor cabinetry. They instantly provide a base for worktop space, so the more floor cabinets the more worktop space you will gain.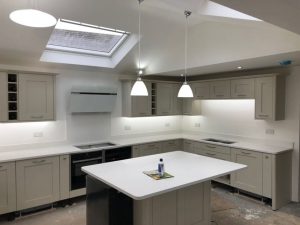 Overhead cabinets…
Are you thinking of fitting cabinets onto your walls…? It is the ideal way to add more storage to your kitchen and frees up worktop space. In modern times today, it is all about decluttering. It provides yourself with the adequate worktop space for cooking up a storm in the hub of the home. It is important to factor in where you will place the overhead cabinetry, so that they provide functionality without making the kitchen appear cluttered. If your kitchen is the ideal space that has the perfect natural lighting beaming through the windows and doors you don't want to block the light out with overhead cabinets, so you need to consider where they will be placed. For easy access to your cabinets, how about postioning them on either side of your hob to create easy access to those essential ingredients.
If you have a small kitchen, overhead cabinets positioned close to the ceiling can provide additional space for your kitchen essentials. Fit a cabinet above the fridge to make an unused space feel wanted.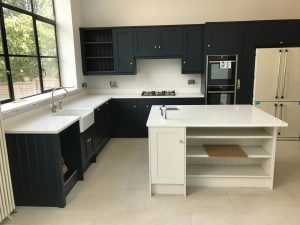 Alternative ways to arrange your cabinetry…
When looking at cupboards and cabinetry you can install in your kitchen, there are other ways you can integrate storage to suit the layout of your kitchen. A larder for instance can be installed in a corner or along a short wall to bring a huge storage place for all your essentials and in an unused area. If you have enough room in the middle of your kitchen, an island is a perfect way to bring storage, worktop space and an eating area into your hub of the home. If you have a smaller kitchen, corner cabinets are a great solution for making use of an awkward space and will soften the edges around the room.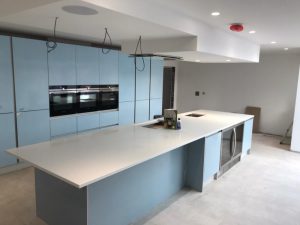 Some of the kitchens we have worked in with a perfect cabinetry layout…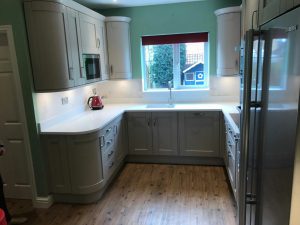 This smaller kitchen boasts lots of storage space with overhead and floor cabinets giving a great area for cooking and storing the essentials. Our customer here has used their space wisely with different cabinetry to make use of their unused space and provide more storage. They have finished off their hub of the home with the Bianco Marmo Suprema which gives a luxury feel to the kitchen space. The American fridge-freezer is integrated into the cabinetry making it part of the kitchen.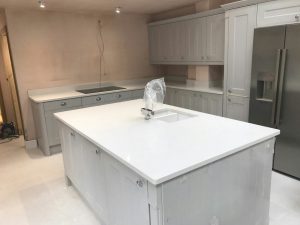 This large kitchen has been finished off with the impressive Bianco De Lusso. This quartz is one of our most popular colours offering glitz and glam to our customer. It glints in the light very subtly and makes way for a new meaning to the hub of the home "jewellery". The large island sits in the middle of the room creating lots of worktop space and storage. An L-shape layout sits behind with an American fridge-freezer and hob, with the sink sitting opposite, creating a perfect "kitchen triangle". Overhead and floor cabinets fill this particular kitchen with the amount of storage they need and more.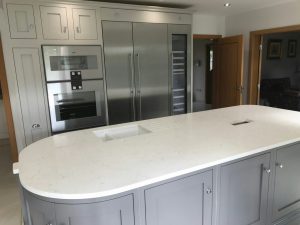 This impressive large kitchen with all the mod cons has been finished off with the Attica White Carrera style quartz. A very, very large island sits in the middle with the ultimate storage and a 3.1 meter long section of quartz, and where the sink will be housed. It was a massive task to take into the house but Rock&Co managed it with ease! A larder has been installed next to the double oven consisting of all the kitchen essentials. Cabinetry surrounds all off the appliances and even a tall, slim wine cooler is on show to grab that bottle of bubbly.