"Create something a little less ordinary with a spiral cellar"
Do you have a passion for wine? Indulge in that passion for wine with a wine cellar that spirals out of control underground. They are a very unique feature to have in a home and can be placed anywhere.

What is it…
I am a lover for wine and I think you are too if you are reading this article. Sometimes you are not able to have a complete cellar in the home, so why not alternatively have one built in the ground of your kitchen or another room in the home to add a great feature full of your favourite things.
A spiral wine cellar is made underground, that is capable of holding up to 1900 bottles of wine in full cellaring conditions. It does not require an existing basement or cellar and can be installed under any ground floor type.
It is built from engineered concrete and can be installed nice and flush in a fully furnished room, form a part of a new build or extension. There is little mess and is completed within 3-9 days.
How does it function…
The right conditions on how wine is stored in a cellar is vital. All of spiral wine cellars have a natural passive ventilation system, which means that warm air is continuously replaced by cool air. The cellar's concrete shell has excellent thermal properties, that enables to absorb the natural grounds temperature just like in a traditional cellar. Place the cellar in the correct position in your home and create the perfect temperature throughout the shape.
Built… How?
A hole is formed in the area where you have chosen for your spiral wine cellar to go and an expert team will carry this out for you, if you have chosen for excavation and install option. They will carefully lift your existing floor leaving no MESS! It sounds so straight forward to me! If you opt for the installation- only option, your builder will handle the excavation and then the spiral wine cellar is completed by the company, installing the cellar itself, with the chosen lighting and door.
What are the benefits?
We always ask ourselves what are the benefits of each thing we buy or do. I will tell you here what are the benefits of a spiral wine cellar and I think it will make you want one.
A perfect way to store your wine collection of up to 1900 bottles

Have it close to hand

No need to create additional space for a fridge

Storage conditions make you want to be a collector of wine for many years to come

Watch your collection grow

Store all your wines together

Make one that suits all your preferences and desires

Make a unique feature in the room that will make your guests go "WOW"

An investment is to be made!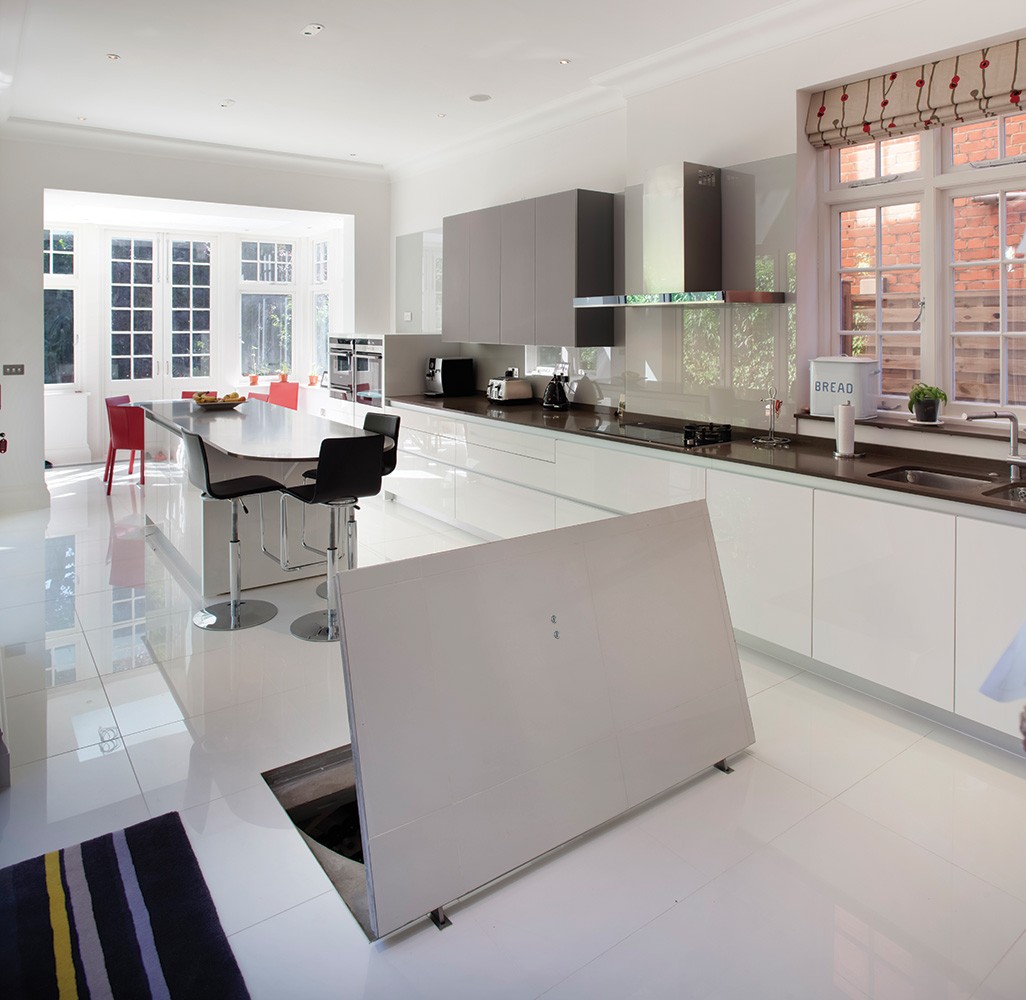 The three options…
White Spiral Cellar…
The White Spiral Cellar is an impressive cellar that is made of contemporary, stylish and sophisticated design with a clean look. It does not only look good, but is the greatest capacity the company offers, with an external diameter of 2.5 meters. Wide steps spiral down to this state of the art design making it easy for the user to climb and go down to get that fave bottle. The compartments inside known as bins are deep enough to accommodate a whole bottle with no overhang what so ever. Love a dinner party? If the White Spiral Cellar is used to it's full capacity, then 11,000 glasses of wine will be able to be poured, making you the best host!
Each bin can at least fit two cases worth of wine. 27 bottles of Bordeaux and 24 Burgundy shaped bottles. You will be able to create the perfect masterpiece with the doors, lighting and accessories available.
The depth options:
2 metres: 42 bins up to 1130 loose bottles
2.5 metres: 54 bins up to 1450 loose bottles
3 metres: 66 bins up to 1780 loose bottles

Original Spiral Cellar…
The Original Spiral Cellar is designed to give a clean and authentic look. With an external diameter of 2.3 meters, this particular wine cellar boosts more than enough space for a sizeable wine collection. Each bin can store up to 24 Bordeaux or 17 Burgundy shaped bottles. There are many impressive doors, lighting and accessory options to choose from to make this a superb hole for your tasty delicate wines.
The depth options:
2 metres: 42 bins up to 1000 bottles capacity
2.5 metres: 54 bins up to 1250 bottles capacity
3 metres: 66 bins up to 1580 bottles capacity

Self-build Original Spiral Cellar Kit…
The self-build kits have been designed for clients who are undergoing a larger development project, who have their own construction team and do not need to get the spiral wine cellar installation team involved. A full and detailed instruction manual is given to the builders and allows you to complete your project in your own time.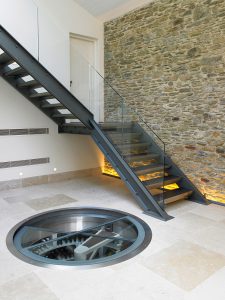 Doors…
Retractable round…
It is the most premium glass door option that makes an impressive "WOW" feature centerpiece in any room. It is made of walk-over toughened glass, where one semi-circular panel of glass slides neatly away in the cellar, leaving nothing visible above floor level. It is silent, smooth, operating machine, that is motorized by a switch on the wall. *Only available with the White Spiral Cellar*.

Hinged Round…
The hinged round door is a round glass door that is designed to show of the wine collection to it's fullest. The door is made up of two semicircles of walk-over laminated toughened glass, where you can see straight through to the cellar. The door is motorized and functioned by a switch on the wall. *Available with the White Spiral Cellar and Original Spiral Cellar*.

Half round…
It is an unusual type of door, but certainly creates a truly amazing feature in a room. This type of door is perfect when space is limited. It features a semi-circular door of walk-over toughened glass. *Available with the White Spiral Cellar and Original Spiral Cellar*.

Rectangular Glass Door…
It features straight lines, a rectangular shape and walk-over laminated toughened glass giving off a clean crisp look. It takes up less space and can easily be aligned to other parts of furniture for a more uniform scheme. *Available with the White Spiral Cellar and Original Spiral Cellar*.

Stair Treads…
Leather style…
Add luxury to the steps of your spiral wine cellar with a premium look of leather. They are available in an array of colours to suit your decor and taste aswell as complimenting your home. *Available with the White Spiral Cellar only*.

Amtico…
Do you have Amtico in the kitchen, or any other areas of the home? Where you situate the spiral wine cellar you may want to carry on the Amtico throughout the underground of the room. Match your stairs to any Amtico finish your desire. *Available with the White Spiral Cellar only*.

Sisal…
Create a warm feeling throughout your spiral wine cellar with a sisal carpet for the stairs. Each step is then finished with a black rubber nosing to define the edges. *Available in Limestone finish and only for the Original Spiral Cellar*.

Lighting Options…
A range of LED options are available for your spiral wine cellar. They enhance the design and highlight the cellar within the room you have located it in. Bulkhead lights are also available if you prefer simple lighting.

Now I know they may be a bit over the top but don't you just love them. Think of the wine collection you will create, the space and that truly amazing feature that will impress everyone. I think they are amazing and certainly thinking about it for the future. They certainly will go great with that granite or quartz worktop from us!