"Consider a peninsula, if you don't have the space to accomodate an island"
Many dream of an island in their kitchen, but sometimes their space is just not big enough. It is the sought after design for budding chefs but only if you have the room. A peninsula is a better solution and is basically the island's little brother. The peninsula is pretty much the same as a kitchen island, but it's connected to the wall at one side.
In this blog I will look at how you can style a peninsula into your kitchen and how it can be used.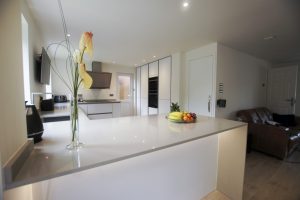 So what is a peninsula…
The peninsula offers the same benefits as an island such as extra worktop space, a socialising area and plenty of storage for those kitchen gadgets. The peninsula can fit into many kitchens and are now becoming popular in homes that cannot fit the island. This type of design can also be used as a room divider that separates the kitchen from the dining, or living room area in open-plan spaces. It isn't a freestanding unit in the middle of the kitchen, it's a unit that is attached to the wall with three sides that are accessible, and serves as an extension. The peninsula style can differ from an L-shape kitchen to a U-shape kitchen.
What does the peninsula have to offer…
The peninsula brings alot of potential to your layout and the perfect functionality for a small kitchen. They are very much compared to a kitchen island, which boasts alot of worktop surface and storage. The kitchen island needs a pathway all around, while the peninsula sits in one place connected to the wall, so where the pathway would be built into the layout with a kitchen island, the peninsula will gain extra worktop space. They can be short or long and can be made to fit all sized kitchens.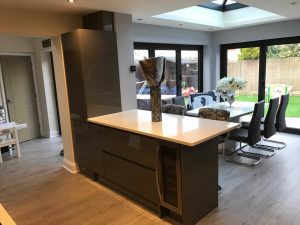 Where can it be placed…
A peninsula can be added to the kitchen layout in many different ways. The postioning, size and function will vary in different kitchens and styles.
Making a place to eat- create an overhang on the peninsula, to create a breakfast-bar with ultra modern bar stools positioned across.
Define zones- it can be used in an open-plan space to define the zones.

Add it to create an L-shape- you can add a peninsula to the layout on a single wall, to give an L-shape work surface.

Add it to create a U-shape- add it to an existing L-shape layout, to create a U-shape worktop. A short peninsula on this type of layout will still add lots to your hub of the home.

 A bespoke place- make this space your own personalised worktop space with integrated gadgets, which is perfect for prepping.
Some more of our customers' peninsulas…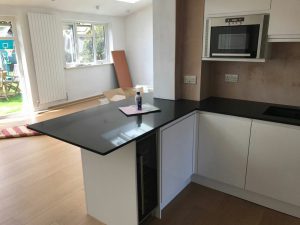 Our customer here has chosen the Nero De Lusso style quartz to finish off their hub of the home. They have opted for a peninsula to add to their layout where they can sit and use it for a breakfast bar. The black quartz looks stunning against the white cabinetry and really shows a contrast.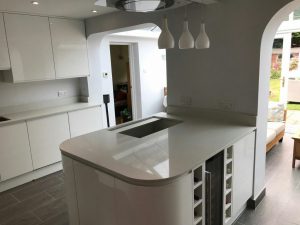 Our customer here has chosen to finish off their hub of the home with the Bianco De Lusso style quartz. The customer has opted for an all-white kitchen and the sparkles throughout the worktops will really shine through, for that instant glamour appeal. They have created a peninsula from the existing wall to create extra worktop space and storage. Their penisula homes the wine fridge and the hob, with suspended pendants above.
Our customer here has chosen the Bianco Stella style quartz to finish off their hub of the home. They have created a peninsula in this brightly coloured kitchen for extra worktop space, a breakfast bar and a room divider.