We are in for the perfect weather this weekend with highs of 29°C, and us Brits go crazy for a good British summer, don't you agree… In this blog I will look at ways in creating a kitchen that is not just perfect for all seasons but maximises the summer season that we don't often get in the UK.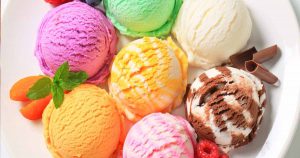 With the kitchen being the hub of the home you want to create a relaxed space for you and your guests to enjoy, after all it is the room where it will play a big part in your entertaining roles. Getting the kitchen ready for the summer months is one of the easiest ways of letting the season flow with a breeze.
Many people are opening up their kitchens to enjoy more of the outdoors with a wall of glass that opens up to the garden. This is the ideal design for entertaining those special guests, as well as creating a natural connection with the outdoors. Who doesn't love the outdoors? What better way to create the perfect summer kitchen with a wall of glass that opens up ready for your foot to step out in to the natural space. Your social evening will run freely from the indoors to the outdoors in a split second with that all important glass of wine!
Sunshine puts us in a right good old mood, so why not have the perfect view with those large panels of glass. We may not always have the tropical paradise temperature, but a good view is ideal for us to enjoy the fabulous British summer sun (when we do get it). You could also opt for a large skylight or three to bring in the extra natural light.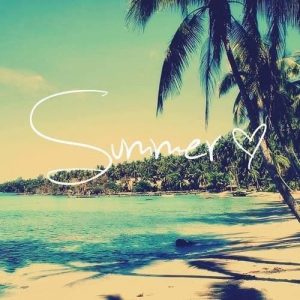 Keeping it light and bright with the decor will certainly bring in more light to the kitchen. This is perfect for a smaller kitchen or a kitchen that lacks natural light. We have the perfect granite or quartz worktops to keep the fresh feeling with a crisp white. Paint the walls white, choose a funky cool tile design, board the floor with a light wooden floor and finish with a white sparkly countertop for the ultimate summer design. When summers happening outside we don't want to be sitting in a dingy room do we. Obviously if you want to be daring experimenting with bright colours then by all means go for it, as bright colours are perfect for a summers day. We have some great worktops that are brightly coloured from pink to red.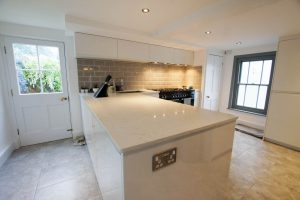 If you are choosing to have a kitchen island, then thinking about where your natural light comes in will make you decide more on where to place it. This will be perfect for when chopping up the veg or making it a fashionable social hub between the kitchen and living area. Perfect for entertaining them guests!
With the summer months nearing, many of us love to sit outside to feast on a tasty meal or drink a crisp glass of wine (get them taste buds going). You may want to consider where you place your plates, cutlery, and glasses so they are easy access from the garden. Declutter the kitchen for a fresh airy look. Minamise the space to prevent you from feeling cramped in your own kitchen.
Grow a herb garden to get yourself ready for summer. A sunny window sill is all you need to create the perfect growing of herbs. It will create a spectacular vibrancy of green and fill your senses with the most gorgous aroma. Fresh herbs at your fingertips will get you creating and experimenting with different flavours and recipes, and discovering new dishes you will love. Having the most beautiful arrangement of flowers too will add a glow of summer right across your kitchen especially sunflowers, that vibrant yellow is just gorgeous. Certain plants can even help to absorb harmful chemical and smoke particals from the air around you. You can even display a colourful fruit bowl in the middle of your kitchen adding a splash of colour throughout, and a healthy snack is always at hand.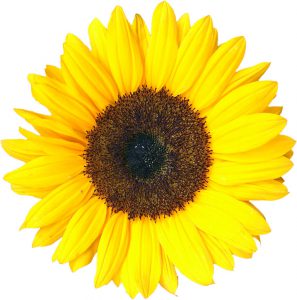 Choosing the best lighting also creates the best summer kitchen you will love for many years. You want the light to enhance the flow but not be to overpowering. Why not have different lighting to seperate the areas of the kitchen and white lighting to to give a feeling of the great outdoors. Fill jars with lights to make an elegant style in your kitchen representing stars on a summers night.
Music is the best for setting the mood. Purchase a sound system to create the perfect summer playlist and invite your friends over. Re-live your favourite summer with one of them summer songs of the past.
Take inspiration from a beach and invite a nautical charm in to your kitchen. Experiment with seaside prints and colours and create a beachy effect. Pair with a perfect rustic kitchen and the perfect worktop from us.
If you ever feel like your kitchen is dull or dark, hang a big mirror opposite the window to reflect more of the sunlight in. This will really boost a summer vibe in your kitchen!
Everyone loves a cool fresh summer drink on a hot summers day. So bringing in a built-in coffee machine or freestanding one, a fridge freezer with an ice maker, makes an iced coffee just moments away. When entertaining in the evening create the perfect cocktails from a built-in cocktail station. You could have this on the kitchen island, breakfast bar or a bar trolley. You will be the envy of your friends. Be prepared with smoothies made up when the guests come over.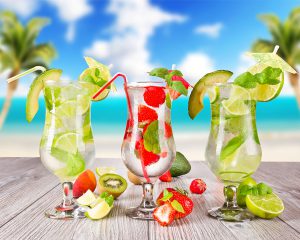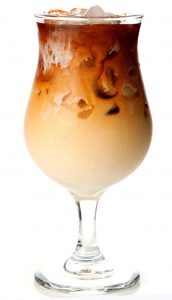 Summery artwork is great to create a summer kitchen. Try adding prints of beaches, landscapes, insects, flowers to the decor to make a statement. You want your walls to stand out.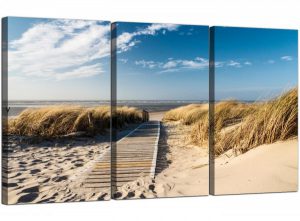 Copper and gold are much on trend this year, so why not opt for copper and gold pans to warm the room on a summers night, as well as add a drop of sunlight in to your decor as these metals glisten with the sun.
Our Customers Perfect Summer Kitchen Designs
Our Calacutta quartz transformed this kitchen. It is a premium white marble effect with a grey vein throughout. Just look at the light the colours and the amazing large bi-fold doors bring in to this fabulous kitchen. I am so envy! Perfect for a summers day, pull back the doors and enjoy the weather in the open space by having dinner and feeling the heat from the sun. Perfect to entertain the guests indoors and out.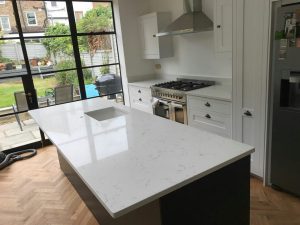 Our Carrera quartz was chosen for this kitchen. I love the large glass panels at the side of this kitchen that is ideal for a hot summers day. Bring the outdoors in with this beautiful design. The colours that have been chosen are ideal to make the space feel airy and spacious. Another white crisp marble effect style that works perfectly.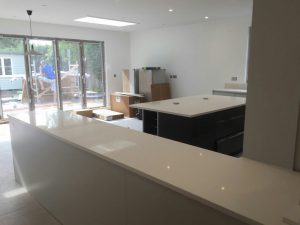 Our Bianco Minerale is a white quartz that is known as "Salt n Pepper". The reason for this is that it's primary colour is white but has dark sand coloured speckles throughout. This is perfectly chosen to match the colour scheme going on in this kitchen. Just look at the space the colours have given the room. It looks like our customers do like their large glass doors from floor to ceiling that open out on to their great gardens.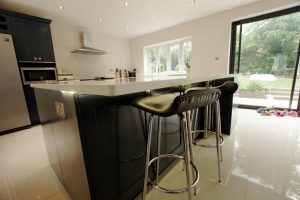 Bianco Puro is the purest white quartz on the market. It finishes off this stunning kitchen, providing a great contrast between the colour of the cabinetry and the flooring. Another great large bi-fold door perfect for those summer days to relax in the garden with the kitchen not so far away.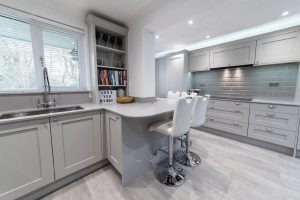 Grigio Chiaro Pura is a pure grey quartz that works beautifully in this kitchen providing a sense of a summer glow. It is so airy and light, and when that sun is shining the kitchen will be too.
"I love SUMMER"