"The larder is back from the Victorian period and now more fashionable than ever in contemporary kitchens"
In modern days the desire for clean, contemporary and coordinating kitchen styles are rising, and the old-fashioned larder has undergone an update and now fits in with the modern kitchen with stylish storage. Larders offer a flexible storage solution and have become the most lusted after kitchen acessory. The majority of new kitchens being designed and installed today incorporate the larder. The larder creates a valuable storage space for those kitchen gadgets. It's very popular to have a clutter free hub of the home where the worktops are free, and appliances are stored away. Many people are becoming budding chefs and the weekly shops are rising, so a larder is the perfect kitchen accessory for this.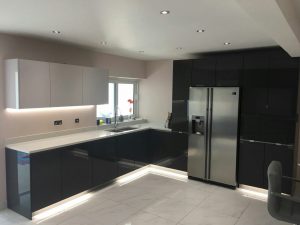 How can you incorporate the larder into the kitchen? I'll show you how…
The size of the larder and where will it fit…
A traditional larder was a typically large free-standing unit, or a small room within the kitchen area. These are perfect for a larger kitchen, where you have the room and you prefer a more traditional design. If your kitchen allows for a free-standing unit, you will gain lots of storage in the form of shelving and drawers hidden behind a double set of doors. Larder rooms are set up with shelving and storage from top to bottom, that offers lots of space for ingredients and appliances.
There are more contemporary designs available if your kitchen doesn't allow the space for a traditional larder. Pull-out larders blend into the overall design, and reveals it's contents and offers lots more storage room than a normal drawer pack.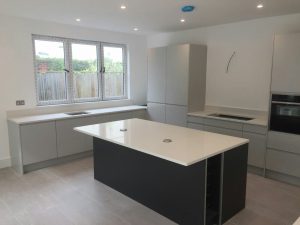 Internal layout…
You need to plan what you are going to store in your larder. Will it include ingredients, spices, appliances, utensils and crockery? If this is the case you will need to consider what height you will store each of these items at, plus the size of the items you are going to store in there. The way of how the larder is designed is around what you will store in your unit. So, if you are planning to store heavy items in the larder keep these to the bottom of the unit. An area should be created for more frequently used items spices, tinned and boxed food, and the less frequently items should be stored at the top of the larder out of the way but still accessible.
Overall design…
Once you have decided on the style of larder you are going to have, you just need to consider how it will fit into your overall design. Do you want to make the larder part of the same cabinetry and blend it in? This is particularly flattering for modern or gloss kitchens, as it gives a sleek and minimalist approach. If you have a more traditional or rustic kitchen a wooden larder would be perfect for this. Or do you want to make the larder a focal point? Choose the larder in an alternative colour to the rest of the cabinetry. A striking aubergine or country sage, against a cream backdrop. Cup or bow handles are very fitting for a traditional larder and a stainless steel bar will be perfect for a more modern look.