Imagine you are on that sunlounger on holiday with that perfect glass of wine, but you are really at home, you fancy a glass to go with them beautifully grilled prawns, do you retreive the bottle from the fridge? or did you have the foresight to invest in your very own wine fridge?
For real connoisseurs wine should be stored in a temperature- controlled wine fridge. Serving a quality drop straight from the kitchen fridge won't do it justice. Varied temperatures can actually affect the subtle flavours of the wine. Who would have thought…
A bar fridge is not ideal so a wine fridge it is!
Wine fridges control humidity and maintains stable temperatures between 12 degrees and 18 degrees (different temperatures for different wines). A normal kitchen fridge or mini fridge will not achieve the correct temperatures, plus they don't always come with shelves for storing wine. You may be a real wine lover, and chances are you may not have enough space left in your main fridge, anyways, for that delicious crisp wine.
The perfect rack for your red wine, stock bottles and where to build it

Red wine is not served chilled, so a built in wine rack is ideal in your cabinetry for grabbing that fruity merlot. Just like this one below- adjacent to the wine fridge. Our Bianco Puro quartz finishes it off perfectly. It is also perfect to store the wine before going in the cooler to be chilled.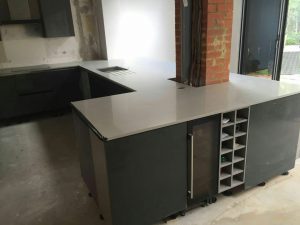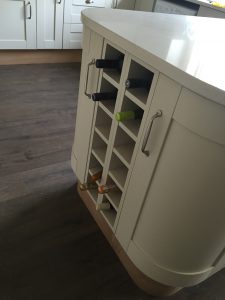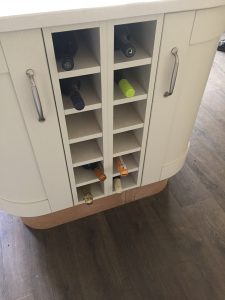 Why not input the wine rack in to the cabinetry on the end of a breakfast bar. This looks great, and gives off a visual appeal. The curves of the worktop balances out the fine lines of the rack. The customer here has chosen our Bianco De Lusso Quartz which looks great against the cream cabinetry, giving a traditional modern look and also perfect for the wine lovers.
Location for the perfect wine cooler

A wine cooler is perfect in the kitchen making it easy to grab that bottle of wine when you are entertaining your guests, or for that mid week treat. They can be built in to the kitchen cabinets or free-standing seperate to the cabinetry.
There are three types of wine coolers you can purchase, from a single zone cooler, a dual zone cooler or a built- in cooler.
Single zone cooler- Perfect for people who love only reds or whites. They only consist of one cooling area and one temperature control.
Dual zone cooler- perfect for those growing wine collections and like, both reds and whites.
Built- in cooler- perfect to integrate them in to your cabinetry, perfect for anyone who wants to add class to their kitchen.
Take a look at how some of our customer's have built a wine cooler in to their design-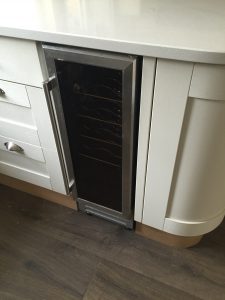 This is a perfect slim addition to the kitchen. It adds class, as well as a perfect bar area to store their favourite wine. The Bianco De Lusso worktop adds instant appeal and provides the customer with a great modern kitchen.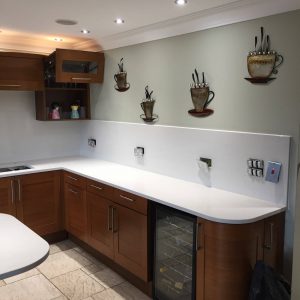 Perfect space, perfect wine cooler. It has not taken up any floor space and looks great in between the dark wooden cabinetry. Matched with our Bianco Carrina Urban Quartz.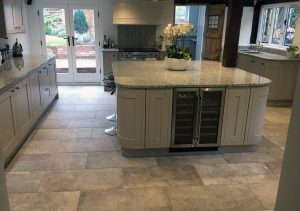 Our customer here has built in a double wine cooler in to their kitchen island. This makes the perfect place for it, plus a great space saver, saving on other areas in the kitchen. The kitchen has been created to add style to the home with our perfect Champagne Aurora granite. The beautiful beams give it a great traditional feel. It is the ultimate multi-functional kitchen.
How to choose the best wine cooler
You need to decide firstly on, where you are going to place the fridge as well as, what type you are going to purchase. There are quite a few things to look out for when purchasing the perfect wine cooler. We have put together a few handy tips to make you purchase the best one.
Capacity- are you a wine hoarder? You will need to decide on what size cooler you would ideally like. Have you got the space for a big or small cooler?
Doors- most wine fridges have glass doors, so you can see what you have in the fridge before opening up the door and changing the temperature.
LED lighting is perfect for a wine cooler, as it makes it easier to look to the back, and also adds great lighting when the mood is set, and the moon has appeared.
Shelving- a lot of wine coolers have metal shelving, however if you have expensive taste than there are wine coolers with wooden shelving. This makes it easy to pull out and there's less vibration.
Wine coolers on the market today
CDAFWC603SS Wine Cooler – Stainless Steel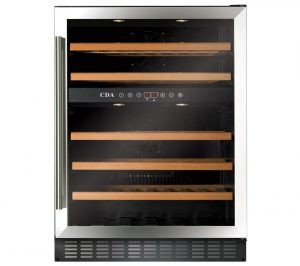 HUSKYHUS-CN215 Wine Cooler – Black & Silver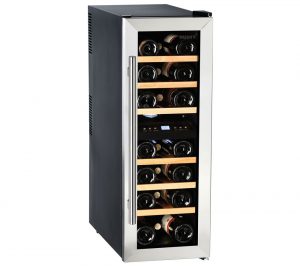 CDAfwc623ss Wine Cooler – Stainless Steel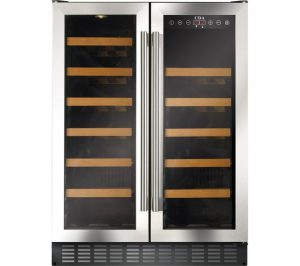 John Lewis JLWF607 46 Bottle Under Counter Wine Cooler, Stainless Steel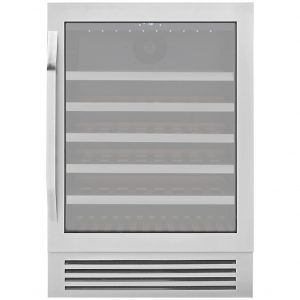 7 Bottle Single Zone Built-In Wine Refrigerator by Caple