The kitchen tap is the most hardest working piece of equipment in the home. It is used throughout the day, every day, from filling the kettle to washing those tasty vegetables. It is essential to invest in a tap that takes centre stage in the kitchen, but it is most important to purchase one that is built to last.
A perfect kitchen tap should be chosen for it's perfect balance of design and function. When you have them greasy hands you want one that is smooth handling as well as enhances the work area, so it is easy to use.
If you have an open plan space, a single- lever mixer is perfect as this will balance the purity of the room, as well as redefine the lines.
If you have, or are opting for a more traditional kitchen then a two- handle mixer is a perfect choice.
Short on space? then a wall mounted set could be a great idea, as these are plumbed in to the splashback and will free up your work area.
Professional look? a 360 degree spout and pull out attachment is the perfect choice to achieve this.
Two- handle tap
A two handle tap is perfect to adapt to any kitchen environment with their classic styling. Not only do they look sophisticated but when they are mounted in a single hole or in that stunning granite/quartz worktop, they feature individual levers or handles to control the hot and cold water which is perfect.
Single- lever tap
Only using one hand you can control the level of the cold and hot water as well as the flow, your other hand is available to use that amazing rinsing spray. The levers can either be mounted on the top or at the side of the tap body. Enthusiastic and keen cooks will love pull out rinising sprays as they make the cooking the easiest of work and do look great!
Finishes are important too…
Stainless steel and chrome taps compliment all kitchen styles. Sparkling chrome will add a highlight to the kitchen area and enhances the look. Stainless steel gives a professional look and has amazing anti-bacterial qualities.
Top Tip
Check your water pressure before buying so that it is compatible with your choice of tap. Many taps require a minimum flow pressure of 1.0 bar.
We have taken a look in to the market of the best designer kitchen taps, and rounded up a few for you to check out and complete that luxury look!
Boiling water taps
Quooker- The boiling water tap
Save space on your worktop by having an instant boiling water tap at your hands and no more kettle. Out with the old, in with the new.
Fusion Square and Fusion Round- this is a newest innovation from Quooker which is a single tap that has both a mixer and boiling water functions. Child proof, space saving and sleek.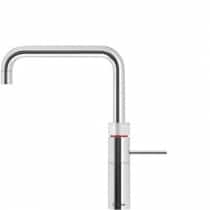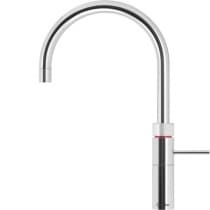 Twin taps- Nordic Square and Nordic Round- practical and stylish. Height adjustable and consists of matching boiling- water and mixer taps.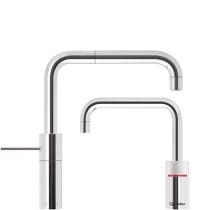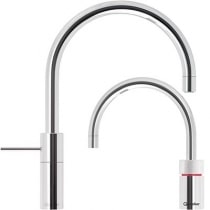 Nordic Square and Nordic Round- combine with your exisiting mixer tap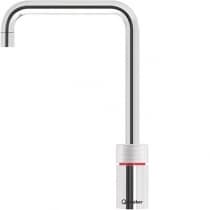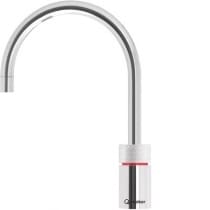 Single taps- every design from basic to classic to design and modern. This collection offers a boiling-water tap to match every style of mixer tap.




Wall mounted kitchen taps
They provide a kitchen with simplicity and are more for a contemporary, minimalist style.
We have found this perfect Perrin and Rowe Ionian 4182 wall mounted tap. It has a swivel spout and cross head handles that will give that traditional style you are after. It is also available in a range of colour finishes that's perfect to suit your style.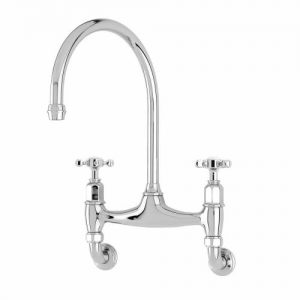 A timeless design and fast and convenient. It consists of two levers; one for unfiltered water, which you can additionally control the temperature and flow rate of the water and one for instant brita filtered water.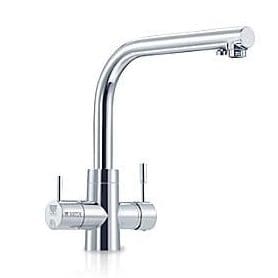 A professional look consists of a pull-out spout
This Abode Stalto Professional Kitchen tap is perfect to attract the eye of the guest and add a unique style to your kitchen. The tap consists of a single lever control and a single flow. It has a multi spray pattern showerhead which can be pulled out to wash them delicious vegetables.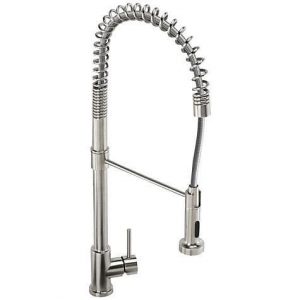 This Abode Linear Nero Monobloc Tap, Chrome/ Black is a perfect sleek addition to any modern kitchen. It has a single flow and a quarter turn handle action for precise control. It consists of a unique matt black and chrome balance offering ultimate delight around the sink area.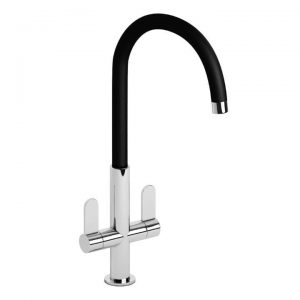 Take a look at how our customer's have incorporated their kitchen taps in to their design as well as using our fabulous granite and quartz worktops. Don't they just look FABULOUS!!