"A good sunny English day makes us Brits happier"
Whether it be waking up on a bright sunny morning, or having a room in our home that is bright and airy, we all know that this will lift our moods and put a smile on our face. We want to preserve and enjoy as much natural light as possible, as we all know our clocks change twice a year, and the perfect way to create light in to a room is how we decorate it, as well as how much natural light enters.
When decorating your kitchen there is two types of lighting you need to consider; natural and artificial lighting. Natural light shows colour at it's truest form, while artificial lighting varies, by bringing out warmer and sharper tones. Knowing what way your room faces, helps you to understand how much natural light you will receive, and what this means for you in the way of choosing the perfect colour.
South- facing
Rooms that face south receive little natural light and may appear cooler throughout the day. Using warmer colours such as red yellow and orange will bring out warm tones and make the room appear warmer. Mix with incandescent lighting for a warm atmosphere.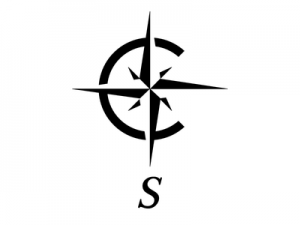 North- facing
North- facing rooms receive sunlight throughout most of the day, and using bold and cooler colours give a pleasant design to the room. The natural light will make the colours stand out and display in their truest form.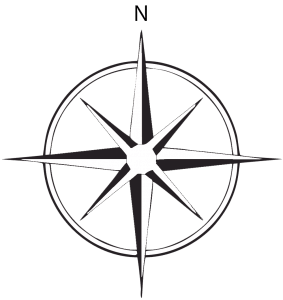 East- facing
East- facing rooms receive sunlight in the morning and appear to get cooler as the day goes on. Mix with incandescent lighting to create a warm atmosphere for when the sun is setting in the east.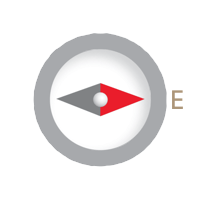 West- facing
West- facing rooms feel cooler in the morning but appear to receive lots of sunlight as the day goes on.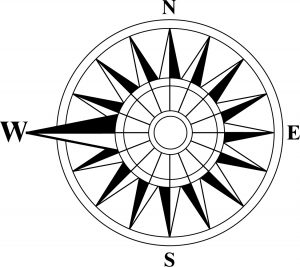 Depending on the natural light that your room gives you, you need to consider the colour scheme that you will want to achieve in your kitchen. The most important thing to learn about in colour is that black absorbs the light, and white, and light colours reflect it. If a room receives lots of natural daylight then opting for bright and bold colours is a perfect palette. If a room only receives sunlight in the morning then using lighter colours is a good option to reflect the natural light that the room gets when it gets it.
Light it up!
Kitchens are one of the most used rooms in the household in every day life. It makes sense to obtain as much natural light as possible, where a safe, comfortable and happy environment can be fulfilled. A kitchen can be made up of sophisticated artificial lighting, but natural light is still more desirable. The lighting that a room can receive can affect how well kitchen colour schemes work. Try by adding bi-fold doors if your kitchen backs on to your garden, or by adding a sky light if your room does not receive much natural light.
Light effects how we see colours
Light quality affects how our eyes interpret colour, and means that the same colour can look different in warm or cool light. In good quality lighting a colour can show it's true meaning, where as in dim lighting the colour can change and actually look darker than it is. White tones do not change significantly, but different light qualities can impact on how colours look to us.
In small kitchens dark colours will work well for the base units, but work top and wall colours will have to be planned to ensure that the colours will work in the space.
Colour undertones
All colours, except true primary colours, have undertones and they affect whether a colour will work with the room's light conditions. An undertone appears when the colours have been blended. How a colour is perceived within different light qualities largely depends on a colour's composition and it's undertone. The dominant overtone is the main colour you see, where the undertone blends two shades together, which distinguishes it. All undertones are normally warm or cool colours. Warm undertones consist of colours such as, red, yellow and orange, and cool undertones consist of, blue, purple and grey.
 
Some of our customer's natural sunlight kitchens, with our granite and quartz products!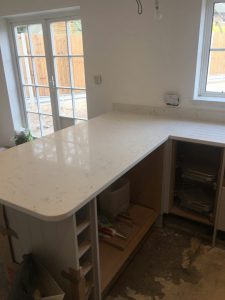 Our customer here has opted for a light, airy space for their kitchen, teaming with our Carrara Quartz and finishing with an olive wood effect shaker kitchen. The effect of the quartz is simply beautiful that consists of a pure white marble effect throughout. The kitchen has lots of natural light from the french doors and windows.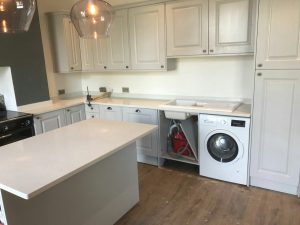 What a lovely natural light kitchen! It is teamed with our Bianco Carrina white quartz. A traditional style kitchen that our 30mm quartz has been implement on the kitchen island, worktops and upstands.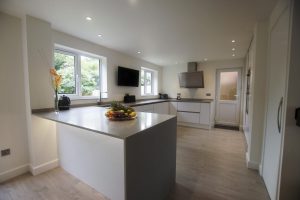 Plenty of natural lighting with perfect spot lights! Our Grigio De Lusso Quartz looks superb against the white high gloss kitchen and consists of subtle sparkles.
"Make your kitchen colours work!"