Upstands are the perfect way to finish the look of your new Quartz worktops. Upstands are normally around 100mm tall, line the walls where it meets the worktop and are manufactured at the same time as your Quartz as you will see in this video.
Upstands can be produced in either 20mm or 30mm from our range of quartz, so no matter which stone you choose, you will be able to have matching upstands.
Why have upstands installed?
Upstands are normally chosen by our customers to protect their walls but without having to select a different material or colour from their worktop. It blends your worktop seamlessly between the worksurface and the splashback or wall.
Upstands can also help to hide imperfections in your wall, we know from experience that walls even on new houses can be out by a few MM across the length.
Can the veining be matched?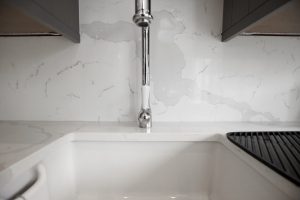 Absolutely. First what do we mean by veining? Well for example with the Urban Quartz Calacutta seen in the image to the left, this stone has a very prominent pattern throughout which we call veining. In this example the splashback/upstand was carefully positioned on our CAD design tool and transfered to the CNC saw where it was able to cut the worktop and upstands alongside each other. It is a very understated but effective result.
What does a Quartz upstand look like?